It turns out sports are pretty gay.
It's no secret that sports get a bad reputation among gay men in the community. Of course, there are gay men who love sports, we defy all stereotypes and expectations. However, it must be said that there is a noticeable lack of representation in sports among the gays and vice versa. Having said that, there are some notable exceptions. Whether it's a sport that is particularly beloved by the gay community, or gay moments in certain sports that we have carved out for ourselves. There are also memorable moments that the gays can…appreciate for aesthetic purposes. Without further ado, let's break out some of the gayest moments in sports history. Broken out by sport and in alphabetical order, for simplicity.
Aerobics
You may be asking, "is aerobics really a sport, or just a form of physical exercise?" Fair point, but so far as physical activity goes, it doesn't get much gayer than this. The term on its own conjures up images of tight spandex, rippling muscles, and sweaty exercise balls. We also can't forget some of the greats who made this movement gay like Richard Simmons, and of course, Tony Britts.
Related | 50 Slick Pics of Greasy Guys Oil Wrestling in Turkey
It's day 4 of the BBC Archive quarantine fitness regime! Time to don some tight clothing that doesn't quite fit and limber up with the one and only Tony Britts! pic.twitter.com/RD4rX1sCKI

— BBC Archive (@BBCArchive) April 2, 2020
Then there are those famous aerobic dance compilations. Men in muscle-hugging bodysuits, sweating, and dancing in perfect synchronicity? It really doesn't get any gayer than this.
American Football
Nothing like a good ol' hetero game of American football, right? As it happens, even this masculine sport has been yassified. Some of the more recent moments that come to mind include NFL players Carl Nassib and Ryan Russell coming out. Russell, who played for the Dallas Cowboys, came out as bisexual and opened up about his relationship with professional dancer Corey O'Brien.
View this post on Instagram
Nassib, who plays for the Las Vegas Raiders was the first active player to come out as gay. 
View this post on Instagram
One of the most iconic moments was when Michael Sam was drafted by the St. Louis Rams. The emotional moment was captured on camera when Sam kissed his then-boyfriend Vito Cammisano. Sam was the first publicly gay player to be drafted in the NFL.
On the more "gay interest" side of things, there was also that unforgettable moment when Mississippi State defensive lineman Chris Jones sprinted so hard that his junk flopped out of his shorts. That's perhaps a bit too risqueé for this site, but if you'd like to click here you've been warned.
Honorable mention to Lil Nas X's music video That's What I Want, for giving us the football locker room scene of our gay dreams. Bonus points for safe sex!
Baseball
When it comes to being all-American, baseball makes football look like teatime with the queen. When it comes to homoeroticism, the pitchers and catchers in this iconic sport are working overtime. The first moment that comes to mind involves Joey Gallo and Nomar Mazara, who both played for ​​the Texas Rangers at the time. To celebrate Gallo's two-run blast, the teammates met at home plate and did a little handshake topped with a shared crotch shake. Go Rangers!
Did @JoeyGallo24 and @NomarMzra26 celebrate a home run with a crotch grab? Yes. Yes, they did.

Go, @Rangers! #baseball pic.twitter.com/L3m8g9GJSV

— Gayety (@gayety) April 9, 2019
We can't talk about homoerotic baseball moments without talking about the booty pop that was heard around the globe. Sean Murphy was batting for The Oakland A's when a pitch missed its mark and bounced right off of Murphy's booty. The moment was too perfect for words.
— 🍪 (@PadresGeekster) April 11, 2022
Bobsled
Multiple men stuffed into a small space in tight spandex? Sign us up to this gay fantasy. It seems the homoeroticism of it all isn't lost on the U.S. Men's Bobsled team. In a bid to raise money for the 2022 Winter Olympics in Beijing, the team stripped down to almost nude for a calendar. "We're a very close team," said push athlete Jeremy Reed. Say no more Reed, say no more.
Related | U.S. Men's Bobsled Team Strips Down To Compete
View this post on Instagram
Cycling
You didn't think you'd see this one here, did you? I must admit we didn't either, but the more you think about it the more sense it makes. This sport has always been a go-to for advocacy and raising money. And the gays do love a good cause. Tight close, great views, fantastic glutes — suddenly it starts to come together. 
Speaking of cycling for the cause, does anyone else remember when this leather bar raised over $1 million with a 275-mile bike ride. The group raised the money for the NYC LGBT Community Center's HIV/AIDS prevention and support services. A dependable bunch is that leather community.
View this post on Instagram
Keeping the good vibes going, there was also that time when Gus Kenworthy hopped on a bike for AIDS/LifeCycle. He also managed to strip down in the process, which we appreciate. Yes, we are aware that Gus is technically a skier, but surely you'll let us have this one. It's for a good cause.
View this post on Instagram
While we're on the top of non-cyclists riding bikes for charity, we simply must shout out to Tom Daley. The gold medalist recently embarked on a four-day trek, where he had to cycle, run, swim, and row his way from London to Plymouth. This challenge was part of a Red Nose Day campaign hosted by UK charity Comic Relief. Fortunately, Daley documented his training process for us to…take notes.
View this post on Instagram
Figure Skating
How could we possibly talk about gay moments in sports history without mentioning figure skating? There are too many incredible moments to cover in one paragraph. The gay history of figure skating is fascinating and complex and it deserves a story of its own. In the meantime, we'll give you some of the highlights. Figure skater Eric Radford made history in 2018, becoming the first openly gay man to win a medal at the winter games. He made it back to the Olympics with Vanessa James in 2022.
Related | Brawny Gus Kenworthy Strips for ESPN's Body Issue
View this post on Instagram
Who could forget that another gay athlete made it to the podium with Radford that same year? Adam Rippon has been the gay sweetheart of figure skating ever since then. We're not sure if it's his charm, his delightful friendship with fellow Olympian Gus Kenworthy, or his relationship with husband Jussi-Pekka Kajaala. No matter what it is, Rippon has stolen our gay hearts. He can keep them.
View this post on Instagram
View this post on Instagram
Gymnastics
The spinning, the muscles, the drama. This sport seems like it should be filled with gays. In fact, it is — even at the Olympic level. Arthur Nory is one notable example who publicly professed his love for his boyfriend in 2021.
View this post on Instagram
View this post on Instagram
There's also gay Olympian gymnast Dominic Clarke, who is unabashedly queer on his timeline. We love to see it.
View this post on Instagram
In 2020 Olympic medalist Danell Leyva came out on Coming Out Day. The three-time Olympic medalist took to Twitter with a message of support, detailing his own struggles with his identity. "Earlier this year I finally understood that I'm bi/pan," he said, adding that he was "still trying to figure that one out."
View this post on Instagram
If you're not quite finished appreciating this sport, we've got lots more for you to ogle. There's plenty for you to feast your eyes on in this clip of the OSU Gymnastics team's shirtless warm-up.
We get the season started this Saturday in Chicago! Seth Delbridge, one of our own, made the video! #GoBucks pic.twitter.com/MORtfj4OSY

— Ohio State Men's Gym (@OhioStateMGYM) January 9, 2017
Gymnastics? More like gay-mnastics. I'll see myself out.
Rowing
Eight men rowing in unison, glistening with sweat under a hot sun. Maybe they stop off for a picnic on the way. Don't ruin the gay fantasy. While we're on the topic of rowing, you wouldn't begrudge us the chance to gush about the Warwick Rowers again, would you? The rowers have been using their bodies and their sport to campaign for healthier masculinities since 2009.
Related | Warwick Rowers Release Calendar Promo Video
View this post on Instagram
View this post on Instagram
We should also take a moment to remember when champion rower Maarten Hurkmans came out as bisexual. "It can be hard to come out, especially in sports," said the athlete. We are still grateful to him for being his unapologetic self.
View this post on Instagram
Rugby
Name one other sport as homoerotic as rugby. I'll wait. With all the intimacy and grabbing of football, but none of that pesky padding, rugby is masculine intimacy. This sport has spawned its own genre of adult film for Pete's sake. The only sport that rivals it in homoeroticism is wrestling, and don't worry, we'll get to that soon. You don't have to be a rugby fan to enjoy Cosmo France's video celebrating the 2015 Rugby World Cup. Their ridiculously steamy one-minute video glorifies the brawn and the bods of some of the beefiest men in the world.
The Rugger Body
Before the Warwick Rowers graced your walls, there was another must-have calendar. For over 20 years, French rugby players posed for the Dieux du Stade calendar and we're so glad they did. You'll have to click to watch since the video has been age-restricted.
Then there was the time that gay rugby star Keegan Hirst got wet and wild for his cover shoot on 'Attitude'. When he came out, Hirst had a wife and kids, so his experience was undeniably challenging. In response to his home life, he said, "I had a wife and kids. I've been a builder, doorman, worked in factories – I play rugby".
Who could forget the time that rugby stud Simon Dunn kissed his boyfriend to fight homophobia? In response to homophobic comments made by a fellow rugby player, Dunn shared a photo of a "victory kiss" with his boyfriend, Felix, on Twitter.
Related | Rugby Stud Simon Dunn Kisses Boyfriend to Fight Homophobia
Victory kiss. pic.twitter.com/REvhoUN2bX

— Simon Dunn (@BySimonDunn) April 22, 2018
The fascination with the rugby player's form is boundless. Take this video by HuffPo UK, simply titled When Rugby Shorts Come Down.
But wait, there's more! During an appearance on Australia's The Footy Show, Zac Efron waxed former professional rugby player Beau Ryan's bikini line. With the help of his Baywatch co-star, Alexandra Daddario, the 29-year-old heartthrob gave Ryan a full-body wax.
Finally, we would be remiss if we didn't mention Steelers. This documentary follows the world's first queer-inclusive rugby club — the Kings Cross Steelers RFC — and is available to watch on Amazon Prime Video
Skiing
Unless you count Ned Flanders in the Simpsons, I doubt many of us found our sexual awakenings in skiing. That is until Gus Kenworthy came along and we all experience a collective sexual reawakening. He was credited at the time as being "the first action-sports star to come out." There are too many Kenworthy-worthy thirst moments, but his famous ESPN shoot springs to mind.
View this post on Instagram
Not one to shy away from showing a bit of skin, Kenworthy also stripped down for a shoot with Gay Times. Oops, he did it again for Attitude with Laith Ashley.
View this post on Instagram
And who could forget his appearance on American Horror Story?
View this post on Instagram
Soccer
Let's play European or gay, but this time it's both! Soccer is a sport that is famously plagued by homophobia, but even this sport has moments gay men can appreciate. Let's start strong with some gay soccer players. First, there was Justin Fashanu in 1990. Then Robbie Rogers in 2013, then international soccer star Thomas Beattie came out in 2020. Beattie's professional career has taken him to the UK, the US, Canada, and Asia, which also made him the first male professional soccer player in Asia to come out as gay.
View this post on Instagram
We're also reminded of actor Russell Tovey's performance as a gay soccer player in The Pass. The film answers the age-old question: Why do so many gay Premier League players stay in the closet? If you're interested in the intersection of being gay and soccer, The Pass is your movie.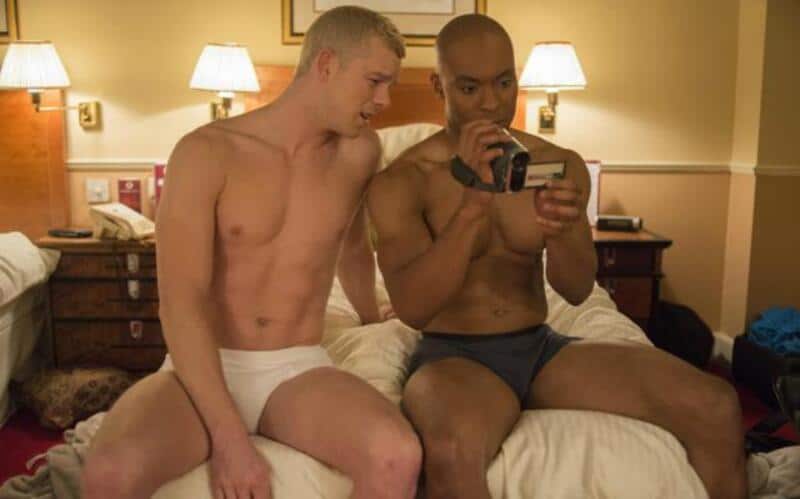 Before we move on, we feel compelled to remind you of the time Cristiano Ronaldo casually showered in his boxers on Instagram live.
Cristiano Ronaldo casually showering in his boxers on Instagram live and well… what do we think ladies? 😂 #CristianoRonaldo #ManchesterUnited #ManUnited pic.twitter.com/bWHWj7WGi0

— Gerard (@gwayathat) February 28, 2022
Swimming and Diving
Here's another sport with a surprising amount of homophobia, but the gay athletes in these sports are resilient. You have to be when you can hold your breath for as long as these guys. Before we inevitably fawn over Tom Daley, let's take a look at some other gay moments. Starting with Olympic swimmer Amini Fonua. While competing in Rio for the second time, Fonua wore a swimsuit with the words "L.A. Gay & Lesbian Center" written on the back of it. The athlete has also been known to share shots of his bum from time to time.
Related | Warm Your Willy With Tom Daley's Knitted C*ck Socks
View this post on Instagram
Another memorable moment for the sport was when Canadian swimmer Markus Thormeyer came out as gay. "I was willing to put everything on the line, but something was holding me back. It was the secret I was keeping — that I was gay," Thormeyer said. "These intimate bonds with my teammates [were] amazing, but it also made me feel guilty at the same time."
View this post on Instagram
An important part of gay swimming history is also recounted in the documentary Light in the Water. The doc tells the story of West Hollywood Aquatics, one of the oldest and most famous LGBTQ sports organizations in the world.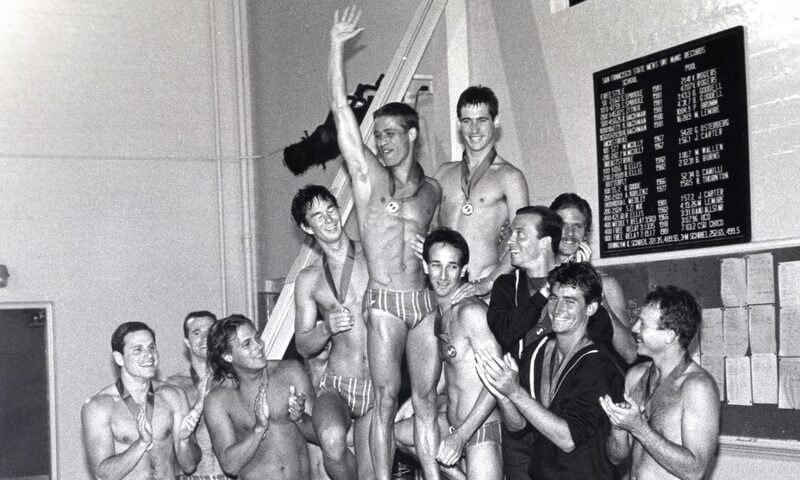 Weightlifting
To the unfamiliar, this one truly seems like the domain of the straights. A bunch of beefy guys lifting things and putting them back down does seem admittedly straight, if fascinating. Still, there are some moments we can point to so maybe there's more to the sport than meets the queer eye. You may not have heard of bodybuilder Dean Thomas, but you'll likely remember him after this. Although running naked in heels on a treadmill isn't necessarily gay, it could be called gay adjacent, and you have to respect the man for staying upright.
Turning the gay dial up a bit, we seem to recall CrossFit competitor Khan Porter posting a video of himself dancing to Beyonce's "Single Ladies" between lifting weights. The video itself is a marvel, but it was Porter's response to the feedback that impressed us. "I posted my video for fun obviously, but also because l think the way the public reacted reflects a pretty cool shift in preconceived notions of masculinity," said Porter. "There's still so many stigmatic ideas around masculinity and blokes face very real issues in terms of dealing with what society has deemed as appropriate behavior for their sex."
Wrestling
Last, but most certainly not least, we have wrestling. This sport comes in many forms, each one gayer than the last. Of course, we don't mean that literally, but the sheer amount of intimate close contact these men share would make a gay adult film star sweat. Even John Cena has admitted to getting the occasional "accidental boner" during a match. "It's something the body does, you just ignore it," Cena said. "Just ignore it. It's what the body does. You can't be blamed for that." Speaking of accidental boners here is a collection of some of our favorite GIFs of real college guys wrestling.
Related | 35 Grabby GIFs of Real College Guys Wrestling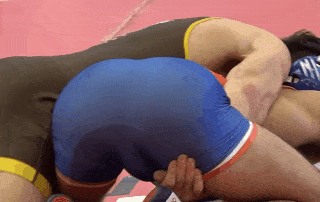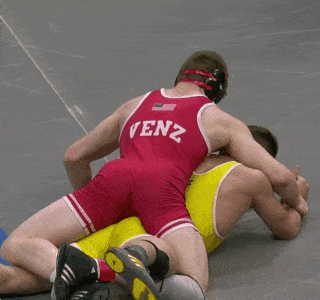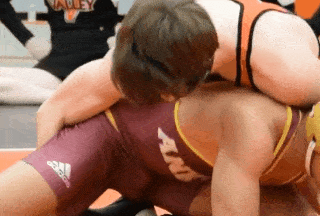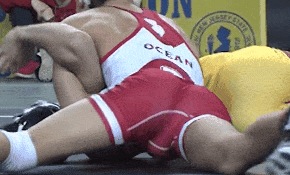 Wrestling Around The World
Moving on. Wrestling is a widely diverse sport, with various forms popping up all over the world. One such form is Turkish oil wrestling. Although to the untrained eye it may look like a gay circuit party; it's actually a sport known as oil wrestling or grease wrestling (Yagli Gures in Turkish). Oil wrestling, Turkey's national sport, is a combat sport in which men douce their bodies in olive oil and then attempt to mount and pin their opponents, there's no penalty for holding.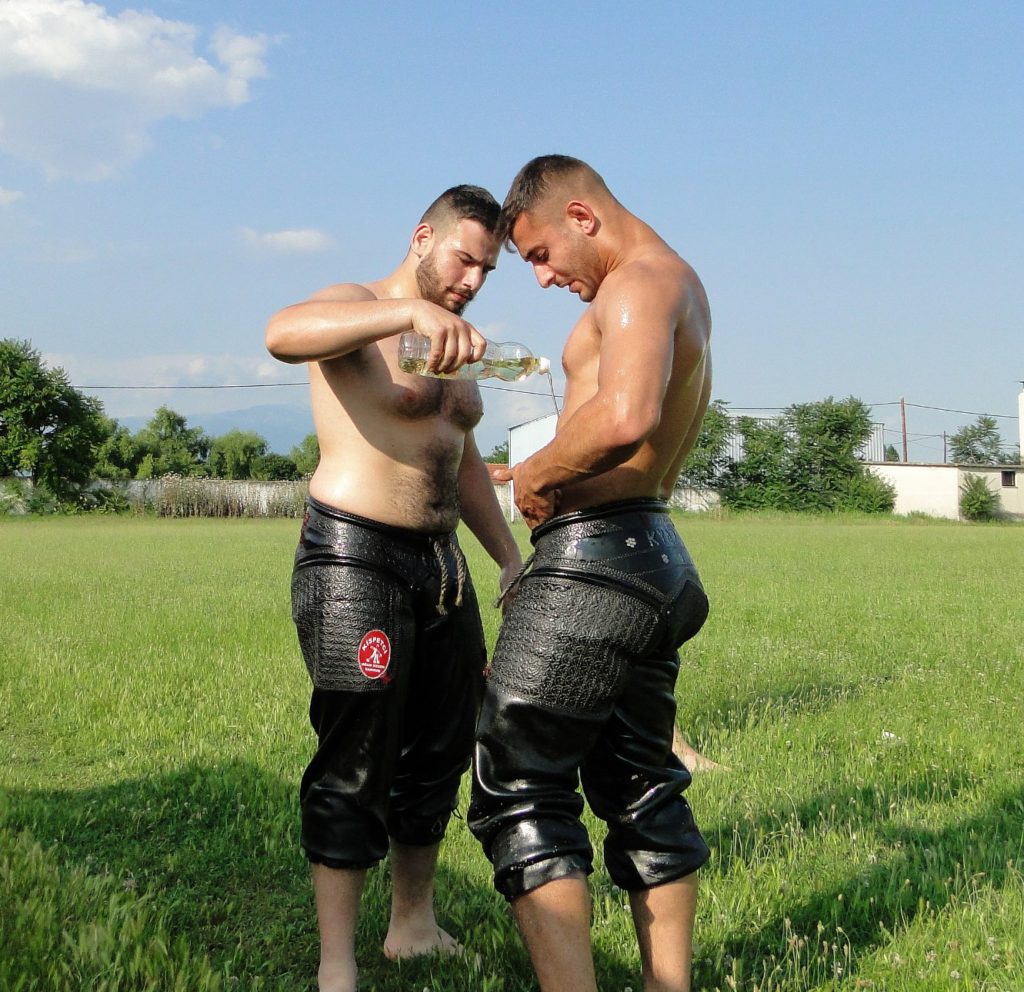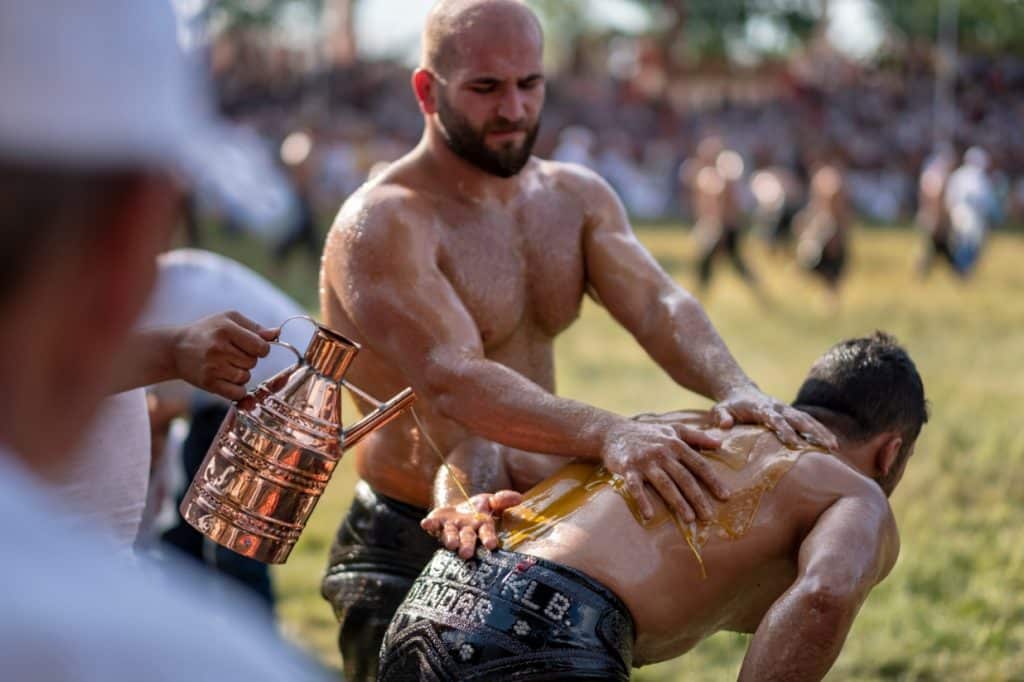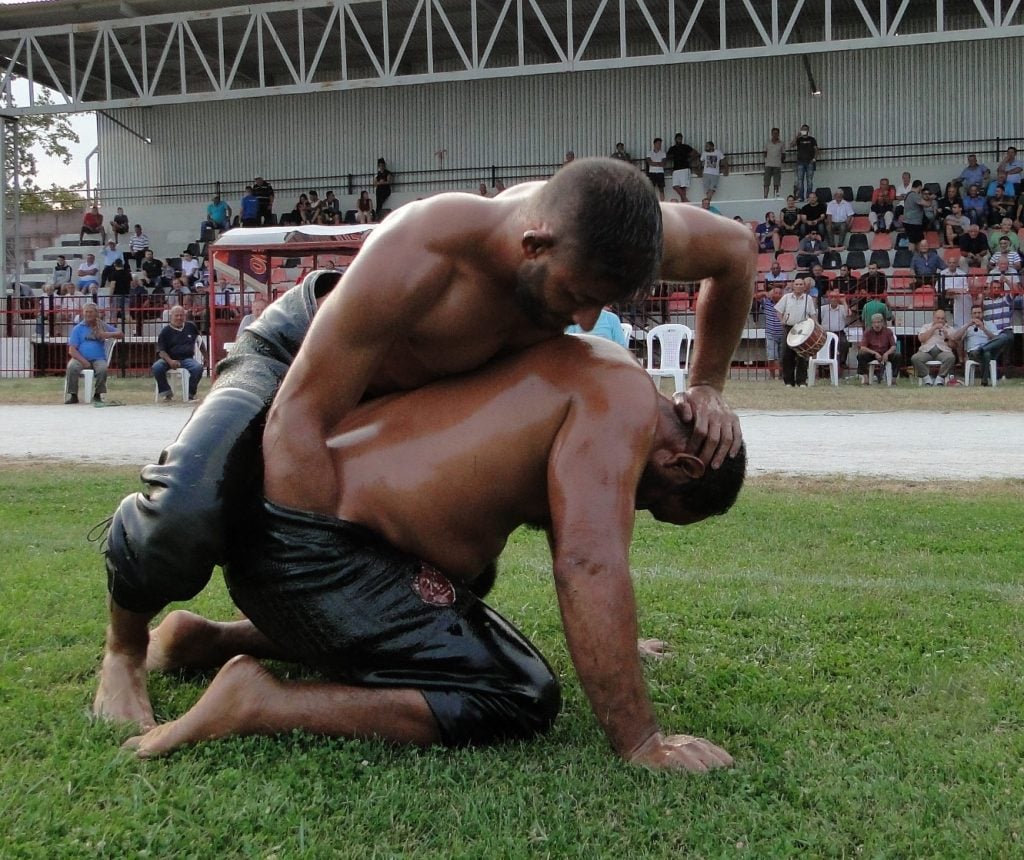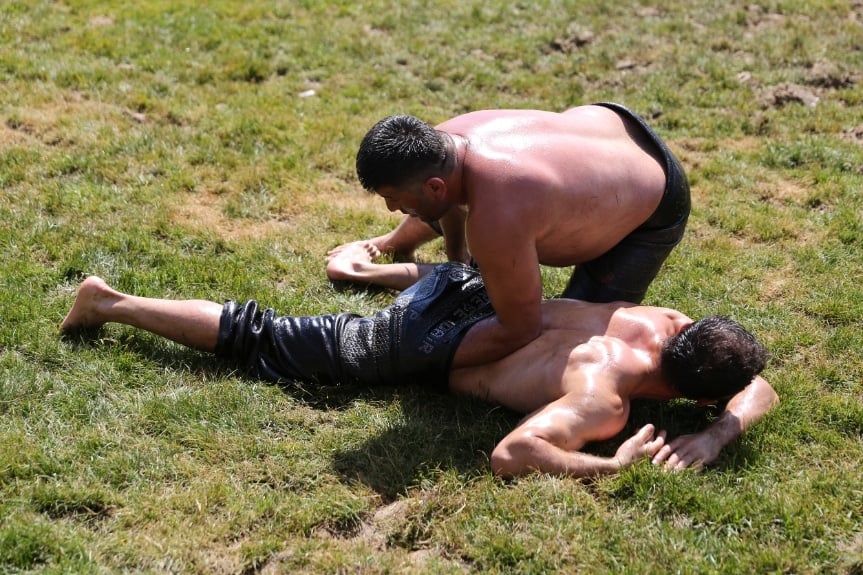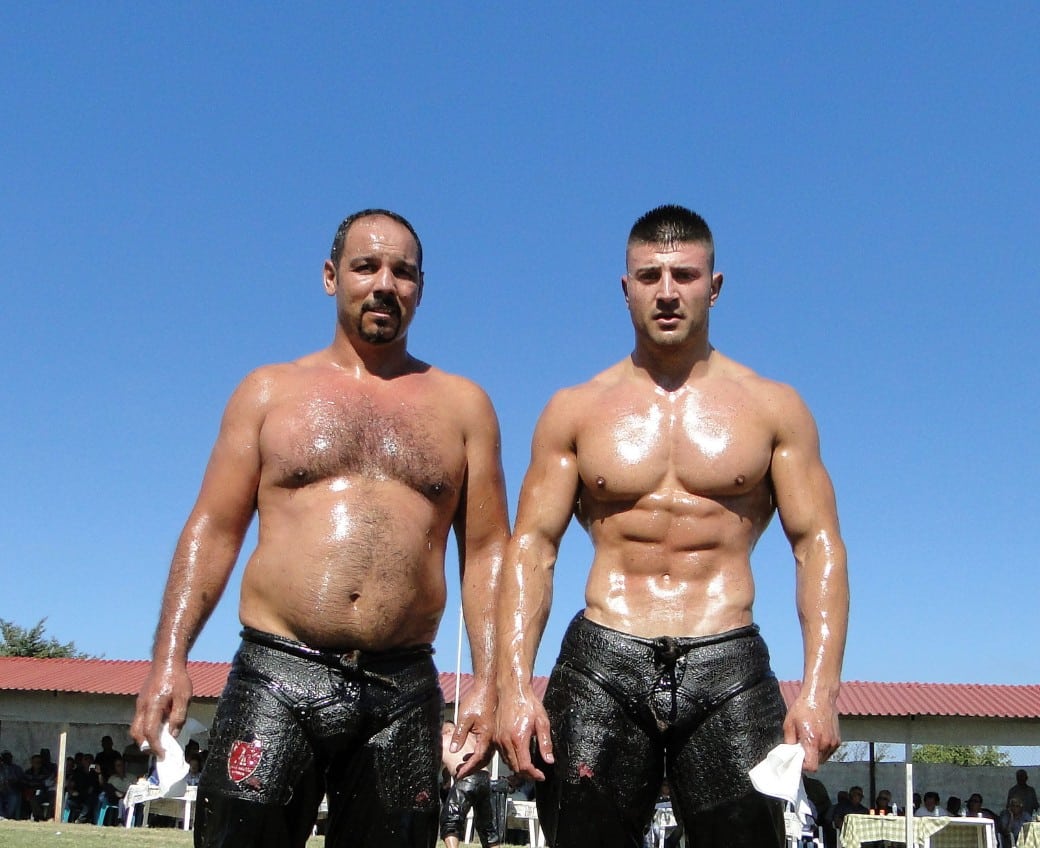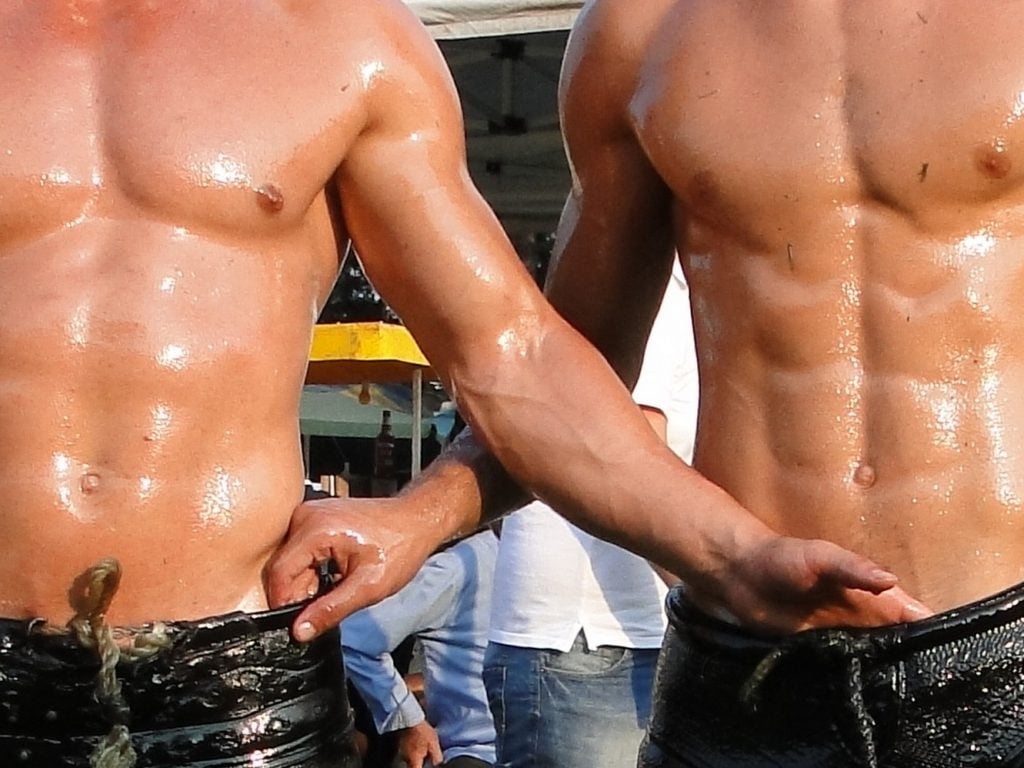 Moving over to South Asia we find a form of wrestling called Kushti, also known as Pehlwani. Rather than using modern arenas, Kushti wrestlers train and compete on dirt floors. Unsurprisingly, things get a little bit sweaty and dirty, but I'm sure you don't mind.
Coming Out in Wrestling
Alright, now that we can appreciate the sport, what are some of the gayest moments? It depends on what kind of wrestling you're referring to. Wrestling champion Mike Pucill coming out in 2015 was certainly a memorable moment. The Ohio State wrestling champ initially came out to his best friend and teammate, Reece Humphrey. "Telling him was an unbelievable weight off my shoulders (and) I didn't think I would feel that good just telling him," said Pucill. This moment solidified Pucill as the first openly gay Division-I national champion wrestler.
#progresspic #fitness #lifestyle #bodygoals #bodybuilder #strength #gains #365.5 #iifym #ShortCutToShred #gutcut #smh pic.twitter.com/gqrnkQcaBA

— Mike Pucillo (@MPucillo84) August 1, 2014
View this post on Instagram
If you're talking Pro Wrestling, then the moment openly gay wrestler Jake Atlas signed with the WWE was a momentous one. After winning the 2017 Southern California Rookie of the Year Award, the 24-year-old athlete gained worldwide fame. Following that success, Atlas went on to win several championships and eventually came out. After joining, Atlas became the second out gay WWE wrestler following in the footsteps of Darren Young, who came out in 2013.
View this post on Instagram
Speaking of Darren Young, can we appreciate that man for a moment? This post from Pride 2021 was particularly gay and gratifying. "We have to be visible," Young wrote. "I believe visibility is a powerful tool for social change. We should not be ashamed of who we are." If there is a better message for future gay athletes, I'd like to hear it.