Estimated reading time: 5 minutes
From Tobey Maguire to Andrew Garfield, the Spider-Man franchise has come a long way. However, Tom Holland's a clear fan favorite, and everyone seems to want to know everything about him — including if he's into men. Considering Tom Holland has captured the hearts and minds of Spider-Man fans from all over the sexuality spectrum, can you blame anyone?
Read on to learn all about the hottest gossip on Tom Holland and his sexuality.
Related | Tessa Thompson Wants More Gay Representation In The MCU
Tom Holland On A Gay Spider-Man
Right before Spider-Man: Far From Home hit cinemas, Tom Holland interviewed with The Times about the possibility of a gay Spider-Man. He discussed Peter Parker in a very progressive way, stating:
"I can't talk about the character's future because honestly, I don't know, and it's out of my hands. But I do know a lot about the future of Marvel, and they are going to be representing lots of different people in the next few years," he quipped, being uncharacteristically vague about the future of Spider-Man.
He expressed the need for a gay Marvel character to be front-and-center. "The world isn't as simple as a straight white guy. It doesn't end there, and these films need to represent more than one type of person."
While this proves nothing on the debate of whether Tom Holland is gay or not, it's nice to see high-profile actors being open to the idea of queer MCU protagonists. This is especially true when you think about how superhero narratives have been traditionally about straight white men, like Captain America: Civil War or Iron Man.
Tom Holland's Sexuality: The Facts
Looking into a celebrity's personal life can be a slippery slope, but finding the facts is essential. Here's a short timeline of interviews, Instagram posts, and fan theories on Holland's sexuality.
In 2019, fans were abuzz with one question: "Is Tom Holland bisexual?" The results were inconclusive since the actor himself has never confirmed nor denied anything about his sexuality.
But that hasn't stopped fans from speculating and maintaining hope, with some folks making YouTube videos "proving" that young Spider-Man is bisexual. The "proof" in question? Tom Holland can't sit properly during interviews — a nod to the "chaotic bisexual" stereotype.
In 2020, the young Tom Holland posted a cute video on his Instagram feed about his "husband" Jake Gyllenhall.
Again, we're not asserting that Tom Holland is gay because he publicly declared his love for the wide-eyed Jake Gyllenhall — no matter how cute and sweet the post is. Whether this is a sign of Tom Holland potentially being gay or if he's just a sweet and lovely character, we love to see this affection between two men!
Is Tom Holland Gay? The Definitive Answer
Now, let's talk about Holland's confirmed dating history. Over the years, our young Spider-Man has been linked to a few women. However, his dating history has been conspicuously devoid of a boyfriend, leading us to believe that Tom Holland is likely wholly straight.
Tom has been in relationships with several women throughout the years — many of them removed from his celebrity sphere of influence. The current woman in his life has been his on-screen girlfriend since his first film as a Marvel frontman. That means all the fan speculation about Tom Holland and Zendaya was right all along.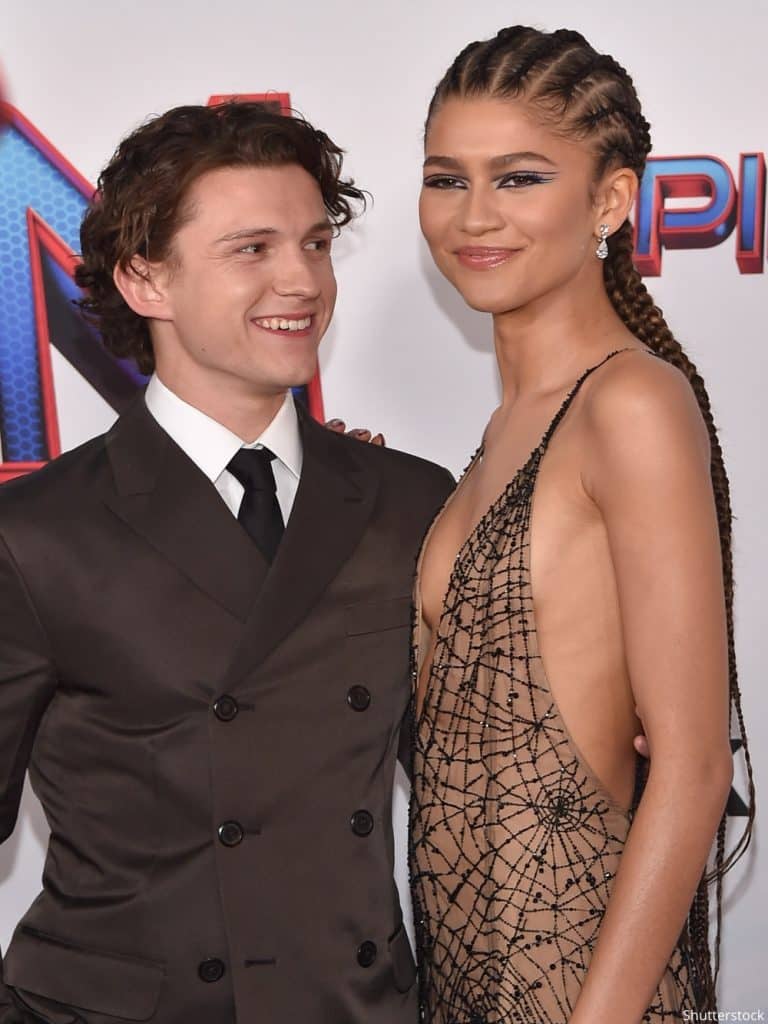 Zendaya and our hometown hero confirmed that they planned to buy a home together in London in a relatively new interview. At the time of publication, they're likely already cozied up and living there. The estate is valued at the $4M mark and comes with an in-house gym, a "man cave," and a theater.
The Marvel Cinematic Universe And The LGBTQ+ Community
Our beloved Peter Parker might be straight, but Marvel is getting gayer than ever. Comics and superhero movies have traditionally been a straight affair, with LGBTQ characters coming few and far between. However, today's MCU is finally catching up with the times, adding a new gay character or two to its roster.
From fan-favorite trickster, Loki's bisexuality to Tessa Thompson joining the cast as the powerful Valkyrie to Captain Marvel/Carol Danvers' canonical lady-loving, members of the LGBTQ community are getting more representation on the big screen than ever.
Related | Loki's Sexuality Confirmed In Disney+ Series
But beyond the ever-popular Avengers: Infinity War and Endgame arc, it looks like the Disney higher-ups want to create a more inclusive universe. Kevin Feige, current President of Marvel Studios, spoke at length about the 2021 release Eternals, which featured an out character who was also married and had a child. Because of this, we're holding out hope that a gay Spider-Man character might be in future movies, too.
We set out to find out if Tom Holland was gay, and now we have our answer. Holland is probably completely straight and currently has a wonderful relationship with his Spider-Man co-star, Zendaya. That said, he's expressed his support for the LGBTQ+ community. Holland looks forward to having a gay Spider-Man join the ranks, which we think would be a huge win.
Tom Holland FAQ
Is Tom Holland gay?
Tom Holland has not openly identified as gay. His dating history includes women, and he is currently in a relationship with his co-star, Zendaya.
What has Tom Holland said about a gay Spider-Man?
Tom Holland has expressed support for the idea of a gay Spider-Man, stating that the world isn't as simple as a straight white guy and that Marvel films need to represent more than one type of person.
Has Tom Holland confirmed his sexuality?
Tom Holland has not publicly confirmed or denied speculations about his sexuality.
Who is Tom Holland currently dating?
Tom Holland is currently dating his Spider-Man co-star, Zendaya. The two have reportedly planned to buy a home together in London.
Has Tom Holland expressed support for the LGBTQ+ community?
Yes, Tom Holland has expressed support for the LGBTQ+ community and the need for more diverse representation in Marvel films.
More Tom Holland Stories