Gay San Francisco: A Complete Travel Guide
Nicknamed "Gay Mecca," San Francisco is a liberal-leaning city that's iconic for its groundbreaking gay legislation. After the Stonewall uprising in New York, San Francisco headquartered the gay liberation movement and elected its first gay official, Harvey Milk. Today, when people think of "gay travel", San Francisco comes to mind.
If you're looking for a way to add some LGBTQ flair to your gay San Francisco vacations, this guide will tell you everything you need to know!
Related |  The Top 5 Transgender-Friendly Cities In The U.S.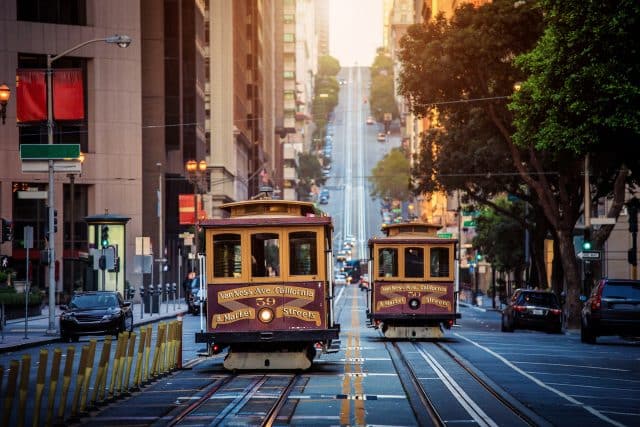 The San Francisco Gay Scene
San Francisco has one of the highest gay populations in the United States, with at least 15% of the population identifying as part of the LGBTQ community. The Castro is one of the first gay neighborhoods in San Francisco and the epicenter of LGBTQ activism. Here, you'll find the iconic Castro Theatre, which highlights gay cinema and music.
San Francisco's gayness extends far past the Castro, however – you'll find plenty of gay bars, clubs, restaurants, and other entertainment centers across the bay. Some of these areas are so liberal that it is even entirely legal to walk around nude!
LGBT Events In San Francisco
San Francisco hosts many LGBTQ events year-round. However, if you're only passing by, you may not have the time to attend each one. Make sure to have these LGBTQ-centric events on your shortlist of things to do when in the city.
San Francisco PRIDE
When: June
There is nothing more quintessentially gay than San Francisco's PRIDE festival. It is the largest PRIDE gathering in the nation, featuring over 200 parade contingents and 20 community-run stages. The parade has featured dozens of notable performers, including the Backstreet Boys, Janis Ian, The Pointer Sisters, Lady Gaga, and Kehlani.
Fresh Meat Festival
When: June
From operatic groups to boy bands, the Fresh Meat Festival features all sorts of performers from transgender and non-conforming communities. The festival, which takes place over three days, is just one of many Fresh Meat programs that promote creative expression, education, and cultural leadership within trans spaces.
Up Your Alley Street Fair
When: July
Do you consider yourself a leather daddy? If so, the Up Your Alley Street Fair features fairgoers with a passion for rubber, bike gear, and other kinks. About 15,000 fetish enthusiasts attend the festival every July, where you can also shop with over 50 adult vendors.
Folsom Street Fair
When: September
San Francisco's Folsom Street Fair is the world's biggest leather event, covering 13 city blocks and attracting over 400,000 participants annually. The fair features over 200 local vendors who sell everything from toys to gear. Most participants attend in their best leather-based get-ups, but you can hit the festival up in just your birthday suit.
Castro Street Fair
When: October
When in San Francisco, you shouldn't miss the Castro Street Fair. Castro became America's first openly gay city in the 1970s, and city elect Harvey Milk launched the Castro Street Fair in 1974.
For an entire weekend, festival-goers can enjoy live art and music and shop with hundreds of local LGBTQ vendors. Since its early years, the Castro Street fair has raised over $1.5 million for its beneficiaries.
Where To Stay
Considering how liberal San Francisco is, you won't be hard-pressed to find a hotel or resort that isn't gay-friendly. Consider these accommodations if you're looking for somewhere to stay that is an excellent value for money.
Beck's Motor Lodge
2222 Market Street
In the heart of one of San Francisco's most vibrantly gay neighborhoods is Beck's, Motor Lodge. Beck's is just a stone's throw away from the Castro Theatre, Golden Gate Park, and Market Street. It also boasts unique amenities like a rooftop sundeck that is perfect for people-watching.
Remember to book your room in advance if you're visiting in June because Beck's is a hotspot for PRIDE-goers!
Cavallo Point
601 Murray Cir, Sausalito
Cavallo Point is the place to be if you want a room with a view. Its suites overlook the Golden Gate Bridge and are just a quick drive away from some of San Francisco's most popular attractions. Cavallo Point also has a state-of-the-art spa, plus its staff can also arrange outdoor excursions like hiking, biking, and helicopter tours.
Hotel Zelos San Francisco
12 4th Street
Just a hop and skip away from Union Square is Hotel Zelos San Francisco, a sophisticated hotel with its own award-winning cocktail bar. Located in the heart of San Francisco's SoMA District, the Zelos also neighbors some of the area's best nightlife destinations.
Noe's Nest Bed & Breakfast
1257 Guerrero Street
Nothing screams "charming" like Noe's Nest Bed and Breakfast. Sandwiched between Noe Valley and the Mission District, Noe's is the best place to book if you want to get a tour of the Golden Gate Bridge or Pier 39. Noe's is also just a quick drive away from San Francisco Zoo and is an excellent central location for tourists who want to attend some of the city's biggest LGBTQ events.
Where To Eat
Besides being the most LGBTQ-welcoming city in the United States, San Francisco is also known for its world-class dining experiences. Food-loving tourists should drop by these LGBTQ-owned restaurants and cafes.
Third Culture Bakery
2701 Eighth Street, Berkeley
Third Culture Bakery is home to the signature mochi muffin and other international favorites in the form of delectable pastries. Owned by third-culture kids and LGBTQ activists Sam Butarbutar and Wenter Shyu, Third Culture Bakery began in 2016 and has since opened 60 wholesale locations across America. Its "Good Good" initiative directs some of its proceeds to organizations like the SF LGBT Center and The Trevor Project.
Orphan Andy's
3991 17th Street
First opened in the 1970s, Orphan Andy's has become a San Francisco brunch favorite. Its rich history states that the humble restaurant was once a go-to for LGBTQ community members who were stricken by the AIDS crisis. Orphan Andy's is still a gay mecca for people of all backgrounds and is open 24/7.
Equator Coffees & Teas
1201 Bridgeway, Sausalito
Equator Coffees and Teas is San Francisco's pioneering sustainable coffee shop, committed to providing an equitable supply chain for local farmers. This LGBTQ-founded B-Corp coffee roaster became the first of its kind to win California's Small Business of the Year award, and it's now certified as an LGBT Business Enterprise.
Where To Party
Gay bars in San Francisco are everywhere, so narrowing your list of places to visit can be challenging. Luckily, we've done the work for you and made a comprehensive list of gay clubs in San Francisco that deserve your attention.
The Cafe
2369 Market Street
The Cafe has been a club staple in the Castro area for over 30 years and continues to entertain all sorts of patrons with live music, and its signature LED dance grid. This booming nightclub has a retractable glass skylight on its open-air patio, perfect for romantic moments and all-night dancing. Weekly events like Picante Latin Night and Hot GoGos draw hundreds of patrons every time!
Lookout Bar
3600 16TH Street
If you're looking for cheaper drinks or want to experience one of San Francisco's favorite drag brunches, drop by Lookout Bar. This lively location is a staple for day drinking and is often voted Castro's best gay bar. The Lips and Lashes drag brunch happens every Saturday and features talented singers, dancers, and illusionists.
Twin Peaks Tavern
401 Castro Street
Are you looking for the best view of the Castro, where you can people-watch with a pint of craft beer to keep you refreshed? Hit up Twin Peaks Tavern! Home to some of the neighborhood's best craft beers, Twin Peaks is an established icon that welcomes both city regulars and transients.
440 Castro
440 Castro Street
If you're part of the bear-leather niche and are up to meeting new faces, 440 Castro is the place to be. Visit during Pride Month, and you'll have your fair share of strangers to mingle with. Otherwise, you won't want to miss Underwear Night every Monday and $3 beers on Tuesdays.
Toad Hall
4146 18th Street
Once the Pendulum, Toad Hall now stands in its historic place, welcoming guests seven days a week. Here, guests can enjoy RuPaul's Drag Race viewing parties, karaoke every Wednesday, and 2-for-1 happy hour daily! Guests who want to mingle can retreat to the outdoor patio for a smoke and a bit of downtime.
OMG
43 6th Street
If dive bars are your thing, OMG is an energetic and vivid space. In the SoMA area, OMG is popular for its Latin Nights and Underwear Parties. This multicultural establishment also occasionally hosts Bollywood Nights and drag brunches.
Other Fun Things To Do In San Francisco
When in San Francisco, there is something for everyone, be it a city tour, shopping hotspots, or other experiences. Make your trip even more exciting by adding these activities to your itinerary.
Shop For Adult Toys At Does Your Mother Know
4141 18th Street
Smack dab in the middle of the Castro is Does Your Mother Know, San Francisco's biggest adult toy shop. It stocks products for men and women, including sex staples, outlandish costumes, and other novelties you won't find anywhere else!
Visit The San Francisco LGBTQ Center
1800 Market Street
For visitors who want to do volunteer work or simply want to access more LGBTQ resources, visit the San Francisco LGBTQ Center on Market Street. You can arrange a safe space for LGBTQ travelers to gather, join workshops, or give back to other LGBTQ organizations.
Take A Romantic Helicopter Tour
Do you and a partner want to experience something you'll never forget? Why not go on a San Francisco helicopter tour? Catch a glimpse of some of San Francisco's landmarks thousands of feet in the air with SF Helicopters.
Its most popular tour is the Vista Grande Tour, which flies over the Pacific Ocean, Alcatraz, and Golden Gate Bridge. Tourists can also book an after-tour lunch or dinner cruise.
Go On The Love Tour
San Francisco's Love Tour takes tourists across the city to experience local favorites aboard a hip and groovy 70's VW bus! This 2-hour sightseeing tour covers places like Fisherman's Wharf, the Castro, Chinatown, and North Beach. You'll also get to visit the homes of superstars like Janis Ian and Jimi Hendrix.
Shop Novelty Cookies & Souvenirs At Hot Cookie
407 Castro Street
If you want to bring home a naughty and sweet little souvenir for your candy-loving friends, get Hot Cookie's penis, and vagina pops! Hot Cookie sells other delicious sweet treats and hosts LGBTQ-forward events like art exhibits that feature sex-positive artists like Jessalyn "Jesse Jae" Ragus.
The Bottom Line
With such a large LGBTQ population, you can bet that San Francisco always has something going on for its gay locals and tourists. If you're unsure how to begin your one-of-a-kind gay excursions, we hope this comprehensive travel guide has given you a few exciting ideas!
Related |  If You Support LGBTQ Rights Boycott These Luxury Hotels