The highly anticipated queer period drama My Policeman finally has a full-length trailer!
Harry Styles is about to debut in an LGBTQ+ acting role in Michael Grandage's My Policeman. The film, based on the award-winning novel by Bethan Roberts, stars the Grammy Award-winning singer, who just got back from the premiere of Don't Worry Darling at the Venice Film Festival, alongside The Crown's Emma Corrin and David Dawson (Peaky Blinders).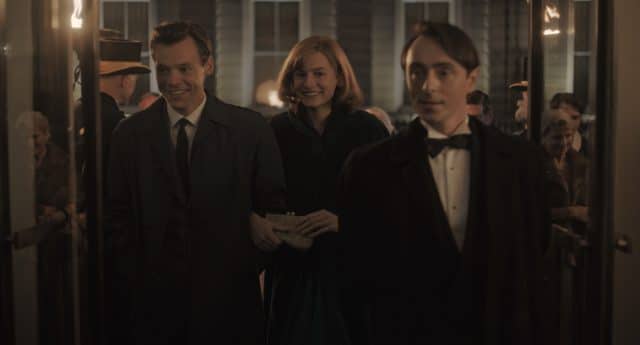 Related | The Steamy Scene Luke Macfarlane Shot Down in 'Bros' Movie
My Policeman is a story about forbidden love, the harsh reality of societal restrictions, regret, and one's fight to live freely. The film starts in 1950s Brighton when a young Tom (Styles) falls in love with both Marion (Corrin) and Patrick (Dawson). The trio then agrees to form a secret arrangement, as queer relationships are against the law.
Fast-forward 40 years, Tom (Linus Roache), Patrick (Rupert Everett), and Marion (Gina McKee) are reunited and have a chance to right the wrongs and mend their broken hearts. But can they do it?
The new trailer is riddled with love, passion, and enough heartbreak to have us crying in the theater. Please plan accordingly when you go see it.
Though the film has yet to hit theaters, the actors are already nabbing awards. Last month, the entire My Policeman cast won the Toronto International Film Festival's 2022 Tribute Award for Performance. Could this be a taste of what is to come this award season?
My Policeman premieres in theaters on October 21 and Prime Video on November 4. Watch the new trailer below.