How To Embrace The Pastel Aesthetic
As the winter season (and almost two years in a pandemic) approaches, we're seeing pastel colors trending yet again. You can chalk it up to 80s and Y2K nostalgia or living during a time of uncertainty and change. Everyone can use a little eye candy to cope with the times, after all.
Pastels are a wonderful way to show your true colors and brighten up your life. From edgy pastel aesthetic outfits to funky pastel accent pieces for your home, here's an easy guide to making pastels your new aesthetic!
RELATED | ​​4 Drag Stars Create Stunning Looks Inspired by LGBTQ+ History
What Is The Pastel Aesthetic And Why Do We Love It So Much?
Pastels are a color family distinguished by pale hues and less intensive colors. They're named after the chalk-like art medium, known for its lightness and almost translucent effect when on canvas. Historically, you can see pastels influencing the late Baroque and Rococo period – think Marie Antoinette.
Other eras of note include the post-war period of the Roaring Twenties, as seen in the glittery and pastel flapper fashion. Pastels also trended in 80s interior design, a much more muted aesthetic compared to the funky brights of the 70s. As for the past few decades, you can't separate the pastel pink aesthetic from the 90s and 2000s.
When society collectively craves lighter feelings, we tend to select lighter color palettes. We also can't discount Gen Z's trendsetting power. Currently, it's all about reliving glittery and glossy childhoods through pastel pink-colored glasses! So perhaps these light cotton candy hues have never actually gone out of style – they've just evolved to fit the current moment.
Add A Little More Pastel Into Your Home
Nordic interior design is taking Pinterest and Instagram by storm. Key features of the Nordic style include minimalism, clean lines of sight, light or muted colors, and an emphasis on function. Organization plays a huge part in Nordic design, so get creative with how you store your things!
It's about harmonizing your home to inspire a harmonious mindset. Pair that design philosophy with the joy and optimism of a pastel color palette, and you have the perfect recipe for a photogenic home. Here's how to create a space that's refreshing on the eyes and on the mind.
Refresh Your Space With Pastel Accent Pieces
You don't need to buy a ton of products to create a pastel-perfect home. Simply select the right accent pieces for your space! Revive that houseplant and repot it in a patterned vessel. Get yourself a squiggly mirror for your vanity. How about some quirky-shaped candles to perfect that shelfie? And if you've been biding your time making art at home, select a frame and hang up that masterpiece!
Wanna save yourself a trip to the furniture store? Grab a can of pastel spray paint and DIY all the things.
Cook In Style With Pastel Kitchen Tools
Listen, it's okay if you're cooking instant ramen for the nth time this week. But why not change it up with a cute bowl and iridescent cutlery? Switch your boring old spatulas with something baby blue or pink!
Also, if you haven't yet, go and watch Cooking With Paris on Netflix. Everything Paris Hilton uses in her attempts to cook just screams pastel pink aesthetic. And we are #living for this major kitchen inspo moment!
Create A Pinterest-Worthy WFH Setup
Most of us will be working from home indefinitely so might as well invest in an aesthetic office space. Pick out an ergonomic chair – in pink, obviously – and bid lower back pain farewell. The same goes for a standing desk or monitor riser. Again, it's all about the color palette you select. Take a scroll through any kawaii gamer Instagram account for starters.
Not into gaming? No problem. Maybe store your pens in a cute mug. Find cute notepads and leave affirmations on your desk. Select a pastel planner for next year so you're more motivated to get through those goals.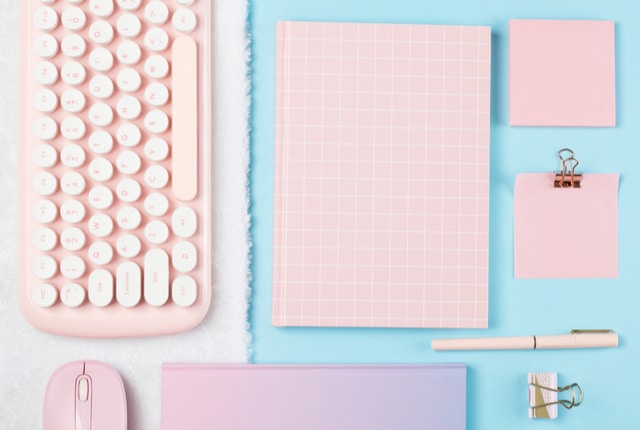 Your Beddings Also Deserve A Glow Up
We spend a quarter of our lives sleeping, so might as well make our beds easy on the eyes and easier to fall asleep in. If that means getting two more pairs of pillows and a plush duvet, so be it. Brighten up your bedroom in select pastels and patterns for your linens. An accent pillow won't hurt either!
View this post on Instagram
Pastel Outfits For Your Next Ootd
Pastel outfits made a comeback on the 2020 and 2021 runways – another creative response to the times. High fashion labels created entire collections in joyful pastels, full of clothes to cheer us up from the first few gloomy months of COVID. The Balmain Resort 2021 show in particular featured 90s-inspired pastel outfits. Naturally, a lot of the OOTDs you see lately have taken on the same vibe, whether that's couture or cozy fits.
Cozy, But Make It Aesthetic
Seriously, does anyone still wear hard pants while working from home? Loungewear is the new office wear, so look cute and feel comfy while you're at it. Nothing says comfy-chic like tie-dye coords or a matching oversized jumper and sweatpants.
For A Grungy Look, Get Into The Pastel Goth Aesthetic
For some, grunge isn't a phase – it's who we are. But what if we want to show our sweet side, too? Get the best of both worlds with pastel goth aesthetic outfits. It features the classic edginess of goth – leather chokers, chunky creepers, metal studs – but makes it cute and candy-colored.
Create A Zoom-Ready Pastel Makeup Look
Pastel eyeliner is making loads of waves on beauty Instagram right now. But one great source for inspiration at the moment? The hit HBO show Euphoria, which features some of the most dazzling makeup looks in TV history.
View this post on Instagram
Just scroll through Doniella Davy's Instagram account – she's the visionary who created all those looks. Occasionally she posts makeup tutorials and lets us in on the makeup products she uses.
Pastels: An Invitation To Hope
Don't let the upcoming winter season or the ongoing pandemic get you down. Turn your home and wardrobe into a source of comfort in these times. Select the kind of energy you wish to surround yourself with. Let the aesthetic pastel trend inspire you to feel joy and hope, even in the little things. And, like pastels, you too have the power to be a source of light to others!
RELATED | Harry Styles Launches Nonbinary Beauty Brand Pleasing