We don't have very much in common with Brett Kavanaugh, but one thing we do have in common is a shared love of calendars. Yes, we did just insert his name into this story about gay intimacy. Just for kicks. Regardless, our love of gay-themed calendars rings true. Thankfully there are queer artists like Michael J. Breyette who specialize in capturing the male form in pastel paint. Conveniently, Breyette has an image that accurately illustrates the unique vibe of every month in the year.
Related | 24 Glimpses Into Gay Homelife With Artist Zach Brunner
Gay Intimacy and the Male Physique
Breyette's fascination with the male physique is evident in his pastel paintings. The artist has made a name for himself with his signature style that is both erotic and dreamlike. Though the muscular men with rippling abs are a mainstay of his work, Breyette insists that they are simply vehicles for his message. They are "messengers of moments, ideas, and emotions" he wants to express. Growing up in a rural part of upstate New York, he could have never envisioned that his future would involve illustrating gay intimacy. Although we're sure he's thankful that he has been able to make a profession out of this, we assure you we are equally thankful for his work.
Before we walk you through the goods, take a moment to follow Michael J. Breyette on Instagram. Be sure also to check out his website where you can buy prints, pillows, gift cards, and yes, even calendars. So, let's take this by vibes and only vibes, and explore Breyette's work as if it were laid bare on a calendar.
January: New Year New Me
Ah yes, the month of good intentions and often poor follow-through. The month when you decide to wash away all of last year's bad vibes for a new year of self-improvement. With any luck, these stunning paintings will inspire you to make new goals and stick to them. They'll inspire you to do something, that's for sure.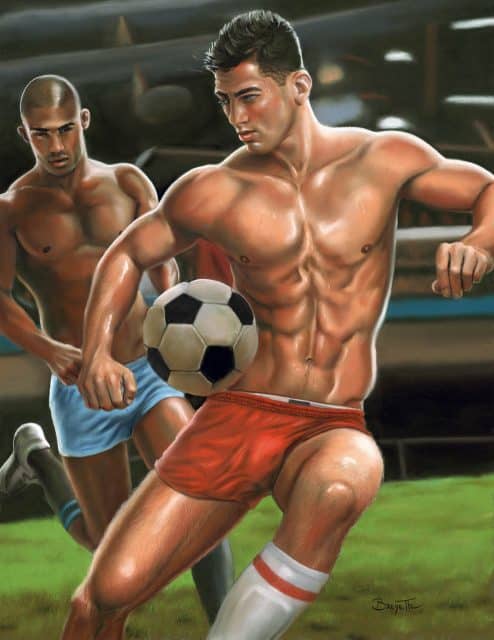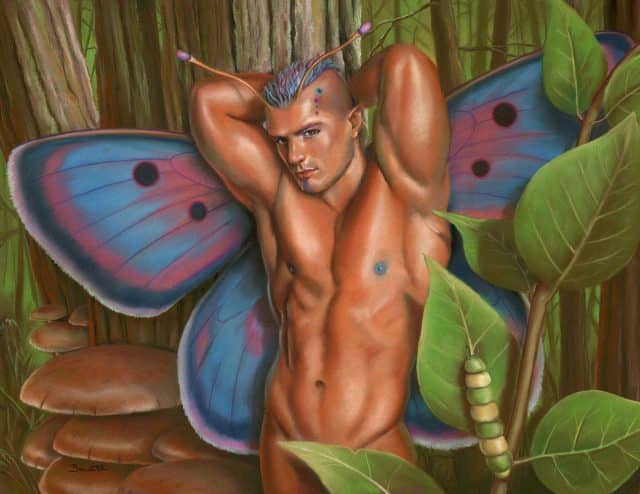 February: Love is in the Air
The month of love. As the chill of winter still clings on, it can sometimes help to have a warm body to hold onto. For those of us who aren't lucky enough, perhaps these moments of intimacy will provide some comfort. For the rest of us, there's always next month.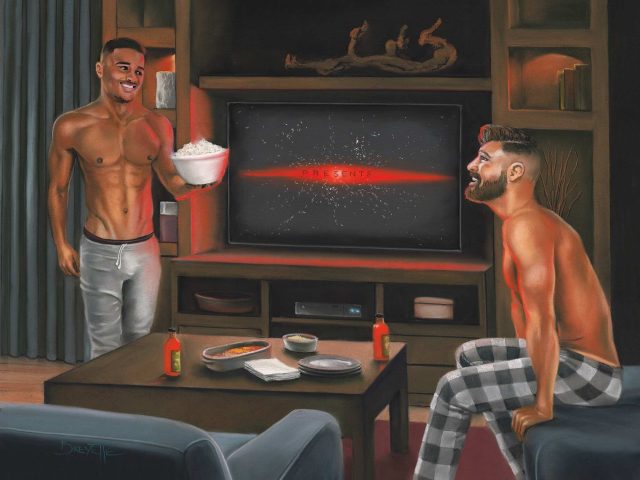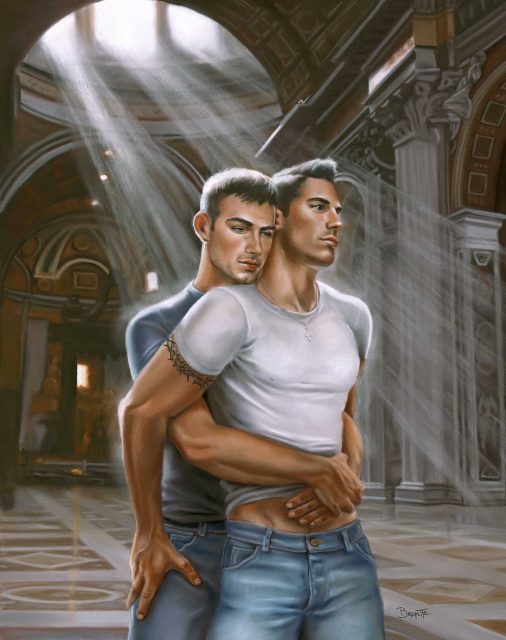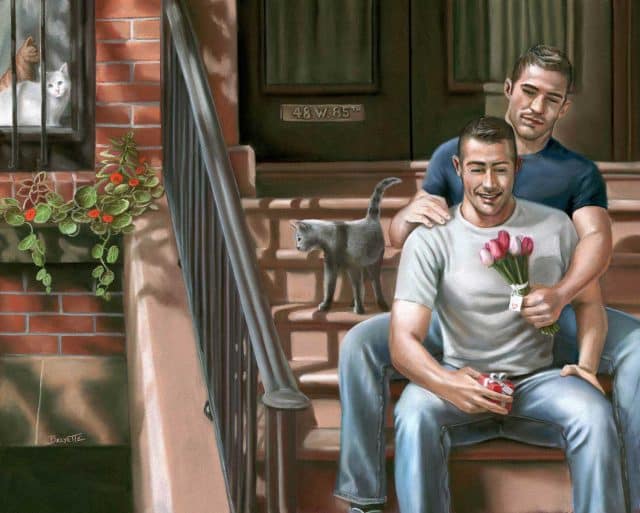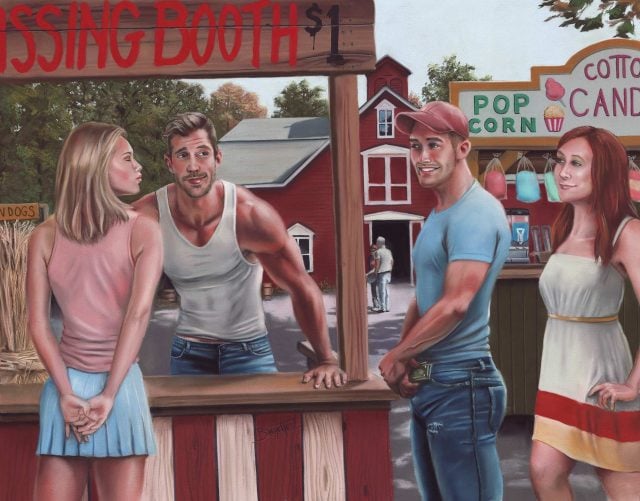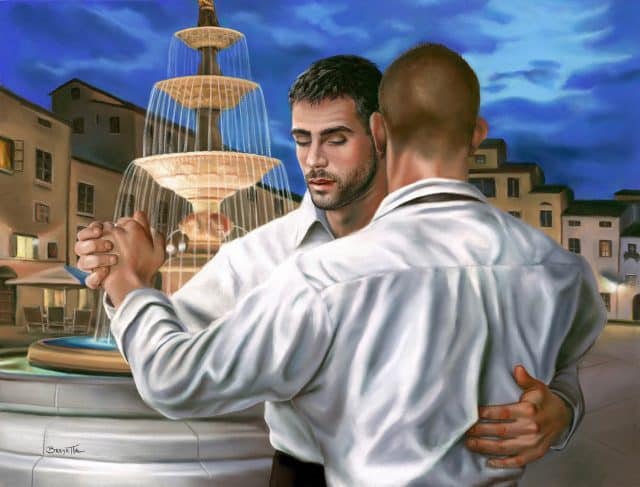 March: Home on the Range
What better time to celebrate the cowboys and the ranch hands? Spring is a busy season on the ranch, and we know that because we just Googled it. As the calves come in and the frost begins to thaw, the ranch comes back to life. That's probably not the only thing coming back to life when you look at these images.
Related | This Artist Is Reimagining Your Favorite Superheroes Turned Gay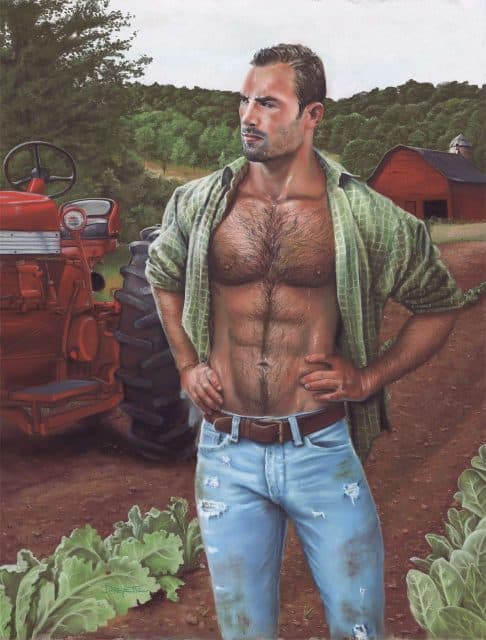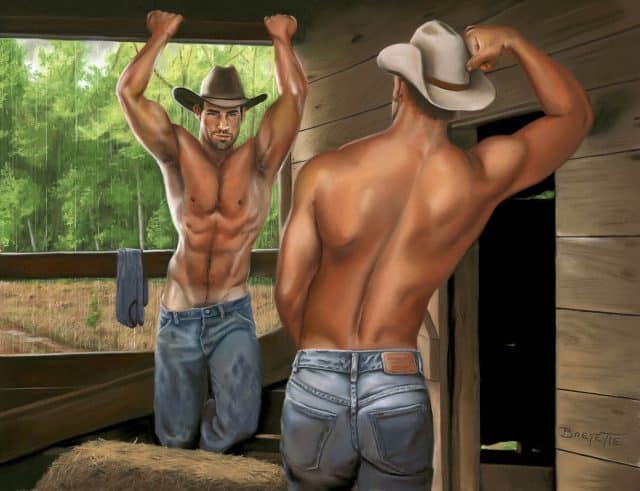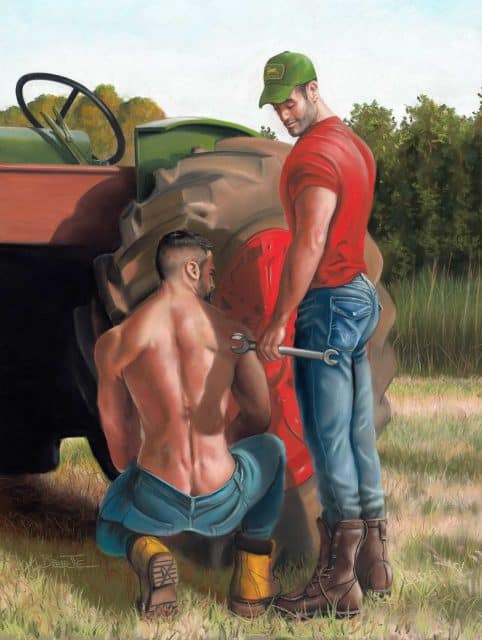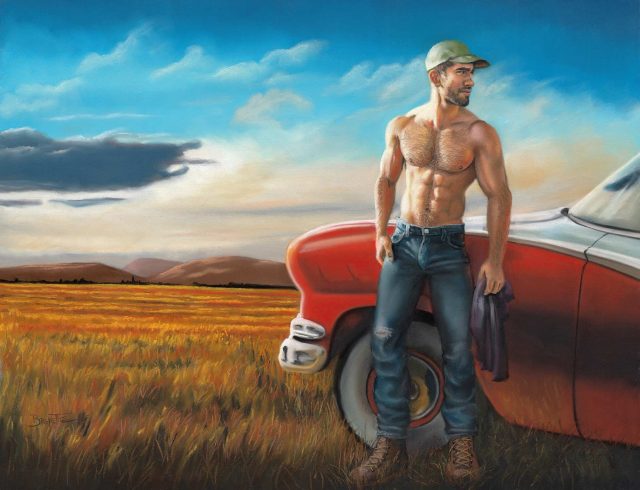 April: April Showers
Rain, rain, go away—unless a hot guy is wearing a white t-shirt. We've all had our kissing in the rain fantasies, and Breyette just so happens to be an expert at painting wet men. We can't thank him enough.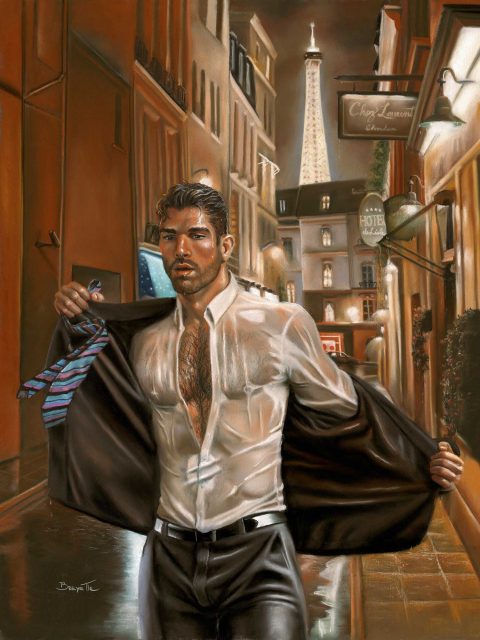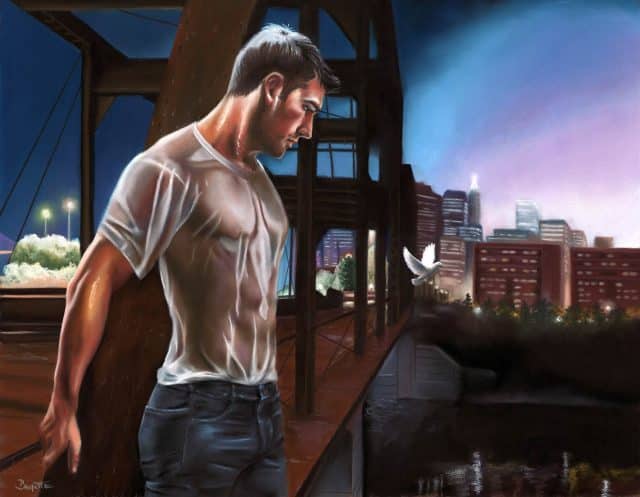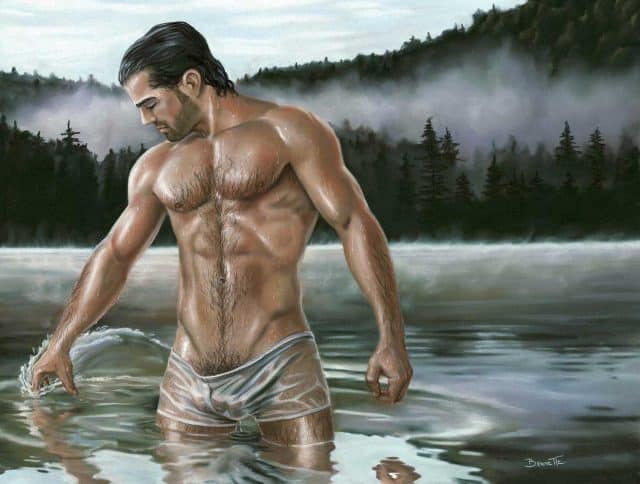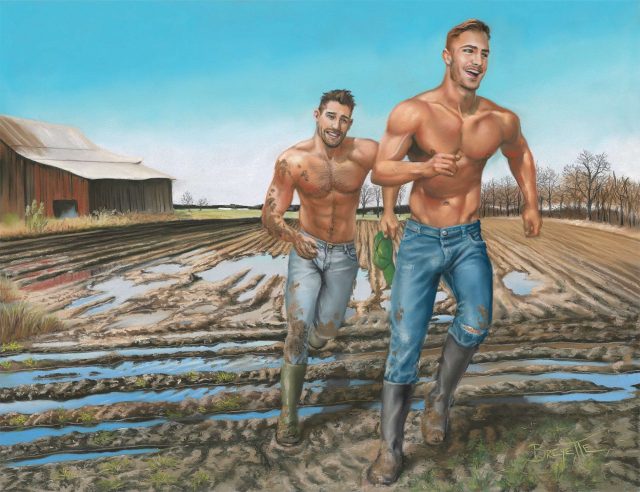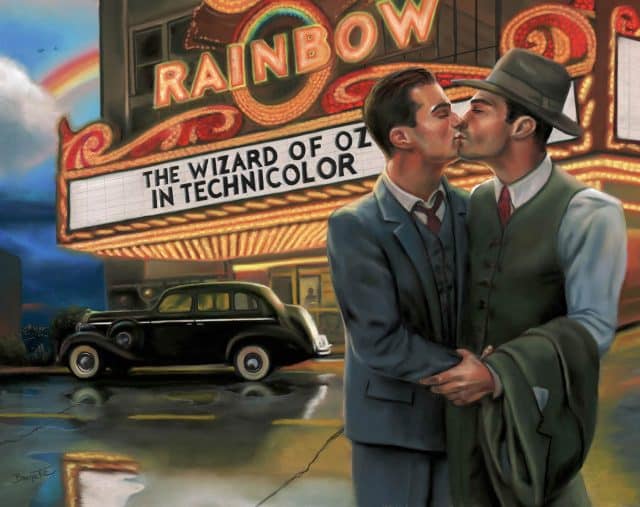 May: Wanderlust
As summer kicks off, travel season jumps into high gear. Almost every gay fancies themself a travel buff, so what better way to mark the occasion than by painting buff men traveling? Pack your bags boys, but don't worry about your shirts. You won't be needing those.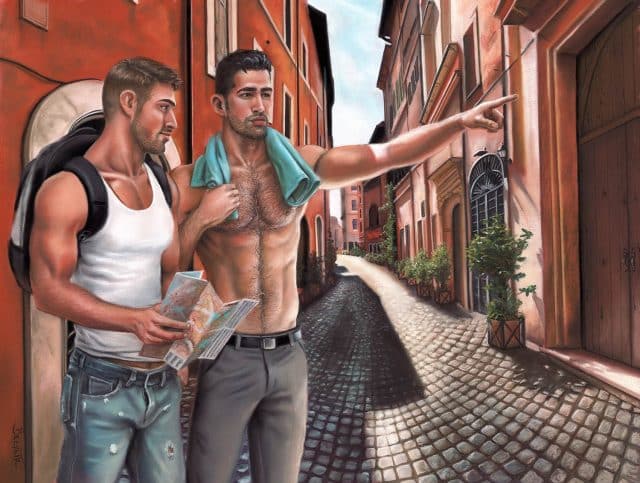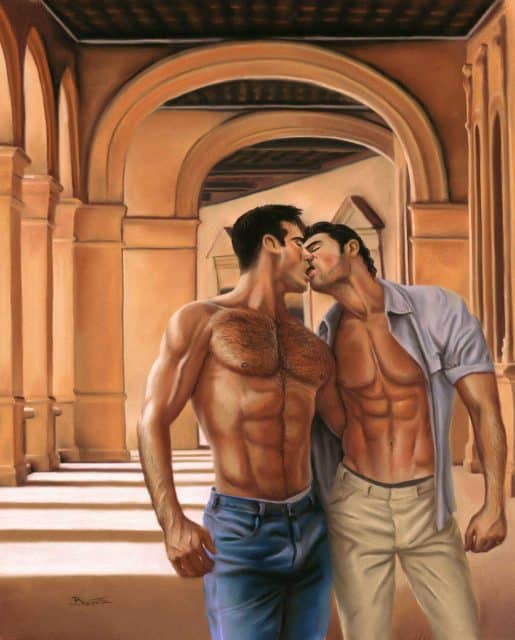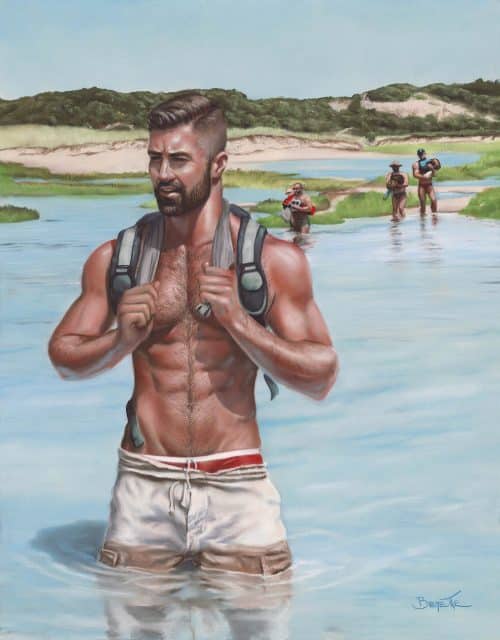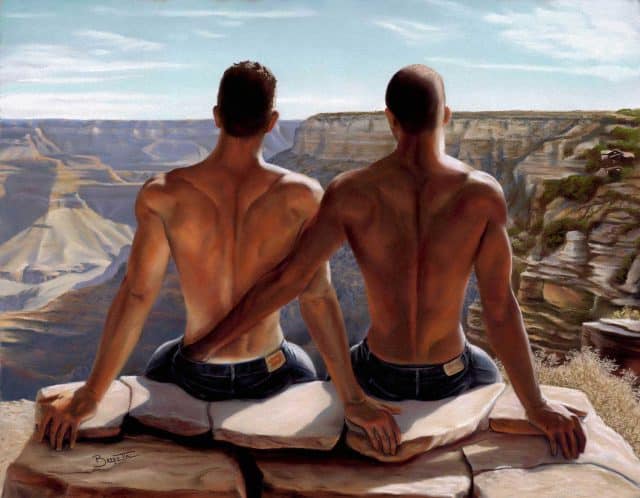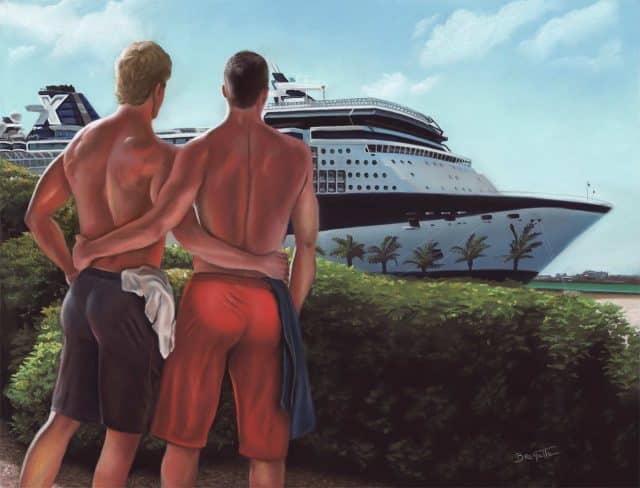 June: Pride
Pride would be gay Christmas if Christmas wasn't already gay Christmas. This month is all about showing off your true colors, celebrating your individuality, and doing so while wearing as little as humanly possible.
Related | 10 Artists Celebrating Beautiful Gay Mermen
July: Americana
Flags, denim, cars, dive bars, and diners. As summer rages on, these iconic images maintain their chokehold on American culture. The vibe is riding in a convertible down Route 66 with a Coke in one hand and a…something else in the other.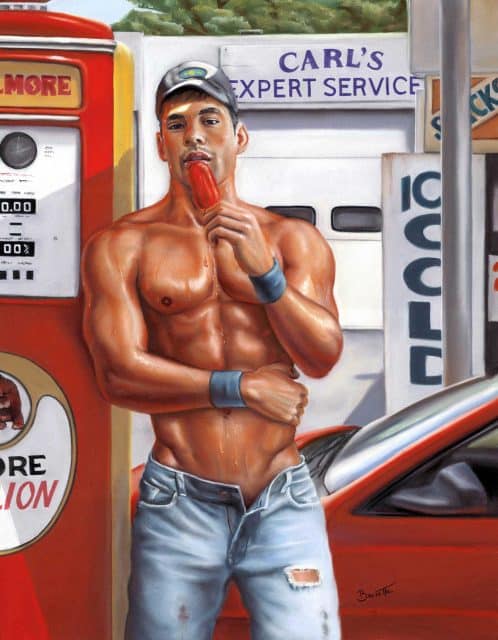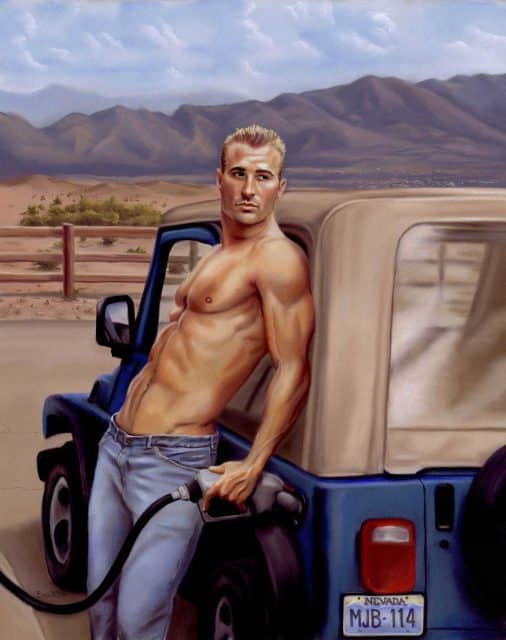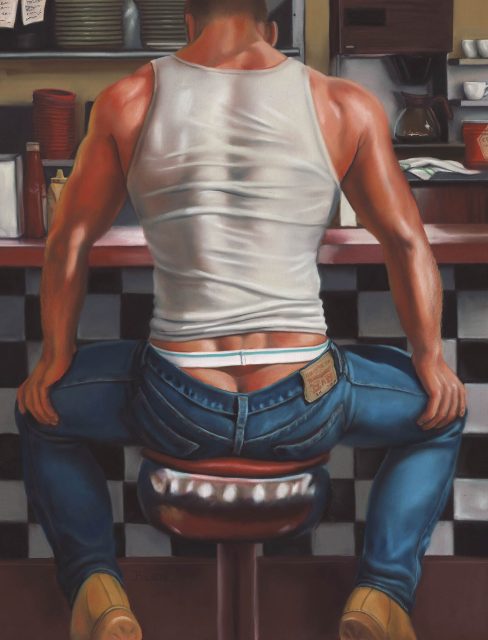 August: Fun in the Sun
Our thinking for August might be very familiar to some of you. Summer heats up in the city and your A/C unit is broken. You and the rest of your gay BFFs decide now is the time to pack your bags and jump on a ferry to Fire Island. This sacred land is a deeply spiritual place for the gays. By which we mean we consume a lot of spirits there. Don't forget to pack the Tylenol.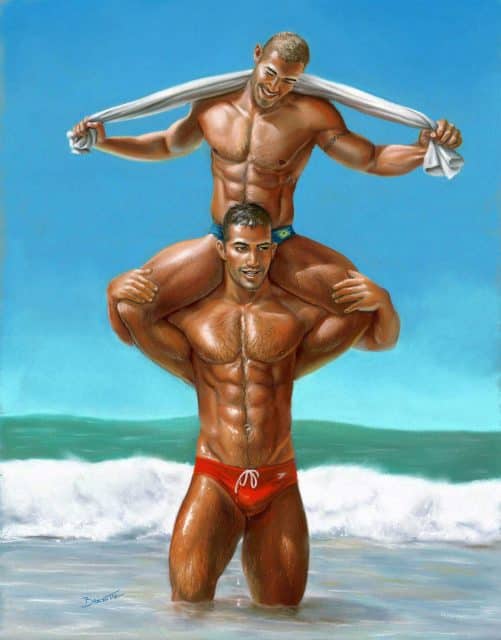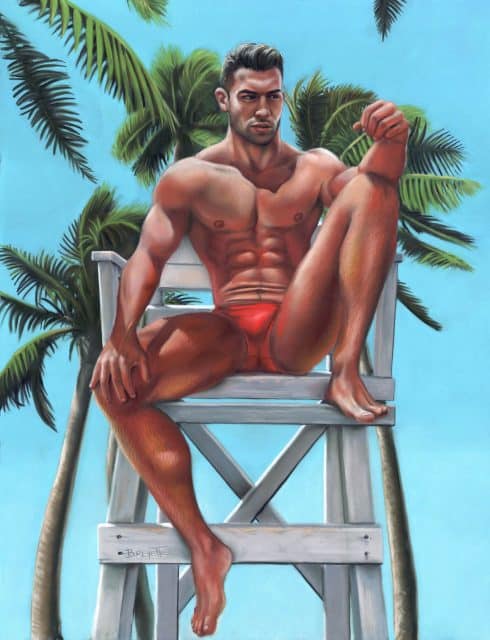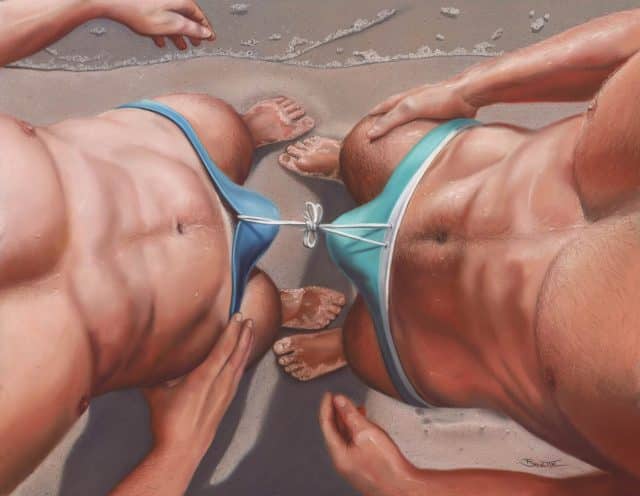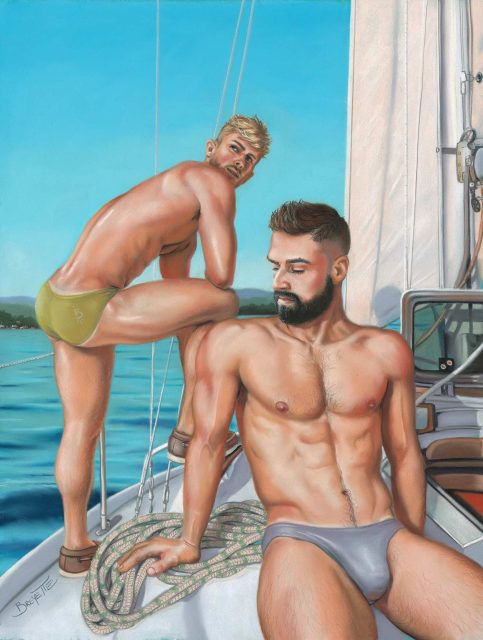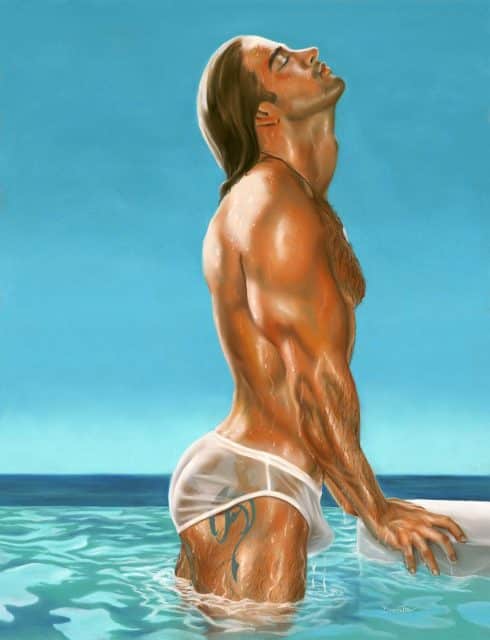 September: Business as Usual
Summer is over and everyone is busy going back to school or commuting to work. Some people find the routine of it all to be a bit of a bore, but there are plenty of comforts to be found in it too. Particularly if you're wearing that one pair of underwear that makes your butt look juicy.
Related | 48 Photos Liberating The Male Form With Tasty Smut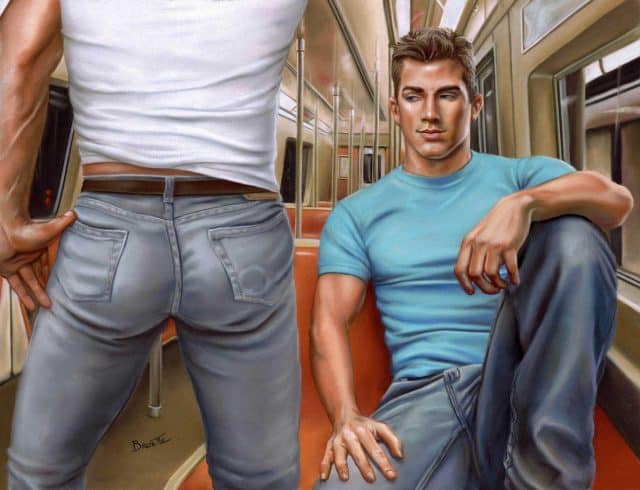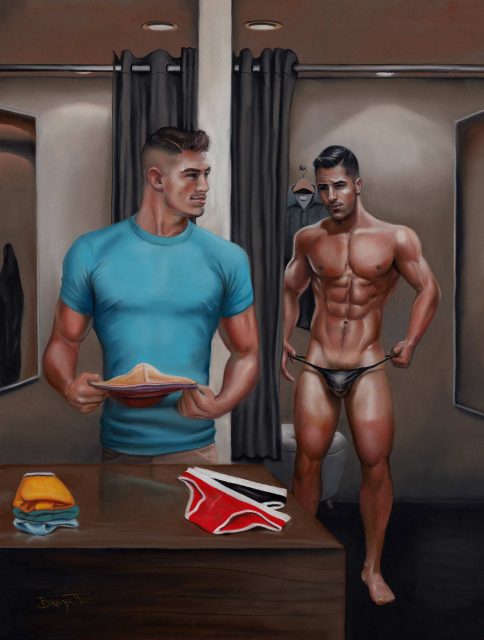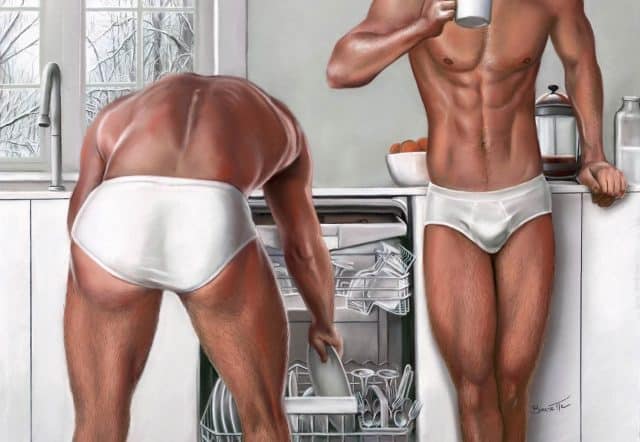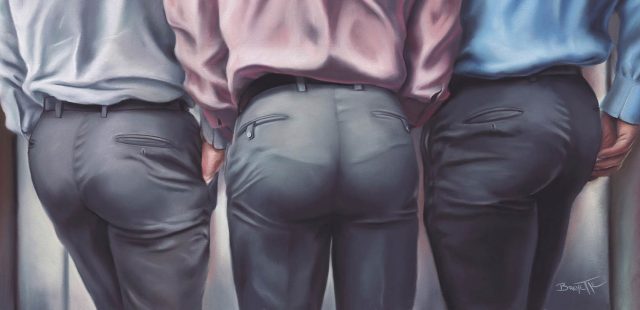 October: Spooky Season
Perhaps it's the childhood trauma, or maybe it's living your life in legislative fear, but no one does Halloween like the gays. Give us the opportunity to dress up in skimpy clothes with a theme and we'll grab it eagerly with both hands. Or hooves. Or tentacles.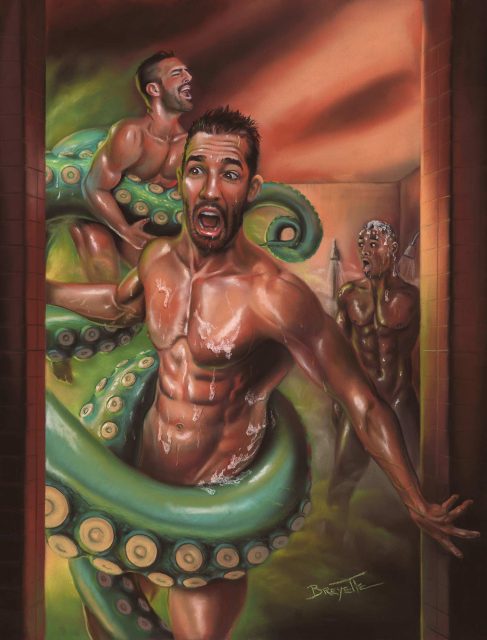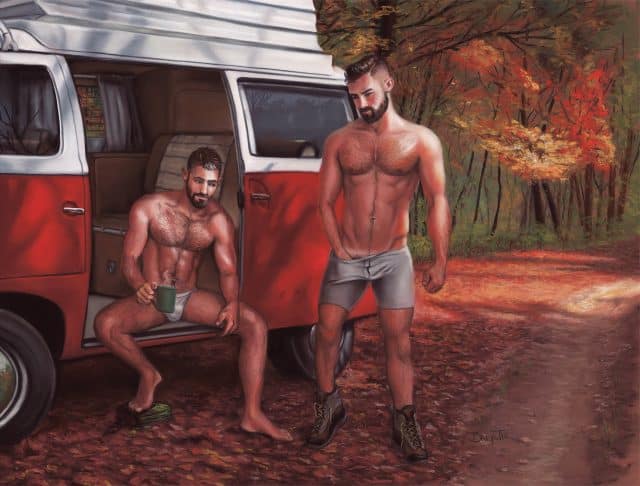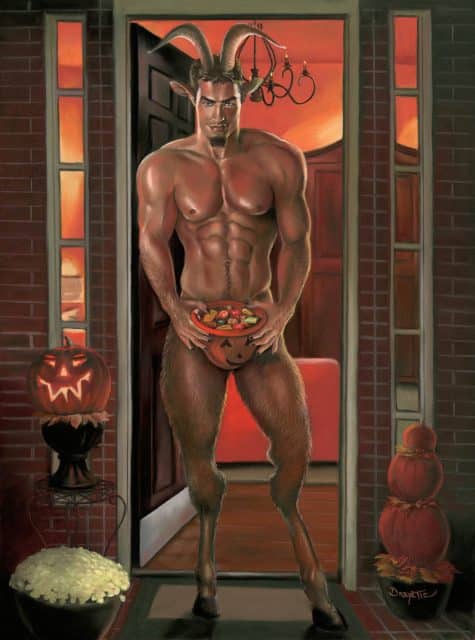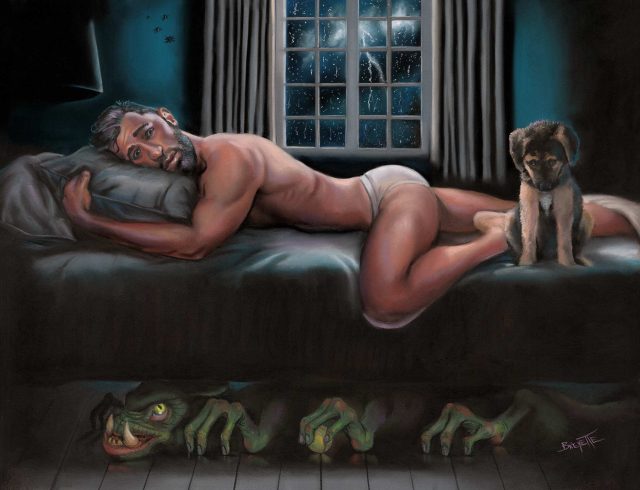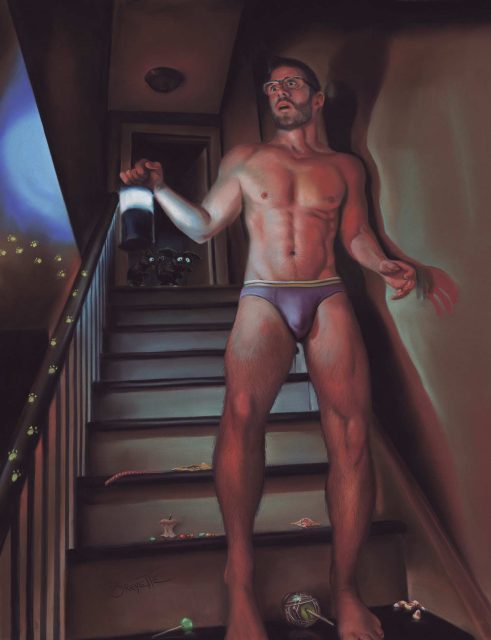 November: Thank You For Your Service
This is a time of year to be thankful, and we're thankful for artistic portrayals of men in uniform. Honestly, we'd be more than happy with the suggestion of a uniform. Who knows where this obsession was born out of—it sure as heck couldn't be born out of our fear and distrust of authority figures, am I right?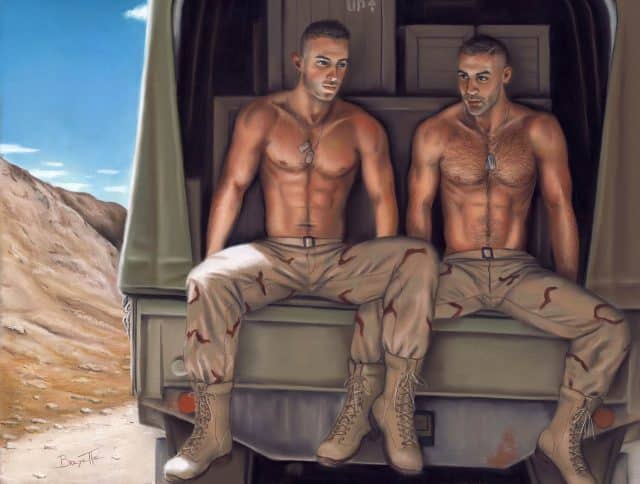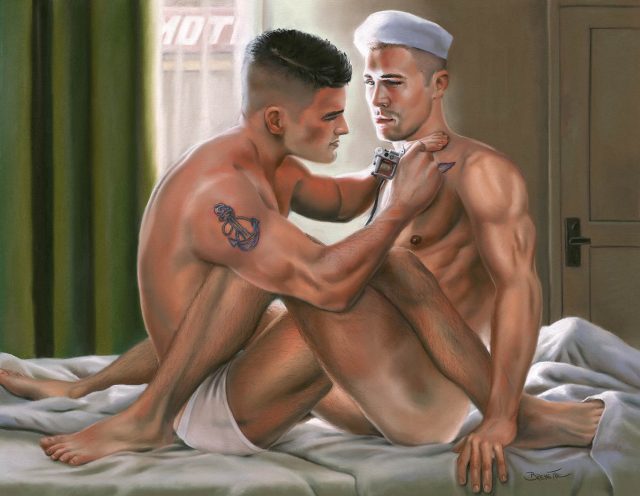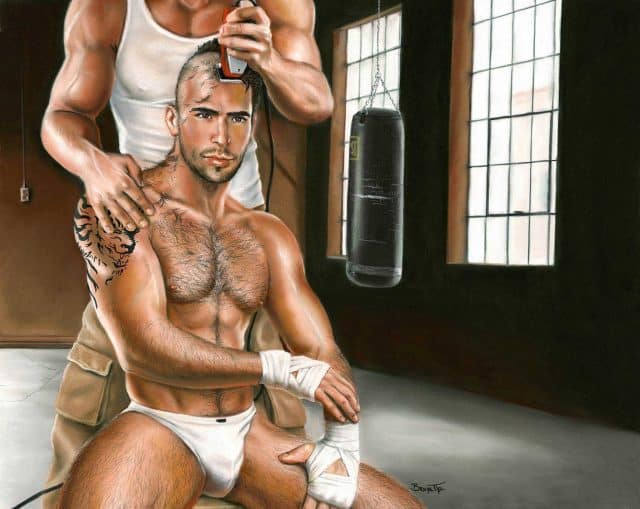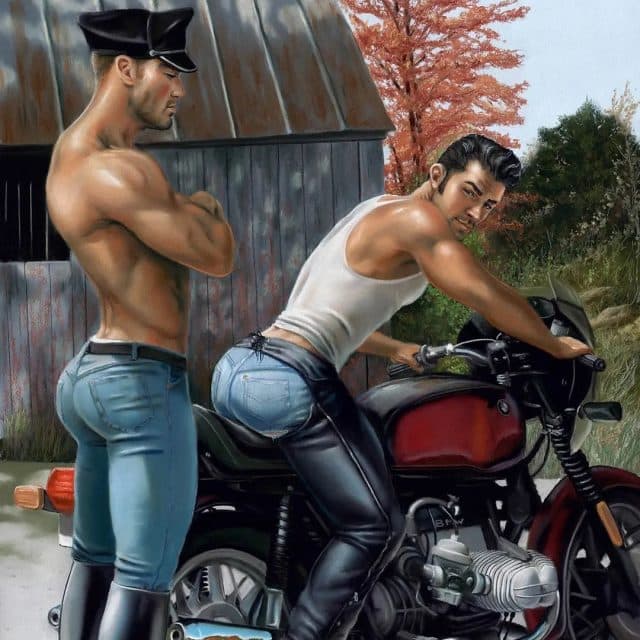 December: Winter Wonderland
Ho ho ho! Hang your baubles and step under the mistletoe because Santa Claus is coming to town. Just FYI, Michael J. Breyette's merch makes a great stocking stuffer. Not that you needed any help in that department.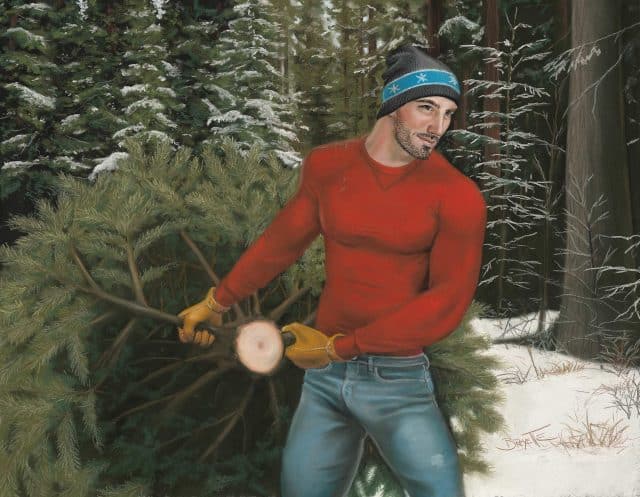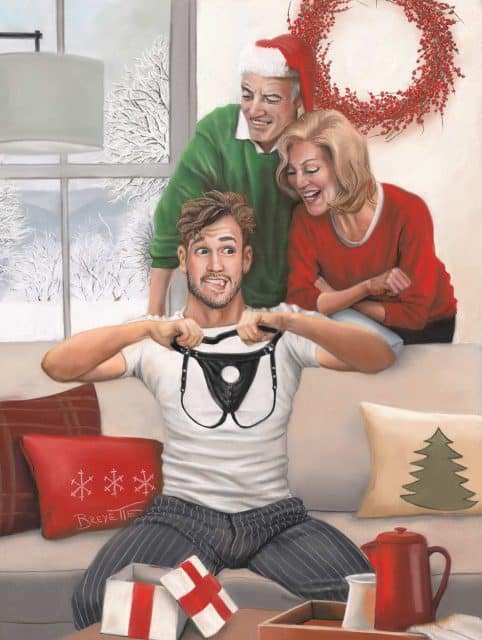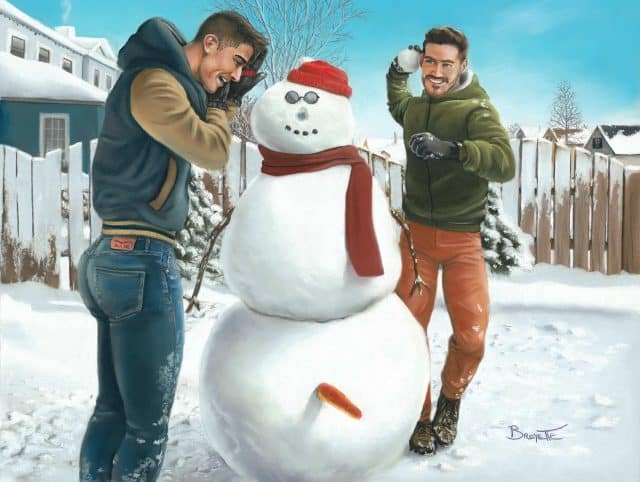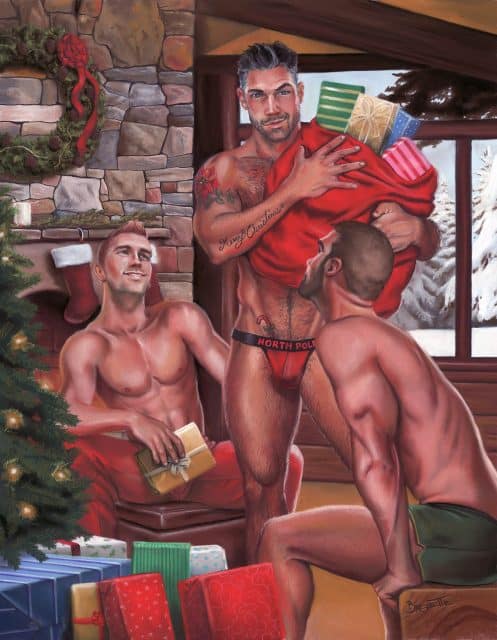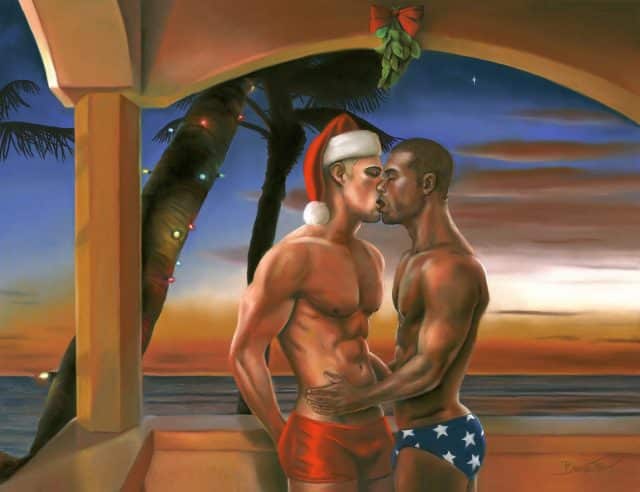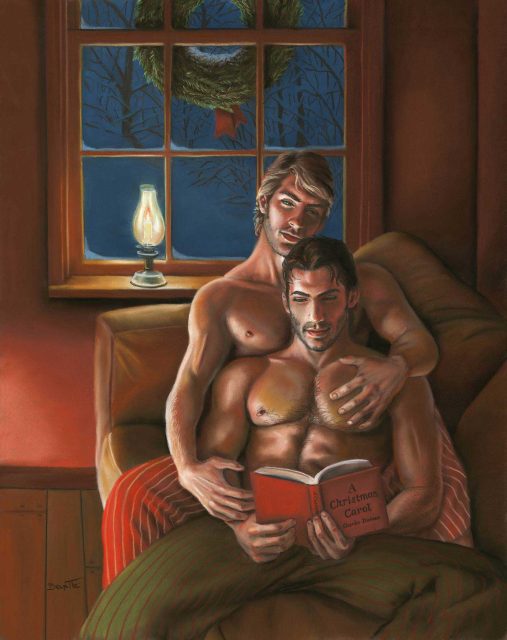 Gay Intimacy: The Gift That Keeps on Giving
You made it. One whole year of gay intimacy, and plenty more…inspiration on those cold lonely nights. One last time, we encourage you to follow the artist, Michael J. Breyette, on Instagram. When you're done head over to his store and pick up something saucy. Tell him Gayety sent you.