Justin Timberlake found himself in hot water again as a video of him performing with Kylie Minogue at the 2003 BRIT awards in London has resurfaced on Instagram. In the video, Timberlake is seen grabbing the pop star's behind.
According to reports, Timberlake had asked Minogue for permission before the performance but she refused. Later on, Timberlake even bragged about "representing America to the fullest" by "copping a feel".
This is hardly the first time Timberlake has been embroiled in a controversy involving a female pop star. In recent years, the once seemingly untouchable "President of Pop" has been going through a reckoning of sorts. Timberlake has been the subject of many a think piece about the double standards women face in the music industry.
But what exactly has Timberlake done to deserve the ire of the internet? Here's a recap of some of the moments that have led fans to dub Justin Timberlake problematic.
Related | Janet Jackson Announces Brand-New Las Vegas Residency
2002: His Un-Justified Jabs At Britney
From 1999 to 2002, Justin Timberlake and Britney Spears were a royal couple of pop. At the time, the two artists were rising stars. Spears was enjoying immense success with her record-breaking debut studio album …Baby One More Time and its follow-up Oops!… I Did It Again, while Timberlake was a member of the hugely popular boy band NSYNC.
Their love story was, to many teen fans, a fairytale come true. They were spotted together everywhere and even walked the 2001 AMA red carpet in a now iconic all-denim matching look.
But by 2002, the same year Timberlake released his debut solo album Justified, their relationship had soured. Rumors began swirling that Spears had cheated, and Timberlake did little to refute those claims.
Cry Me A River
Instead, he released a music video for his single "Cry Me A River." The video featured a blonde woman bearing a striking resemblance to his ex-girlfriend. In the video, the woman is portrayed as a cheater while Timberlake plays a jilted lover on a quest to exact his revenge.
To make matters worse, during album promotions, Timberlake also went on a radio station interview to drop a major bombshell. On The Star & Buc Wild Morning Show, Timberlake was asked by host Troi "Star" Torain if he "fucked Britney Spears".
Though hesitant at first, Timberlake laughed and replied, "Oh man. OK, I did it!" This statement came as a shock to fans. as Spears had previously gone on record to say that she had intended to wait until marriage.
"I Don't Judge Anybody"
In the same year, Timberlake appeared in an interview for ABC's 20/20. When host Barbara Walters asked whether there was an incident in which Spears "did something very bad" to hurt Timberlake, he responded vaguely by saying, "We're not perfect. I don't judge anybody".
In the next clip, Timberlake took to his piano to perform an unreleased track called "Horrible Woman", with the lyrics, "So you had your chance to be my lover, and there's really something more undercover".
Later on in the interview, when Walters prodded Timberlake about whether the former couple lived up to Spears' desire to wait to have sex until after marriage, Timberlake laughed and, with a wry smile said, "Sure".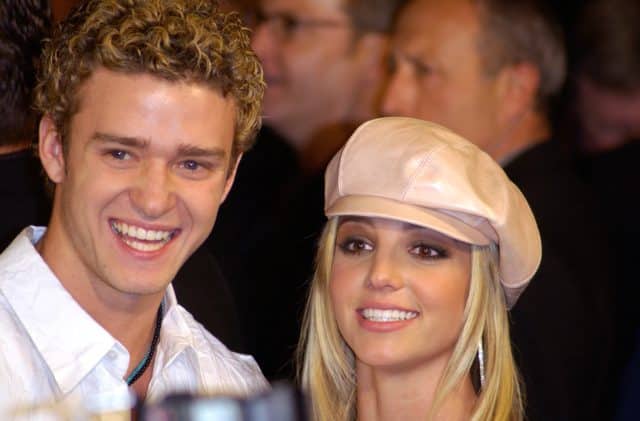 2004: NippleGate At The Super Bowl Halftime Show
Perhaps the biggest blunder of Timberlake's career happened during the 2004 Super Bowl Halftime Show. Though, at the time, it wasn't Timberlake's career that suffered from the incident but Janet Jackson's.
To close off the show, the two performed "Rock Your Body". All was well until the very last second when Timberlake ripped off a part of Janet's top and revealed her breast on live television. The incident, dubbed "NippleGate" by the press, became the most searched event in internet history.
But while Timberlake pulled the proverbial trigger, all the blame was placed on Jackson. Not only was she subjected to countless interviews and repeatedly asked whether she had "planned" the reveal, but she was also blacklisted from major TV channels and radio stations. In the pre-streaming era, this was an artist's bread and butter.
Jackson's Grammy Awards appearance was also canceled that year. Meanwhile, Timberlake was not only allowed to perform at the awards show, but he also won two awards. He did take the opportunity to apologize for the incident in his speech but made no mention of his stage partner.
17 Years Too Late
It wasn't until 2021 – 17 years after the event – that Timberlake finally went on the record to acknowledge how his past actions (or rather inaction) hurt Jackson. In an Instagram post, he wrote:
"I've seen the messages, tags, comments, and concerns and I want to respond. I am deeply sorry for the times in my life where my actions contributed to the problem, where I spoke out of turn, or did not speak up for what was right." Timberlake continued, saying he understands that he "fell short in these moments and in many others and benefited from a system that condones misogyny and racism."
"I specifically want to apologize to Britney Spears and Janet Jackson both individually, because I care for and respect these women and I know I failed." Finally, Timberlake said he felt "compelled to respond, in part, because everyone involved deserves better." He then called it "a larger conversation" that he "wholeheartedly" wants to be part of and grow from.
The post came after the release of the documentary Framing Britney Spears, which sparked conversations about Timberlake's role in Spears' downfall – particularly by suggesting that she did cheat on him during their relationship. However, long-time fans of Spears and Jackson believed that Timberlake's apology was too little, too late.
View this post on Instagram
2016: Accusations Of Cultural Appropriation And Tone-Deaf Responses
While accepting a Humanitarian Award at the 2016 BET Awards, social justice activist and star of Grey's Anatomy, Jesse Williams gave a stirring speech about racism and cultural appropriation in media and entertainment.
He spoke about how "the invention of whiteness uses and abuses" Black people. "Ghettoizing and demeaning our creations then stealing them, gentrifying our genius and then trying us on like costumes before discarding our bodies like rinds of strange fruit".
While millions of people shared and applauded Williams' speech on Twitter, Timberlake joined in. The star tweeted a seemingly innocuous "@iJesseWilliams tho… #Inspired".
This didn't sit well with a lot of Black people. Many claimed that Timberlake had been appropriating Black culture for years in his music and his public persona. Indeed, Timberlake's discography draws heavily from R&B, hip-hop, soul, and funk, and the inspiration behind some of his fashion choices is pretty hard to miss.
"So does this mean you're going to stop appropriating our music and culture? And apologize to Janet too," replied journalist Ernest Owens.
A Tone Deaf Response
Unfortunately, Timberlake responded in a rather tone-deaf, condescending, and dismissive way, calling Owens a "sweet soul" and telling him, "the more you realize that we are the same, the more we can have a conversation. Bye."
As Owens pointed out in a piece for the Daily Beast, Timberlake's "all-lives-matter response followed by a 'bye' made it clear to me that he had no time to engage in a fair conversation about racism in the music industry".
Timberlake did delete his tweet and fired off a few clarifications, saying he "responded to a specific tweet that wasn't meant to be a general response" and that "we are all one…one human race".
This sparked discussions online on white privilege and how white celebrities can pick and choose elements of Black culture that are beneficial to them while experiencing none of the consequences of being actually Black. Case in point: Timberlake completely dodged any repercussions for the Super Bowl wardrobe malfunction while Jackson, a Black woman, was demonized for it for years.
View this post on Instagram
Other Controversies
Aside from the aforementioned issues, Timberlake has also been called out for being a hypocrite. He wore a Time's Up pin to the 2018 Golden Globes despite having worked with Woody Allen in the past.
Timberlake was also caught holding hands and flirting with Alicia Wainwright in what he called a "strong lapse in judgment". He later made a public statement, again, via Instagram. Timberlake apologized to his "amazing wife and family" for putting them through an embarrassing situation.
View this post on Instagram
The Bottom Line
In the end, Timberlake's biggest transgression is his knack for retreating when the situation calls for him to speak up. He didn't challenge rumors to keep his ex-girlfriend's reputation clean. Timberlake didn't own up to causing perhaps the greatest wardrobe malfunction of the century. He hasn't admitted that he benefitted from a culture that he failed to give back to in any tangible way. In many ways, Timberlake skates by just as most straight white men have been able to for centuries.
Related | Elton John and 'Hold Me Closer' Producer Praise Britney Spears' Vocals