A shooting at an LGBTQ Club in Colorado Springs left at least five dead and 25 injured.
On Saturday night, a gunman killed at least five people and injured 25 more after opening fire at an LGBTQ+ nightclub in Colorado Springs, Colorado. First responders transported numerous victims to nearby hospitals, and officials say the number of victims could change. Colorado Springs police held a press conference on Sunday at 8:00 a.m. (10 a.m. ET).
Early on Sunday, police responded to reports of a shooting at an LGBTQ nightclub, Club Q, in Colorado Springs, Colorado. Club Q is an LGBTQ nightclub located at 3430 N Academy Blvd in Colorado Springs. According to reports, police received multiple 911 calls starting at 11:56 p.m. The local police dispatched officers at 11:57 p.m. CNN reported that Colorado Springs Fire Capt. Mike Smaldino said 11 ambulances responded to the scene after they received the 911 calls.
Who Is the Colorado Springs Shooter?
During a news conference, Michael Allen, district attorney for Colorado's 4th Judicial District, stated authorities had identified the Colorado Springs shooting suspect as 22-year-old Anderson Lee Aldrich. Allen confirmed that the Colorado Springs shooting was being investigated as a hate crime saying, "this will be investigated and is being investigated in that lens."
Shortly after the incident, Colorado Springs Police Lt. Pamela Castro stated that Aldrich was in custody and being treated at a medical facility. "We will be here for many, many hours to come," said Castro, adding that the FBI is assisting."They did locate one individual who we believe to be the suspect inside," said Castro. "At this point in time, the suspect is being treated but is in custody," Castro added. The investigation is ongoing.
The New York Times reported that last year an individual of the age and with the same name the suspect was arrested by sheriff's deputies after making a bomb threat in a residential area just outside Colorado Springs.
More on the Colorado Springs Shooting
According to Colorado Springs Police Chief Adrian Vasquez, Aldrich wore body armor and used an AR-15 style assault in the attack, and officials found two firearms at the scene. "Initial evidence and interviews indicate that the suspect entered Club Q and immediately began shooting at people inside as he moved further into the club," Vasquez said. Additionally, he stated that at least two "heroic" patrons stopped and disarmed Aldrich before police arrived on site. "We owe them a great debt of thanks … Club Q is a safe haven for our LGBTQ citizens," Vasquez continued. "Every citizen has a right to feel safe and secure in our city, to go about our beautiful city without fear of being harmed or treated poorly."
Related | Watch 49 Celebrities Pay Tribute to Orlando Victims
About a motive for the Colorado Springs shooting at Club Q, Police declined to answer.
Club Q Calls the Colorado Springs Shooting a "Hate Attack"
Early on Sunday, Club Q took to its Facebook Page to express condolences to the victims and their families. In the post, Club Q referred to the incident as a "hate attack" "Club Q is devastated by the senseless attack on our community," the club wrote in a statement posted to Facebook. "Our prays and thoughts are with all the victims and their families and friends. We thank the quick reactions of heroic customers that subdued the gunman and ended this hate attack."
On Saturday, Club Q posted on Facebook to highlight its lineup for the evening, which featured a punk and alternative show starting at 9 p.m. followed by a dance party from 11 to close. In addition, Club Q also planned a drag brunch for Sunday morning for Transgender Day of Remembrance. Club Q's website now states its closed until further notice.
The Victims of the Colorado Springs Shooting
At this time, authorities declared five people dead and 25 injured in the Colorado Springs shooting at Club Q. The first confirmed victim is a Club Q bartender, 28-year-old Daniel Davis Aston. ABC News confirmed through Aston's family members that they died in the shooting. The second confirmed victim is 38-year-old Derrick Rump, who was also a bartender at Club Q. A coworker paid tribute to Aston and Rump by sharing a picture of them on Facebook. The coworker captioned the photo, "My boys are gone. Plz (sic) take care of each other. I love you both so much."
The police are not releasing the names of the victims at this time as they work to notify the families of the victims. Unconfirmed reports from friends and family members of reported victims surfaced on social media early on Sunday.
Colorado Governor Jared Polis Responds to Colorado Springs Shooting
Colorado Gov. Jared Polis, the nation's first out governor, issued a statement calling the attack "horrific, sickening and devastating."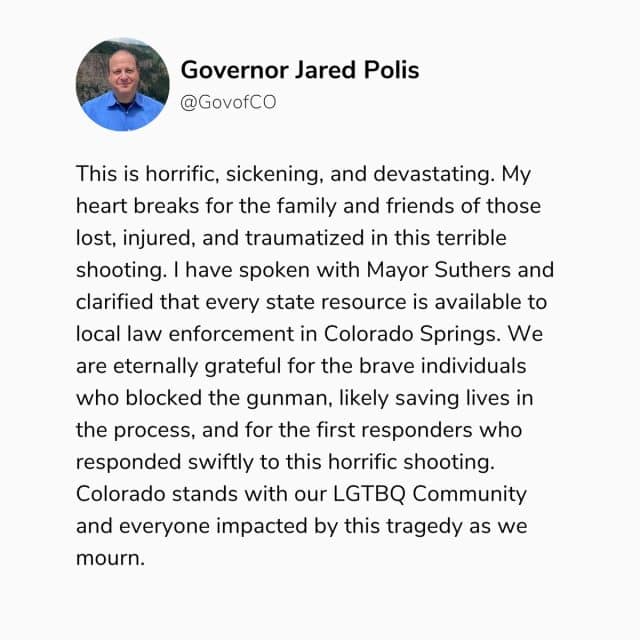 President Biden Issues Statement Following Colorado Springs Shooting
On Sunday, President Joe Biden issued a statement following the deadly shooting in Colorado Springs. Biden acknowledged that the LGBTQ community has been "subjected to horrific hate violence in recent years."
"Places that are supposed to be safe spaces of acceptance and celebration should never be turned into places of terror and violence. Yet it happens far too often," the president said. "We must drive out the inequities that contribute to violence against LGBTQI+ people. We cannot and must not tolerate hate."
Biden continued, "Today, Jill and I are praying for the families of the five people killed in Colorado Springs last night and those injured in this senseless attack."
This is not the first time someone has opened fire at an LGBTQ nightclub. In 2016, a gunman killed 49 people and wounded at least 53 individuals at Pulse nightclub in Orlando, Florida.
This is a developing news story. Please check back for updates.
Key Updates in the Colorado Springs Shooting
The FBI is reportedly assisting in the investigation.
Club Q referred to the incident as a "hate attack"
The suspect, 22-year-old Anderson Lee Aldrich, is in custody.
Two bar patrons at Club Q fought with the suspect.