Rocketman star Taron Egerton shares his perspective on the ongoing conversation about representation in the film industry.
Taron Egerton's Thoughts on Representation in Acting
British actor Taron Egerton, known for his portrayal of Elton John in the biopic Rocketman and his role in the recent London theatre production Cock, has weighed in on the debate surrounding straight actors playing gay roles. In an interview with The Telegraph while promoting his new movie, Tetris, Egerton discussed his views on the matter.
Egerton's Connection to the LGBTQ+ Community
When asked about his stance on straight actors taking on gay roles, Egerton, 33, said, "I grew up in a very liberal town, and a couple of my close friends are gay. I feel an affinity with that community." He went on to express his belief that there should not be a "blanket rule" about whether straight actors should play gay roles, acknowledging that as a straight man, it's easier for him to hold that opinion. However, he also noted that establishing such a precedent could be problematic.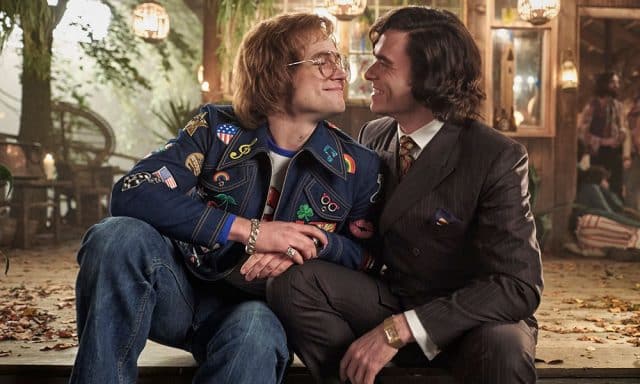 Egerton's Experience in Rocketman and Cock
Egerton's involvement with the LGBTQ+ community has been evident in his acting career. In Rocketman, he portrayed iconic musician Elton John. Then in the London theatre production Cock, he played a gay character. Unfortunately, Egerton had to leave the run of Cock early due to personal reasons.
Challenges in 2022
In March 2022, Egerton collapsed on stage during the opening night of Cock in London's West End. He later contracted Covid-19, causing him to miss several performances before ultimately withdrawing from the show. In The Telegraph interview, Egerton revealed that a relative falling ill contributed to his decision to leave the production.
The actor also opened up about 2022 being one of the "most challenging" years of his life, during which he cared for his mother following her cancer diagnosis. Egerton was raised as an only child by his mother after she separated from his father.
The Ongoing Conversation About Representation
Taron Egerton's perspective on the issue of straight actors playing gay roles contributes to the ongoing discussion about representation in the film and theatre industries. As the conversation continues, it's important to consider the diverse experiences and opinions of actors, industry professionals, and the LGBTQ+ community. Ensuring that representation is authentic and respectful remains a priority as the entertainment industry evolves and strives for greater inclusivity.
Up Next
Taron Egerton Strips Down for Black Bird
Is Taron Egerton Gay? Setting the Rumors Straight
Taron Egerton Wows Fans With a Towel Dance
Richard Madden Talks Sleeping Scene With Taron Egerton
Taron Egerton: 'I Had a Period of Feeling I Might Be Gay'