Red, White & Royal Blue Movie Poster Revealed.
The highly anticipated film adaptation of the bestselling gay rom-com novel, Red, White & Royal Blue, is making progress. With the lead actors announced and production wrapped up, fans eagerly await the on-screen love story of Alex and Henry. The 2019 novel by Casey McQuiston quickly gained popularity and secured a spot on the New York Times bestseller list, prompting Amazon Studios to acquire the film rights.
To keep you in the loop, we've compiled everything we know about the RWRB movie, including release date, cast information, plot details, and more.
RWRB Release Date Confirmed
On April 26, Prime Video released the official movie poster and confirmed the release date for RWRB The film is set to premiere on August 11, 2023. The poster showcases the two protagonists sitting on a couch with their crossed legs intertwined, wearing American flag and Union Jack socks. The tagline reads, "Love gets royally complicated."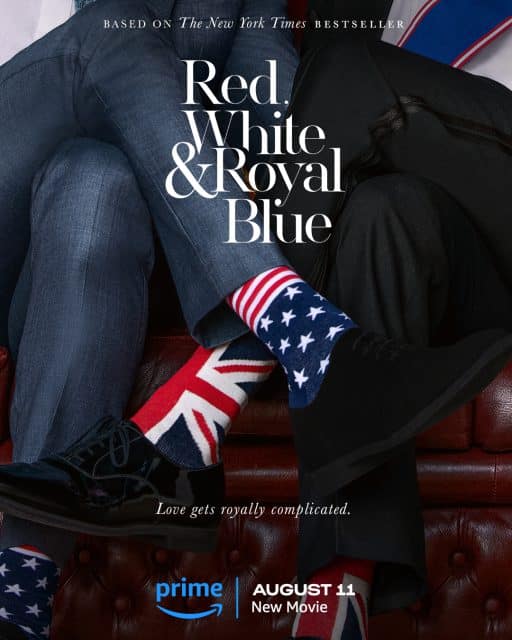 What's Red, White & Royal Blue About?
RWRB follows the secret romance between the son of the U.S. President and the Prince of England. As their long-standing feud evolves into an international scandal, the two must work together to manage the fallout. What starts as a publicity stunt soon becomes a grand love story, with the potential for political repercussions.
Meet the Cast of Red, White & Royal Blue
Amazon Studios cast actors Taylor Zakhar Perez and Nicholas Galitzine as the leading men in the Amazon Studios film adaptation. Taylor will portray Alex Claremont-Diaz, the U.S. President's son, while Nicholas takes on the role of Prince Henry of England. Nicholas previously played Prince Robert in the 2021 live-action film Cinderella, and Taylor is known for his role as Marco Valentin Peña in The Kissing Booth 2 & 3.
The cast also includes Uma Thurman as U.S. President Ellen Claremont, with Rachel Hilson, Clifton Collins Jr., Stephen Fry, Sarah Shahi, Ellie Bamber, Aneesh Sheth, Polo Morin, Ahmed Elhaj, Sharon D. Clarke, Malcolm Atobrah, Thomas Flynn, and Akshay Khanna in undisclosed roles.
Author Casey McQuiston praised the casting choices, expressing excitement for Taylor and Nicholas as Alex and Henry. Director Matthew López shared similar enthusiasm, noting the extensive audition process to find the perfect actors for the roles.
RWRB Filming Updates
Filming for RWRB began on June 22, 2022, with Taylor and Nicholas sharing updates from the set. Throughout the production, the actors and author Casey McQuiston posted behind-the-scenes photos and content.
Where to Watch Red, White & Royal Blue
As an Amazon Studios production, RWRB will be available exclusively on Prime Video.
Stay tuned for more updates on the RWRB movie as news breaks.
More Stories
Red, White & Royal Blue Wraps Filming
Meet the Swoonworthy Cast of Casey McQuiston's Red, White & Royal Blue
See Photos of the Red, White & Royal Blue Movie Stars On Set
Red, White & Royal Blue Stars Argue About Who's Bigger