Aquaman star Jason Momoa's Jimmy Kimmel Live! appearance is making waves online.
Jason Momoa is not shy or modest. The 43-year-old actor bared his derriere for an entire season as Khal Drogo on Game of Thrones. He recently blessed his fans with an eyeful while fishing in Hawaii. So, it's safe to say Momoa is very comfortable showing off his body.
While appearing on Jimmy Kimmel Live! last week, Momoa brought more than his conversation skulls to the late-night talk show. While promoting his newest Netflix film, Slumberland, the Justice League star decided to recreate his viral fishing moment on stage. Momoa stood and swiftly disrobed, taking off his jacket and satin purple suit before bending down and pulling the matching pants down to his ankles.
Related | Jason Momoa Shaves for the First Time in Seven Years
Before the audience knew what was happening, Momoa did a 360-spin wearing only his malo and most of his backside. A malo is essentially a loincloth that Hawaiian men now wear on ceremonial occasions. The audience roared in excitement as Kimmel fanned himself.
"That's a traditional malo," Momoa told Kimmel proudly. "It's what the Hawaiians wear." He said, "I actually don't even like wearing clothes anymore," he told Kimmel, 54, adding, "I'm in it every day. I wear it all the time." Momoa was born in Honolulu, Hawaii, and his father has Native Hawaiian ancestry.
Momoa then promoted
Slumberland
, a live-action adaptation of the comic strip series. Netflix's new fantasy film follows a young girl named Nemo (Marlow Barkley) who discovers a secret map to the dreamworld of
Slumberland
. With the help of an eccentric outlaw (Momoa), she traverses dreams and flees nightmares hoping to find her late father.
Momoa stars as a radically altered version of Flip, described as a "nine-foot tall creature that is half-man, half-beast, has shaggy fur and long curved tusks."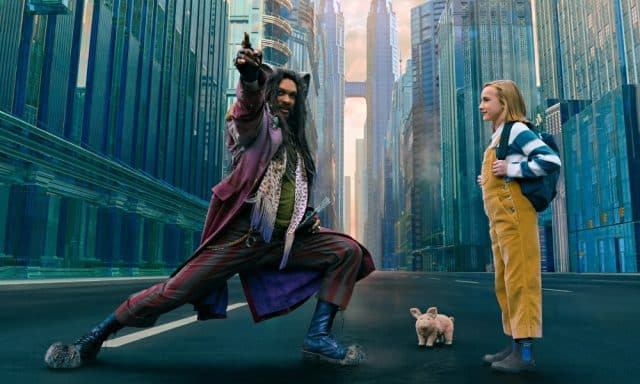 Slumberland premieres on Netflix on November 18. Watch the trailer below.