Is Will Byers gay?
WARNING: Stranger Things Season 4 spoilers ahead
A lot went down in Season 4 of Stranger Things. We all laughed. We cried. But one thing we didn't do was answer the question on everyone's mind lately: Is Will Byers gay AND is he in love with his best friend Mike? Finally, after an interview with Variety, we have the answer.
"Now that he's gotten older, they made it a very real, obvious thing," Schnapp said. "Now it's 100% clear that he is gay and he does love Mike. But before, it was a slow arc. I think it is done so beautifully, because it's so easy to make a character just like all of a sudden be gay."
There you have it! Confirmation. We're hoping for Will's plot to continue developing in the final season. And for anyone who missed the signs about Will's sexuality, we've listed a few below.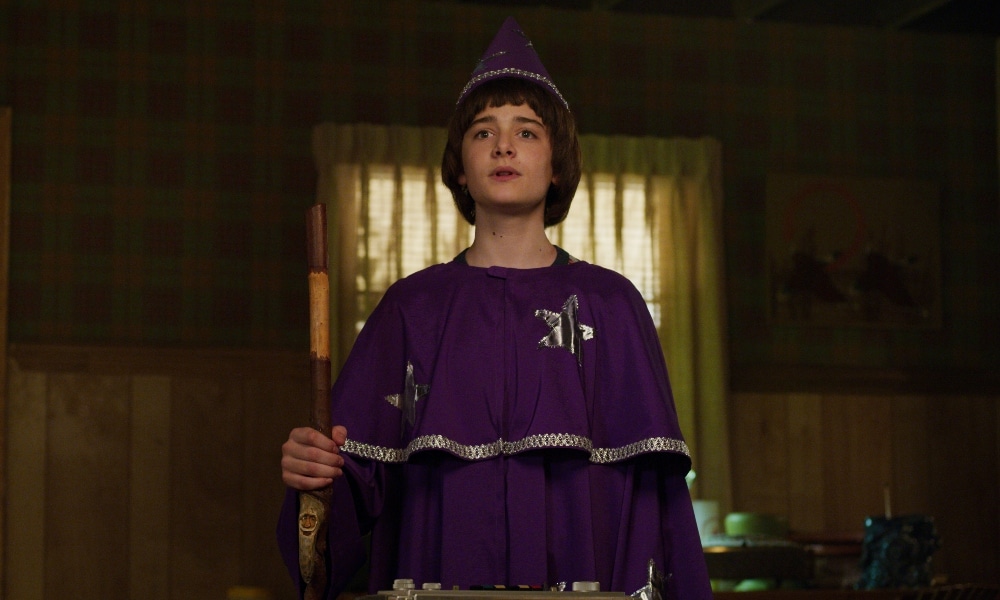 Who is Will Byers?
Will (Noah Schnapp) is a leading member of the Stranger Things crew. The first season revolved around his disappearance and had his best friends – Mike, Dustin, and Lucas – and his mother Joyce and brother Jonathan frantically searching for him. He's the one that survived the Upside Down.
Will's Dad Calls Him Queer
In season one, Joyce tells chief Jim Hopper that her ex-husband Lonnie used to call Will queer. But when Hopper asks Joyce if that's true, she quickly changes the subject back to Will's disappearance. Which is fair; we have bigger things to discuss.
Mike Says Will Doesn't Like Girls
Season three is all about girls and relationships for the Hawkins boys, except for Will. After the trauma he has been through the last few years, he wants to play Dungeons & Dragons in the basement with his buddies. But during an argument with Mike, he tells him, "It's not my fault you don't like girls!"
However, it's not clear whether or not he meant Will is not attracted to girls or he isn't interested in dating yet.
Related | Watch: Harley and Ivy Return For Season Three
Will Reports on Alan Turing
In season four, Will and Eleven attend a new school in California and are tasked with doing a project on someone they admire. Will chose Alan Turing, a gay scientist whose discoveries were instrumental during WWII but he was prosecuted for his sexuality.
Cast and Duffer Brothers Respond
Schnapp responded to the theories about his character's sexuality in an interview with Variety and hinted that we might never get a direct answer.
"I feel like they never really address it or blatantly say how Will is," he says. "I think that's the beauty of it, that it's just up to the audience's interpretation, if it's Will kind of just refusing to grow up and growing up slower than his friends, or if he is really gay."
View this post on Instagram
But when the Duffer Brothers, the writers and creators of the show, were asked a similar question, they hinted that answers might be coming soon.
"You're supposed to be asking those questions," they told TV Line. "We have story arcs and we have character arcs. How we structured [season four], we've released the first two acts of this story. The final act, which is the last two episodes, resolves a lot of things, both character and story, and then some of it is also setting up for our final season."
So if you haven't already, it's time to binge-watch Vol. 2.
And in the meantime, here is a brilliant PSA by Millie Bobby Brown about sexuality in 2022.
"Can I just say, it's 2022 and we don't have to label things," she said to Variety. "I think what's really nice about Will's character is that he's just a human being going through his own personal demons and issues. So many kids out there don't know, and that's OK. That's OK to not know. And that's OK not to label things."
Stranger Things Season 4 Vol. 2 is streaming now on Netflix.