Iceman and Pyro hooked up, and it was a scorcher!
Marvel fans are well-aware of Iceman's sexuality. In 2015, he came out after a time-traveling version of himself revealed he was gay. Then, in 2016, Iceman went to a gay bar and had his first same-sex kiss, which sent LGBT-comic-book fans into a frenzy. The illustration of Iceman and Romeo's kiss was a colossal step forward in the character's gay storyline, and readers shared it everywhere.
Although the kiss was great, Bobby Drake (Iceman) is taking his love life to the next level. In the latest issue of X-Men Gold, Issue No. 31, Drake goes to pound town with Simon Lasker (Pyro) — three times in one night! Clearly, this steamy one night stand has us craving more icy-hot moments.
Related | X-Men's Shawn Ashmore Wants to Play Openly Gay Iceman
In the scene, Pyro, who recently rejoined the X-Men after a briefly working with the Brotherhood of Mutants, is in Iceman's hotel room after a wedding. The next morning, Pyro propositions Iceman for round two, but they're interrupted by a loud noise from above. Although Iceman claims they agreed it was a one-time thing, it's pretty obvious these hotties will rendezvous again soon.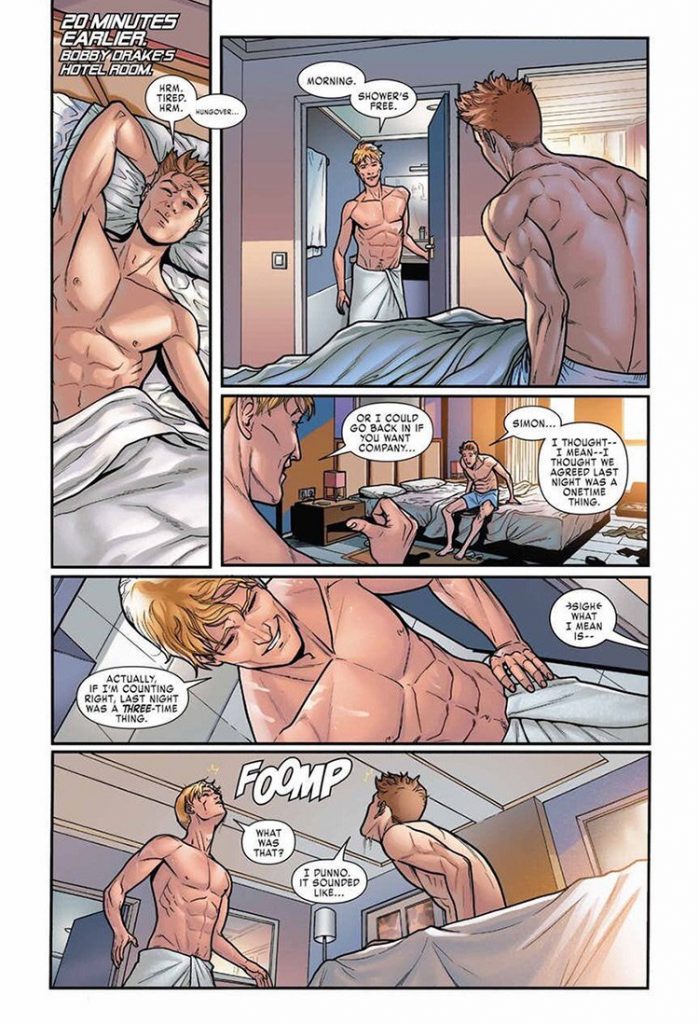 X-Men fans took to Twitter to share their thoughts. "This Pyro/Iceman development in the new X-Men: Gold would have given teenage me a heart attack," one excited fan wrote.
this Pyro/Iceman development in the new X-Men Gold would have given teenage me a heart attack pic.twitter.com/wZBDAmO3WJ

— four collin birds (@collinsapera) July 15, 2018
Earlier this year, Marvel announced its plans to revive the then canceled Iceman standalone series. Original Iceman writer Sina Grace, who happens to be a gay man, and illustrator Nate Stockman are teaming up for the new comics. The first issue is set for release in September.
Issue No. 32 of X-Men: Gold hits stands July 18.