Go To Horny Jail: All About The Meme
If you've been around internet culture, then you've been around memes. And one of the more recent memes that has been making the rounds on social media is the "Go To Horny Jail Bonk!" meme.
This meme depicts a dog (or more precisely a doge) that is condemning another doge to do their time in horny jail.
So what is horny jail? Why is this meme so popular? And how do you use this meme properly? It's time to get your 'bonk' on and send some horny souls to their rightful imprisonment.
RELATED | Jonathan Van Ness Effortlessly Trolls Eminem On Twitter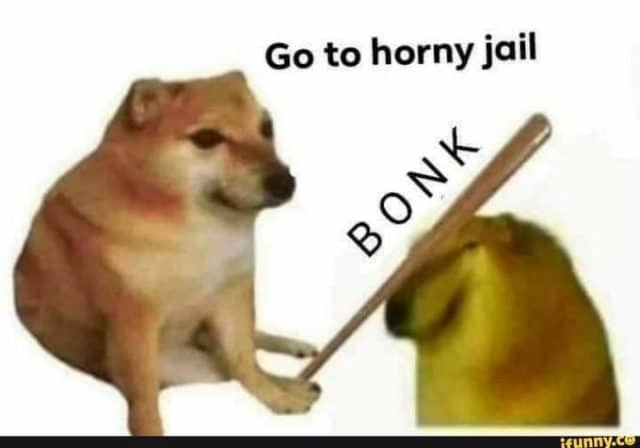 What The Meme Means
This may come as a shock, but "horny jail" is not an actual place. You're not going to be handcuffed and shipped off to a remote location full of other horny people serving their time. That would simply be too good to be true.
You are likely to get this meme if you've posted something thirsty or naughty on your main timeline. The meme is a doge bonking another doge for being perverted. These doges are stand-ins for the poster and the memer. The 'bonked' doge is meant to be the original poster to whom the memer is bonking. The memer being the one to send the poster to "horny jail."
Horny jail is just a way to say that you are being too lewd or explicit, and it might be inappropriate for some people. You're probably going to be sent to "horny jail" when you are being thirsty on your social media platform and you need to be teased for it.
The bonk was originally meant for people who were being "horny on main." This is what happens when you reveal too much sexually on your "main" account, the subtext being that you have different accounts where you hide your other, less acceptable posts.
View this post on Instagram
The Origin Of the Meme
According to Know Your Meme, BaconatorSr posted an image of the two dogs on March 19, 2020, and it has garnered over a thousand five hundred likes and dozens of comments. From there it made the rounds on social media platforms gaining popularity and developing with every use, like most memes.
View this post on Instagram
The Spread Of The Meme
The meme of bonk go to horny jail has since been shared on Twitter, Instagram, and TikTok. It has good traction and people immediately started making their own versions of the meme. It's also led to "horny jail" becoming a common reference point in internet culture.
They need to go to horny jail pic.twitter.com/VcAYIObT1H

— Vinn (@WhosUpAt3am) December 25, 2021
The Variations Of The Meme
Because this meme is so popular it immediately took off spawning tons of copycats with other animals bonking or condemning each other to horny jail. There are even posts with human characters doing the bonking.
It's not just pictures either, on TikTok there is a song called Bonk! Go To Horny Jail. There are hundreds of variations with some using the Bonk! element for their own punchline.
The "Go To Horny Jail Bonk!" or "Bonk! Go To Horny Jail" meme gave rise to horny police meme. The "horny police" being the ones who would take you to horny jail if it was a real place – and we wish it was.
The officers of the imaginary police force against horniness arrest you for being too lewd on your main social media platform. They are meant to be a deterrent to keep you from posting horny stuff on main.
View this post on Instagram
How To Use It
Post this meme if someone you know is being too horny or sexually lewd about something on their social media. They might not know how badly they are coming off so this meme will be a good way to get them to tone it down without too much sting. It's a light way to help someone correct their course.
You can also use it disparagingly against yourself in a self-deprecating way. People have been using this meme as a way to say that they are looking for love or that they find someone physically attractive.
They need to go to horny jail pic.twitter.com/VcAYIObT1H

— Vinn (@WhosUpAt3am) December 25, 2021
Is "Bonk! Go To Hony Jail" Culturally Relevant?
It's been sampled by tons of people and has given rise to a new expression "horny jail" and the "horny police." There are many memes that rise up and leave as quickly as they came but "go to horny jail" is changing as time goes on. This little meme has evolved into something more which is why it's so important we know where it comes from.
https://www.instagram.com/p/CRYXG2NF1Y0/
Is The Meme Hampering Sex Positivity?
On the one hand, it might seem like the meme is sex-negative since it's being used to keep the dirty stuff off the main timeline, but it's also a playful way of telling someone they are teetering on the edge of the line. Usually, this meme is just the punchline of a joke, so it's a little scold without much judgment.
While the meme might be a way for the more sexually conservative in the audience to express themselves, the language of "horny jail" has been empowering. People are using "horny jail" to announce their own reasons for being sent there. Some will post things like: "The things I would do to Ryan Reynolds would put me in horny jail."
This meme gives users language to talk about sex more openly, even if it's to express discomfort which is a good thing. Part of sex-positivity is being able to tell people that they are making you uncomfortable and learning how to set boundaries. If this meme helps that in any way then it's a good thing.
View this post on Instagram
Final Thoughts
Everyone has a different tolerance for sexual language on social media. Sometimes someone being horny on their main timeline can be a little much, so this meme is a gentle way to chastise someone for being excessive.
Often on the internet, you are either sainted or canceled, but this meme shows us that some people have developed the ability to express an opinion in a pretty non-threatening manner and then go about their business.
RELATED | LGBTQ Teens Create Online Subcultures To Fight Oppression