The actors were filmed flipping off anti-LGBTQ+ protesters and blissfully jumping around to "I Wanna Dance With Somebody."
The cast of the beloved Netflix queer drama, Heartstopper, stood up to protesters at London's Pride parade over the weekend.
Adorable images have surfaced of the group – which included Joe Locke, Kit Connor, Sebastian Croft, Tobie Donovan, Corinna Brown, and Kizzy Edgell – decked out in rainbow and embracing each other amongst the London crowd. Narlie and Tarcy forever!
Related | Harry Styles Gives Pride Speech Days After Oslo Shooting
View this post on Instagram
View this post on Instagram
Heartstopper Cast Dance in Front of London Pride Protesters
The stars also posted videos marching in the parade and standing up to a group of protesters lined up behind a police barricade. Joe Locke and Sebastian Croft are front and center, dancing around and giving the middle finger to the crowd while "I Wanna Dance With Somebody" plays loudly over the parade speakers.
Had to do my job properly 🤷‍♀️ https://t.co/wqIazo4yJ1

— Joe Locke (@joelocke03) July 2, 2022
"Had to do my job properly," Locke captioned a video shared by PinkNews on Twitter. Croft and Connor also shared videos of the iconic moment.
uhhh I was videoing and screaming at them but please don't be mistaken, it wasn't 'Kit Connor and the rest of the cast', it was @joelocke03 and @SebastianCroft front and centre. Please give them the credit for doing something so powerful. https://t.co/SjvJFCHwKD

— Kit Connor (@kit_connor) July 2, 2022
Love always wins💖🏳️‍🌈🥳🏳️‍⚧️ #Pride pic.twitter.com/HIKAI2vY3n

— Sebastian Croft (@SebastianCroft) July 2, 2022
This year, over 1.5 million people celebrated the 50th anniversary of London Pride, including members of the Gay Liberation Front.
About Heartstopper
Heartstopper took the world by storm in April when Netflix premiered a series adaptation of the popular Webtoons comic. The coming-of-age drama follows two British schoolboys, rugby player Nick Nelson and the shy Charlie Spring, who form an unexpected friendship. The two quickly realize their relationship goes beyond platonic BFFs, and Nick struggles to make sense of his sexuality.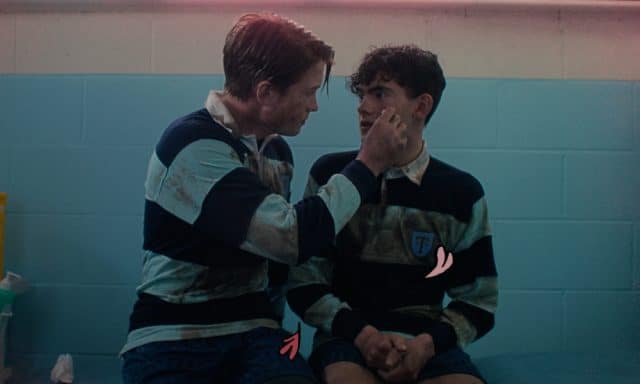 The series celebrates LGBTQ+ stories and dives into topics like love, friendship, loyalty, and mental illness. Netflix recently announced that the show will return for two more seasons.