While one may equate Texas's red-state reputation to a lack of diversity, the Austin gay scene is alive and well. Texas is a state where cowboys, artists, politicians, and, yes, even out-and-proud members of the LGBTQ community can freely exist and celebrate who they are.
If you're wondering where the gay neighborhoods in Austin are, the truth is that the whole city is practically a gayborhood in itself. Don't miss out on the wide range of events, food spots, and clubs that Austin has to offer to its gay travelers.
Use this LGBTQ Austin travel guide to plan your gay Austin vacations!
Related | Gay Atlanta Travel Guide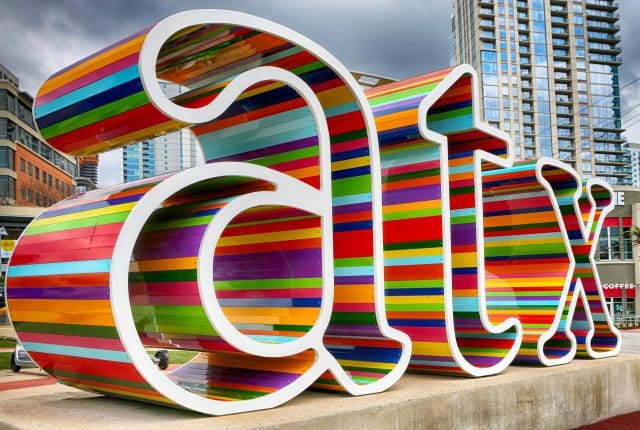 How Friendly Is Austin to LGBTQ Folks?
Despite Texas's conservative image, there are pockets of inclusivity and acceptance for the LGBTQ community within the state – Austin is one of them.
The city scored a perfect 100 on the Human Rights Campaign Foundation's annual Municipal Equality Index for nine years. The report serves as a benchmarking tool for municipal officials, policymakers, and business leaders to understand how well cities across the nation are embodying LGBTQ inclusion in their laws, policies, and services.
However, there are still many active political figures in Austin and the state of Texas that spread disparaging rhetoric against the LGBTQ community. Earlier this year, Texas legislator Rep. Bryan Slaton introduced a ban to prevent minors from attending drag shows, saying it was necessary to protect children from "perverted adults". The controversial bill drew support from other conservative legislators, while organizers, LGBTQ activists, and allies vehemently rejected it.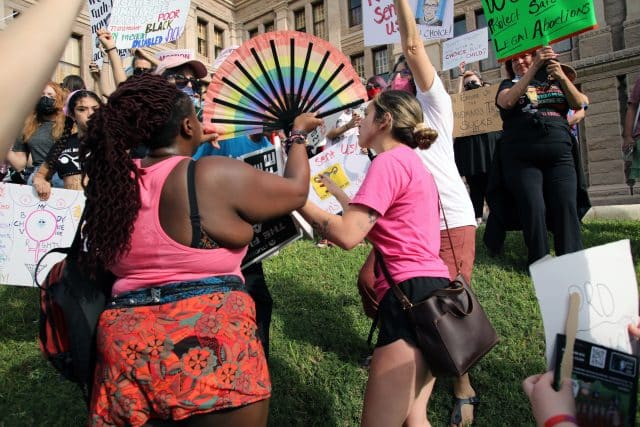 Austin's LGBTQ Events
Austin's exuberant and gay-friendly reputation can be attributed to its nationally known events. When is gay pride in Austin? You might be surprised to know that instead of having it in June, like most other pride celebrations, Austin dedicates all of August to the LGBTQ community.
Below are some of our recommendations if you're looking for LGBTQ events in Austin.
Gay Pride In Austin
Austin's week-long series of events and parties end with a major parade. One of the few nighttime parade events in the USA, you can easily head out to the city's nightlife scene as soon as it's over.
Make sure to book your hotel early because the city gets busy! Check out our recommendations in the next section for gay-friendly hotels.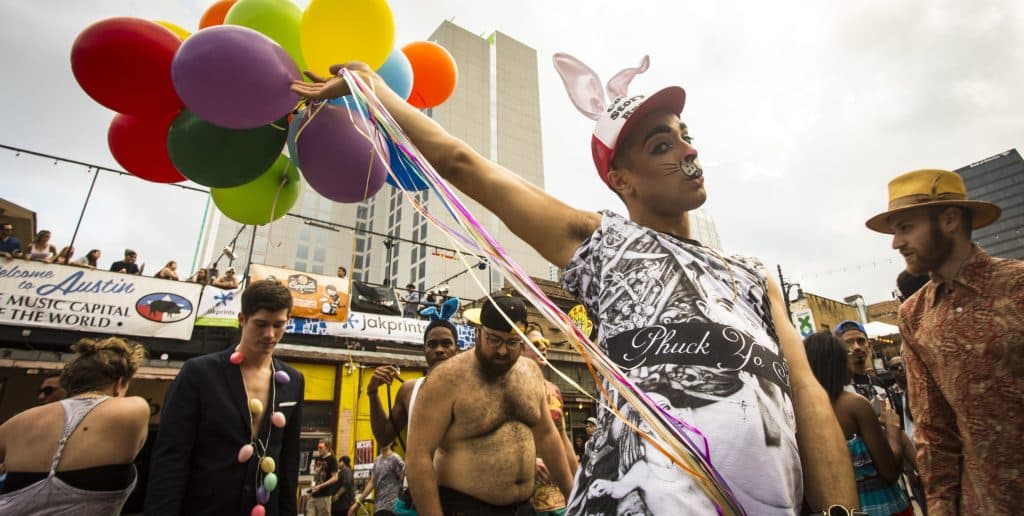 Hill Country Ride For AIDS
The Hill Country Ride for AIDS is a family-friendly bike ride that raises funds for nine local nonprofits dedicated to helping LGBTQ folks affected by HIV/AIDS. Join as an individual or form a team with your loved ones and friends. Rides can be as short as 13 miles or over 90 miles long!
The Gay Rodeo
The Texas Gay Rodeo Association holds the Austin gay rodeo to encourage LGBTQ participation and inclusivity in Western-related events that are otherwise associated with straight men and hypermasculinity. The rodeo has proudly existed for 30 years and donated over $2,750,000 to Texas charities.
Austin International Drag Festival
If you're a fan of drag, attend this drag festival that celebrates and uplifts local drag art at its finest. The Austin International Drag Festival is a relatively new event, so the organizers pull out all the stops to draw crowds in. Expect meet and greets, panels, workshops, and crowd-pleasing performances.
The Austin Gay And Lesbian International Film Festival
Austin is home to some of the most renowned film festivals in the United States. You have probably heard of SXSW or Austin Film Festival (AFF), but make sure to also check out the Austin Gay and Lesbian International Film Festival (aGLIFF), the longest-running queer film festival in the US Southwest.
Where You Should Stay In Austin
As a gay-friendly city, Austin spoils travelers for choice when it comes to gay resorts. Gay resorts in Austin range from budget hostels to luxury hotels to quirky guest houses and more. Below are some of our recommendations.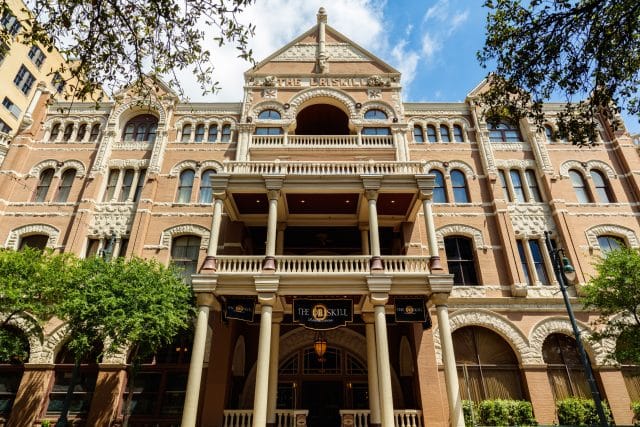 Parklane Guest House
221 Park Lane
Parklane Guest House is run by a local lesbian couple, Shakti and Devkrin, so you'd be supporting an LGBTQ-owned business by staying here – if you're lucky enough to book a room, that is. It is one of the most popular LGBTQ-friendly hotels in the city, so make sure you book it months in advance if you want to secure a spot.
The guest house has spacious rooms, a natural pool, and a homemade vegetarian breakfast served to you every morning.
The Firehouse Hostel & Lounge
605 Brazos Street
Austin's oldest standing fire station has been converted into The Firehouse Hostel & Lounge, a budget-friendly accommodation option known to be frequented by gay travelers. Enjoy live music while sipping on hand-crafted cocktails at their lounge.
The Driskill
604 Brazos Street
A hotel with a lot of character in its architecture? Look no further than The Driskill. Built in 1886, the hotel was restored to perfection and stands out amidst the otherwise modern buildings in the city. 19th-century hotels are rare in today's age, so book this hotel to experience a piece of history.
Located on 6th Street, the street that earned Austin its title of the "Live Music Capital of the World", The Driskill is a 5-minute walk to popular gay bars and has become a popular choice for LGBTQ folks traveling in Austin.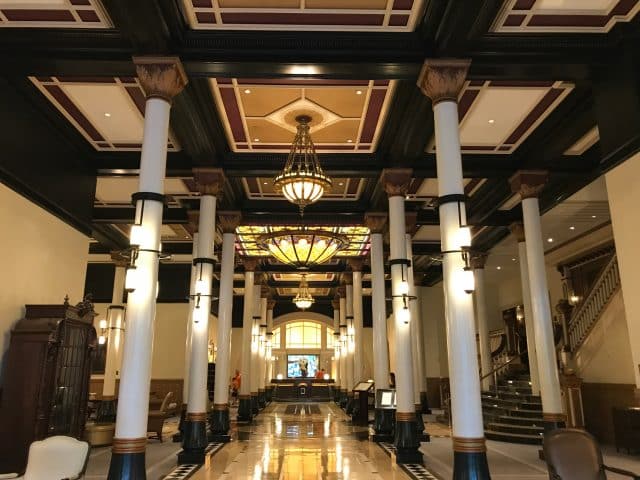 W Austin
200 Lavaca Street
W Austin is conveniently located just half a block from 4th Street, Austin's gay district. You'll not only find gay travelers but also the mega-wealthy and even celebrities staying there. Find sleek architecture everywhere, an in-house cocktail bar, and a relaxed lounge for entertaining your friends and family.
Austin Gay Bars & Gay-Friendly Restaurants
Austin wouldn't be the gayborhood it is today without the beloved LGBTQ bars that locals and tourists alike frequent. Many of its restaurants are queer-owned, too.
Make sure to check these bars and restaurants out while in town.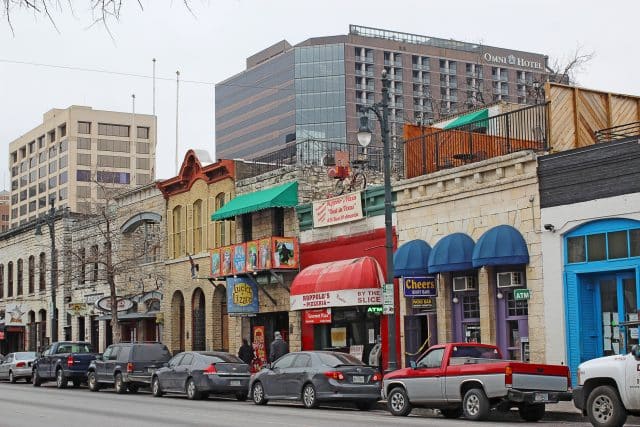 Rain On 4th
217 W 4th Street, Warehouse District
Rain on 4th is one of the more established gay bars in Austin, having been around for over a decade. At this bar, you can mingle with other gay clubgoers on the dance floor, support baby drag queen performers, hear great music, and see live performances.
Buy a Rainwater cocktail, and try the Veggie Grilled Cheese – it's great for replenishing your energy after a night of dancing.
The Iron Bear
301 West 6th Street
The Iron Bear, as its name suggests, is a bar for all "bears" and their admirers, but everyone who wants to visit is more than welcome. Here, you can drink cheap drinks and meet gorgeous men while you're at it. The Iron Bear also encourages its patrons to go shirtless, so don't be shocked to see a lot of skin.
If you go for brunch, we recommend either the Croque Madame or the Biscuits & Gravy.
View this post on Instagram
Cheer Up Charlie's
900 Red River Street
Cheer Up Charlie's is an ultra-inclusive bar for all members of the LGBTQ community, whether you identify as non-binary, queer, lesbian, or anything else. It features both indoor and outdoor spaces, live music, and drag shows.
If you're looking for fresh and plant-based options, Charlie's also has a vegan food truck, creatively crafted cocktails, and freshly-squeezed juice.
Skull & Cakebones
3991 US-290 A, Dripping Springs
Visit Skull & Cakebones, a queer- and woman-owned craft bakery store in Austin. This local bakeshop sources clean ingredients and is 100% plant-based, so you can satisfy your sweet tooth without guilt.
If you're up for something savory, try the "chicken" tenders. Sweet must-haves include their vegan cupcakes and Simply Free vanilla buttercream cupcakes.
Halcyon Coffee Bar & Lounge
218 W 4th Street
A coffee and cocktails spot, Halcyon serves the best of both worlds, all while being conveniently located just opposite the gay district on 4th Street, so you can easily traipse on over to the gay clubs once you're done with your drink.
Should you pay a visit, you'll see a lot of LGBTQ folks frequenting this café. This is a great place to meet up with friends or a new date for a chat and enjoy specialty drinks, like the Long Island Iced Coffee.
View this post on Instagram
Jacoby's Restaurant & Mercantile
3235 E Cesar Chavez Street
Jacoby's is a queer-owned restaurant with classic Southern comfort food to nurse your hangover after a night of partying. Its curated menu includes "Jacoby Brand Beef" selections such as Chicken Fried Steak, Steak Frites, and BBQ Meatloaf.
Grizzelda's
105 Tillery Street
Another queer-owned business in Austin, Grizzelda's boasts Mexican-inspired dishes, $20 bottomless mimosas during brunch, and an outdoor patio and dining room for large groups. Choose from classic favorites like Fish Tacos or more specialty dishes like the Horchata French Toast.
More Fun Things To Do In Austin
Austin offers many experiences that cater to travelers gay and straight alike but especially those from the LGBTQ community. Find LGBTQ-focused literature, go outdoors for some reprieve after partying at gay bars, and even go nude at a clothing-optional park with fellow gay travelers.
Bookwoman
5501 N Lamar Boulevard
Bookwoman, Austin's only feminist bookstore since 1975, has a selection of not only feminist work but also LGBTQ literature. Browse womxn and LGBTQ-written work at this bookstore to learn more about history and ideas you may not have been taught in school.
Barton Creek Greenbelt
3755-B Capital of Texas Highway
Tired of hitting the bars? Are you a bonafide, modern-day naturalist? Immerse yourself in nature at Barton Creek Greenbelt. This outdoor destination has 12 miles of trails with entry points all across Austin. Go for a short walk along Trail's Head at Zilker Park, swim at Campbell's hole, or get a picturesque view at Twin Falls.
Hippie Hollow Park
7000 Comanche Trail
Hippie Hollow Park, which is just outside of Austin, is the only legally recognized clothing-optional public park in Texas. Don't worry, though – going nude is 100% optional. The park is located on the shore of Lake Travis, a vast lake famous among Texas locals.
The Bottom Line
You won't run out of things to do for gay travel in Austin. From LGBTQ-focused film festivals, gay bars, a clothing-optional park, and a month-long pride celebration, Austin is overflowing with activities for people in the queer community. No wonder it has solidified its reputation as one of the best gay destinations in the country!
Related | A Complete Guide to Gay Saunas & Bathhouses