The Windy City isn't just famous for its deep-dish pizza, endless horizon of skyscrapers, scenic lakefronts, and comedy scene. The glamorous city of nearly three million is also home to a bustling population of loud and proud LGBTQ community members.
The Chicago gay scene is always bustling and chock-full of exciting things tourists can enjoy. If you're thinking of stopping by this growing gay hub, check out all the hotspots Chicago offers!
Related | The Ultimate Gay Austin Travel Guide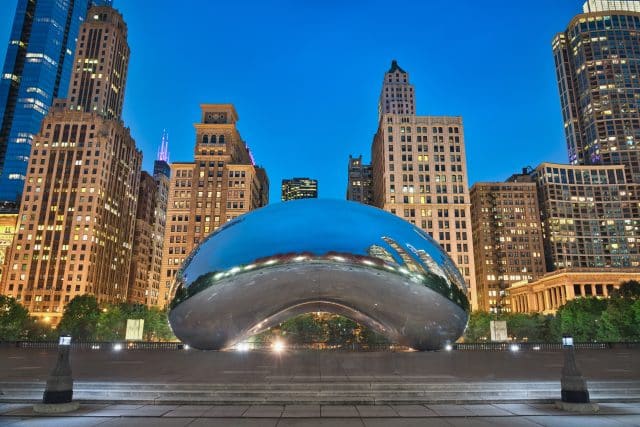 Top Gay Neighborhoods In Chicago
Back in the day, Boystown was the heart of gay Chicago. Now, Boystown is just one of many gay neighborhoods that you can visit.
Boystown
Boystown was a famous watering hole for LGBTQ community members in the 1960s and became Chicago's first gay village in 1997. It is still the biggest LGBTQ-inclusive neighborhood today, rife with shops, bars, restaurants, and theaters.
Boystown is home to Chicago's biggest LGBTQ center, the Center on Halsted, where visitors can enroll in community programs and learn more about LGBTQ events. The annual Chicago Pride Parade also takes place in Boystown every June, along with Market Days, the city's most notable street fair.
Andersonville
Situated between Winnemac and Irving Park, Andersonville is a quaint Swedish enclave with tree-lined streets and some of the best gay bars in Chicago. Compared to Boystown, Andersonville is more notable for its lesbian population, who love to frequent favorites like Anteprima, Marty's Martini Bar, and Hollywood Beach.
Uptown & Edgewater
If Boystown and Andersonville are outside your budget, Uptown and Edgewater (U&E) provide more budget-friendly LGBTQ activities. U&E neighbors Lake Michigan and is home to dozens of all-cuisine restaurants, mostly specializing in Asian fusion and Ethiopian.
U&E nightlife includes Le Nocturne, frequented by some of Chicago's best DJs and drag queens. For avid beachgoers, U&E borders the Kathy Osterman Beach, named after former Chicago politician Kathy Osterman, who rallied for gay rights in the 1980s.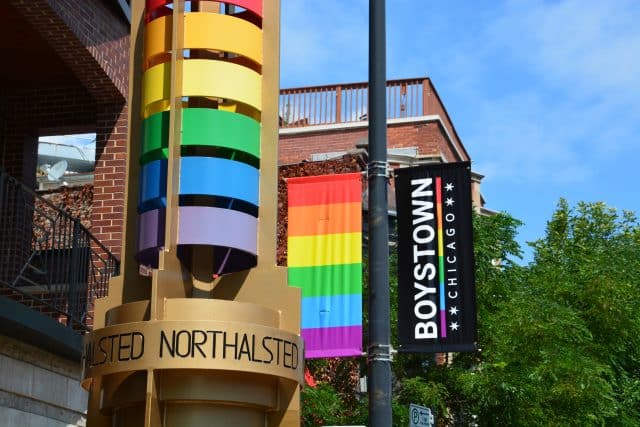 Where To Stay
Gay-friendly accommodations in Chicago are relatively easy to come by, considering that many LGBTQ tourists frequent the city for its diverse nightlife and gay-owned businesses. Below are some of our favorite options for gay Chicago hotels.
Villa Toscana
3447 N Halsted St
Since the 1890s, Villa Toscana has been an integral part of Chicago's history. Retaining its original Victorian-era architecture, the Toscana's rooms boast charming French and Moroccan designs. Plus, it's just a stone's throw away from Boystown, making it the perfect bed-and-breakfast for Pride-goers.
The Guesthouse Hotel
4872 N Clark St
The Guesthouse Hotel is one of Chicago's best boutique accommodations in the heart of Andersonville. A generational family-run business, the Guesthouse is cozy and welcoming. Many have described the Guesthouse as a "home away from home" with full kitchens and in-room laundry.
Hotel Zachary
3630 N Clark St
Outside Boystown is Hotel Zachary, a boutique hotel with refined, unique, and contemporarily designed rooms. For LGBTQ travelers, the Hotel Zachary is just over a 10-minute walk to everything Boystown offers, such as its shopping centers and music destinations.
Wrigley Hostel
3514 N Sheffield Ave
For the budget traveler, the Wrigley Hostel is an excellent choice. Just a hop and skip from Wrigley Center, there is no better place to meet new friends with shared interests. Accommodations at the Wrigley Hostel range from one to eight-bed dormitories.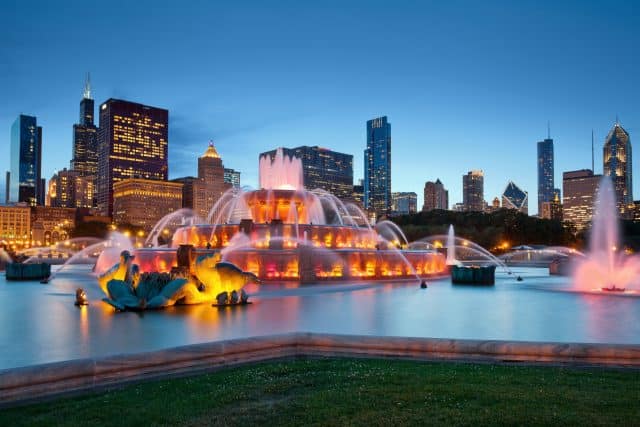 Where To Eat
Deep-dish pizza isn't the only delicacy you can enjoy in Chicago. Pizza is just the tip of the iceberg! If you're keen on a Chicago food trip, put these queer-owned restaurants on your itinerary.
Drew's On Halsted
3201 N Halsted St
Known for its boozy brunches, Drew's on Halsted hosts drag Sundays and musical events that will get you on your toes. Plus, you won't want to miss Drew's signature cabaret shows and classic margaritas. Just don't forget to book a reservation – seats sell out fast!
Anteprima
5136 N Clark St
Known for its rustic Italian dishes, Anteprima is a queer-owned neighborhood gem frequented by LGBTQ tourists and food enthusiasts alike. You'll want to try their pappardelle wild boar ragu and wood-grilled octopus.
Lady Gregory's
5260 N Clark St
For the avid whiskey drinker, Lady Gregory's has over 300 whiskey options to pair with its brunch and full dinner menus. You can't miss out on Lady Gregory's traditional shepherd's pie at this bespoke Irish gastropub. Top it off with a delicious and refreshing dessert, like the peach cobbler or Reese's peanut butter cookie skillet, a crowd favorite.
D.S. Tequila Company
3352 N Halsted St
Drag shows, spectacular Tex-Mex cuisine, and Britney Spears trivia nights are just a few things you can enjoy at the D.S. Tequila Company. If you're visiting during Pride Month, the D.S. Tequila Company hosts an annual Pride Parade Brunch.
View this post on Instagram
PROXI
565 W Randolph St
If global flavors are more in keeping with your palette, PROXI is the best place to enjoy cuisine from every continent, with a menu boasting Grilled Thai Sour Sausage, Wood-Grilled Pork Tenderloin, Lentil Dumplings, and Crab Tagliolini. For a hot date, book reservations for one of the exciting culinary events, typically hosted by visiting chefs. A crowd favorite is the Sake Dinner hosted by chefs Andrew and Alex Ring.
Wood
333 N Halsted
Proudly LGBTQ-owned by Franco Gianni and Chef Devin Kreller, Wood is a six-time winner of the Michelin Bib Gourmand award. A family of woodworkers, the brains behind Wood focus on house-butchered meats and French cooking techniques in a wood-fired oven. Pair your date night meal with its house wine or something on the extensive cocktail menu.
Where To Party
As the third most populated city in the U.S., Chicago is chock-full of places to party – you won't find any shortage of LGBTQ-centric bars and clubs. Don't forget to visit these gay bars in Chicago.
Queen!
3730 N Clark St
Queen! at Smart Bar hosts inclusive, rowdy, and unforgettable dance parties for LGBTQ party-goers who love house music. Hosted by Lucy Stoole, Nico, and Jojo Baby, Queen! Sundays keep guests on their toes until the sun rises.
SideTrack
3349 N Halsted St
Voted Buzzfeed's Most Popular Bar in Illinois, Lyft's Most Visited Bar in Illinois, and TimeOut's Best Gay Bar in Chicago, SideTrack is one for the books. Technically a collection of bars, SideTrack spans eight full storefronts where guests can enjoy drag shows, unlimited cocktails, and show tunes.
View this post on Instagram
Big Chicks
5024 N Sheridan Rd
A sports-centric watering hole, Big Chicks is an inclusive space that's been inducted into the Chicago LGBTQ Hall of Fame. Here, you can enjoy traditional and contemporary dishes, a stunning wall of colorful art collections, and an impressive list of wines, cocktails, and beers.
Hydrate
3458 N Halsted St
Hydrate is Chicago's premiere spot for late-night party-going, with drag shows, famous DJs, sound and light shows, impersonators, and hot male dancers. If you love a boozy morning, hit Hydrate for Sunday brunch and feast your eyes on go-go dancers starting at 2 pm!
Berlin
954 W Belmont Ave
Considered a pan-cultural community space and once voted the Best Dance Club in Chicago by USA Today, Berlin is the perfect meeting place for rambunctious party-goers who love alternative electronic music and 80s synth.
Wangs
3317 N Broadway
If you're looking for a more intimate meet-up place, Wangs is an east Asian-themed cocktail lounge with unique drinks like the Ginseng Margarita and Jameson Ginger. The decorations and low lighting, inspired by Chinese decor, are also Instagram-perfect!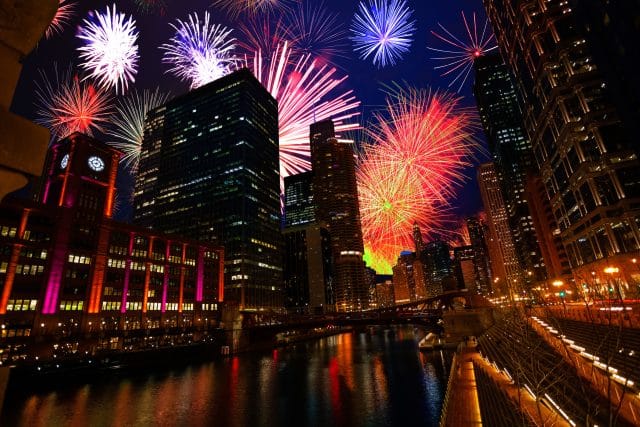 Where To Shop
If you thought Chicago gay bars were the pinnacle of what the city has to offer, think again! These queer-owned businesses are just as worth the trip.
Barks N Rec
3030 N Lincoln Ave
A pet daycare, boarding hotel, and shop all in one, Barks N Rec is an LGBTQ-owned independent supply store that heavily focuses on pet ownership education and healthy treats. Every purchase supports rescue organizations and local shelters.
Early To Bed
5138 N Clark St
Early to Bed is Chicago's premiere feminist sex shop, where you can find anything from vibrators and sex basics to wearables and BDSM toys. This queer-owned shop has been voted Chicago's Best Sex Shop ten times by the Chicago Reader, thanks to its extensive inventory of hard-to-find items and involvement with local LGBTQ charities.
CRAM Fashion
3331 N Broadway
The LGBTQ-owned CRAM has been a Lakeview East favorite for over ten years. It is known for its always-in-season shirts, shorts, and swimwear for men.
Petty Butter
Hyde Park Pop-Up Market
The Black-owned handcrafted skincare brand Petty Butter aims not just to produce high-quality bath and body products but also to educate its shoppers on Black history and LGBTQ rights. The business regularly participates in LGBTQ events and pop-ups.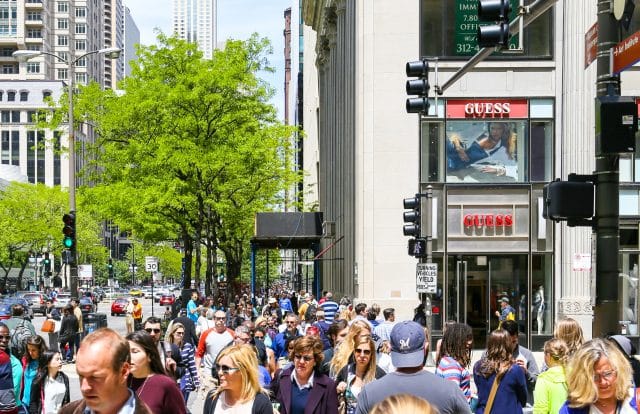 Can't-Miss LGBTQ Events In Chicago You
If you're asking, "when is gay pride in Chicago? Where should I go, and what should I do?", don't worry. Below are the most important pride-related events in this bustling city.
Chicago Pride Fest
Every June, Chicago Pride hosts a two-day street festival that attracts nearly 100,000 parade-goers annually. The festival features over 100 vendors and three stages, previously graced by the likes of artists like Alesso, Rebecca Black, and The Chainsmokers.
The parade spans four miles, over which attendees can enjoy drag shows, pet parades, and access to the best bars in Boystown.
Dyke March
Also happening in June is Chicago's annual Dyke March, a lesbian visibility movement that aims to combat racism, violence, and sexism. Hosts facilitate discussions regarding LGBTQ culture, immigration, politics, spirituality, and ability. The event culminates in a fun and lively music festival.
Reeling: The Chicago LGBTQ International Film Festival
Reeling is the second-longest-running LGBTQ film festival in the U.S. and has become an integral part of LGBTQ culture in Chicago. The festival features award-winning documentaries, shorts, full-length films, and independent screenings from both renowned and up-and-coming filmmakers.
Northalsted Halloween On Halsted Parade
Voted one of the best Halloween experiences in the U.S. by Fodor's Travel Guide, the Northalsted Halloween on Halsted Parade awards $4,000 in prizes and is judged by a colorful panel of LGBTQ personalities. Dress to impress and win the crown in one of five categories: Scary, Creative, Youth, Couples, and Group.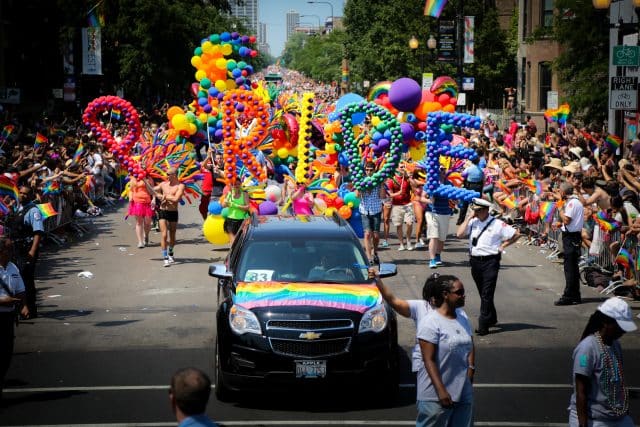 Other Fun Things To Do In Chicago
Gay Chicago vacations aren't complete without some of the city's most notable classic experiences. Make sure you add these to your list of things to do in LGBTQ Chicago.
Art Institute Of Chicago
111 S Michigan Ave
The Art Institute of Chicago is the second-largest museum in the U.S. and features some of the world's most impressive global collections.
Wrigley Field
1060 W Addison St
Home to the Chicago Cubs, Wrigley Field is a must-see when passing through the Windy City. Erected in 1914, the Wrigley Field is history itself. Go on a field tour of this legendary park, and top off your visit with a classic ball game hotdog and beer.
Chicago Prohibition Tour
27 N Upper Wacker Dr
Going on the Chicago Prohibition Tour is a must for the draft and cocktail connoisseur. Visit four Prohibition bars and speakeasies frequented by historical gangsters like Al Capone. Sip on the same stuff as jazz legends and mobsters, and take a few of their signature drinks home from the shop.
Chicago Food Tour
If deep-dish pizza speaks to your soul, you can't miss the Chicago Food Tour. You'll feast at six of Chicago's best restaurants, including Pizano's Pizza and the Berghoff. Plus, you'll learn about these stunning food establishments' historical and cultural significance.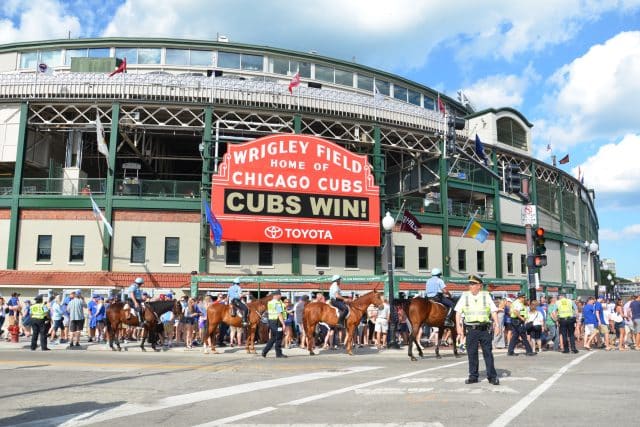 The Bottom Line
Gay travel in Chicago is loud, proud, and exciting. Thanks to its rich LGBTQ history and ever-welcoming personality, Chicago is a favorite amongst travelers from all walks of life. From its stratosphere towers and food attractions to its historical landmarks and bustling nightlife, there is nothing you won't experience in this charismatic city.
Related | Shirtless Chicago Jogger Breaks the Internet