Providence has been hailed by many as America's gayest capital city. If you're gay, a Providence vacation should definitely be on your bucket list. Between enchanting historical sites, LGBTQ-friendly establishments, and the many queer events all year round, you'll find that Providence's radical inclusivity is just as strong as its charm.
There aren't any main gay neighborhoods in Providence, but the city is quite small and inclusive whichever area you end up in. In this article, we'll go over a few travel tips on when to visit Providence and where best to reserve your accommodations. We'll also recommend some of the best gay-friendly places to eat, drink, dance, and enjoy your Providence trip.
Related | The Best U.S. Cities For Same-Sex Couples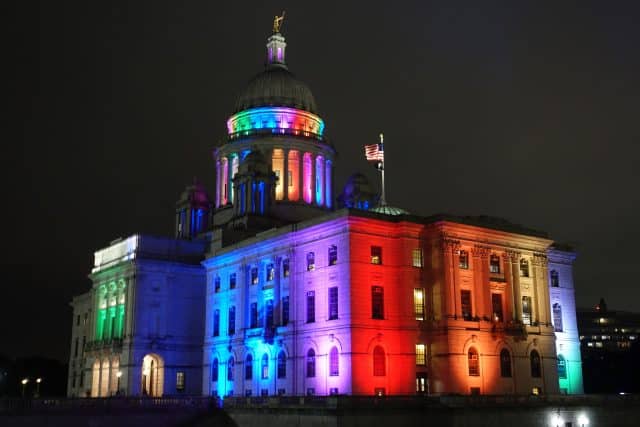 When To Visit Providence
The best time to visit Providence is from June to August in the summer or from September to November in the fall. Summer is an excellent time to visit because the weather is perfectly warm. However, it's also the time of the year when tourists most often visit, so expect bigger crowds and higher hotel rates. If you're wondering when is gay pride in Providence, Rhode Island PrideFest also takes place during mid-June.
Providence during the fall season is another great time to visit the city. This time of the year is very special as it's when the leaves change, transforming the city into a vibrant and cozy explosion of color. Most of the peak season tourist crowds typically leave after Labor Day in early September, but the city will still be bustling thanks to all the college students returning for the fall semester.
Regardless of when you decide to go, there are many fun things to do in Providence all year round. So, deciding when to do your LGBTQ Providence trip is really more of a matter of what type of weather you prefer.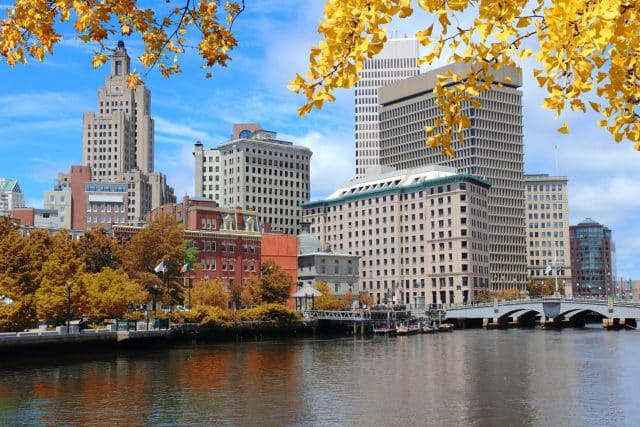 Where To Stay In Providence
Rhode Island's capital is rather small, and as such there aren't really any big resorts – let alone gay resorts – in Providence. However, there are quite a number of hotels in the city that provide one-of-a-kind stays and memorable experiences, several of which are historical buildings important to Providence's legacy.
Alternatively, several homestay websites operate within the city, so looking for a short-stay house is another option.
Premium Hotels
Omni Providence Hotel
1 W Exchange St.
The Omni Providence Hotel was the location of a well-known strip club during the Jazz Age in the 1920s. Today, it's one of Providence's most recognized historical hotels. It boasts over 500 rooms and is the tallest and largest hotel in the city.
Graduate Providence
11 Dorrance St.
Once known as the Providence Biltmore, the Graduate Providence is a premium hotel located in the center of downtown Providence. Due to its elegant charm and historical value, the hotel is considered a tourist attraction in itself. The hotel was designed by the architectural firm Warren and Wetmore, the same firm that designed the Grand Central Terminal in New York City.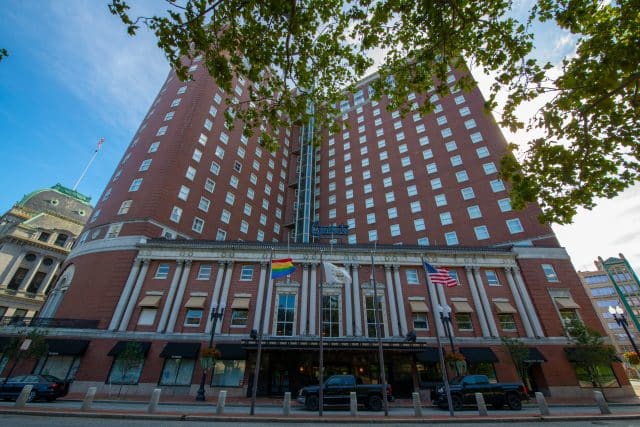 The Dean
122 Fountain St.
The Dean is a boutique hotel that features a modest 52-room accommodation. This hotel has a history that stretches back to 1912 when it was a shelter run by the Episcopal church. It was also once a strip club called the Sportsman's Inn. Today, it's a chic hotel considered by many as an "architectural gem".
Homestay
If you're looking for a more authentic experience and want to stay in a classic New England home, check the many listings on homestay websites. The houses you'll find on homestay websites may not necessarily be in the center of Providence where all the hotels, bars, and clubs are. However, they'll generally be cheaper than getting a premium hotel. Here's a handy list of websites where you can book homestay accommodation.
Where To Eat, Drink, And Dance In Providence
When traveling to Providence, it won't take you long to realize that the city has tons to offer in terms of cuisine, drinks, and nightlife. Let's take a look at some of the best places to visit in the city.
Restaurants
Interestingly enough, the whole concept of the American diner actually originates in Providence. The first ever diner was a horse-drawn canteen created by Walter Scott in 1872. Unfortunately, this equestrian eatery no longer exists, but there are still tons of great places to eat in the city.
Viva Mexico Cantina & Grill
129 Washington St.
Located next to The Stable, Viva Mexico Cantina & Grill is an eatery that serves authentic Mexican food. You won't find your typical Americanized Latin-American food here. Instead, you can taste genuine Mexican dishes like lengua guisada (sautéed beef tongue) and barbacoa de chivo (shredded goat meat).
Mokban
217 Westminster St.
Mokban is a traditional Korean restaurant that serves home-cooked-style meals. Its offerings are typically centered around a bowl of rice, soup, and then a variety of mini side dishes or "banchan".
View this post on Instagram
Dune Brothers
239 Dyer St.
Located in Providence Innovation District Park, Dune Brothers is the place to get your seafood fix. It's a quaint little outdoor eatery that serves authentic "dock-to-dish" New England seafood dishes. Here, you'll find delicious fresh fares like beer and beef-fat-fried fish and chips, lobster rolls, clam chowder, and the like.
Bars And Nightlife
Though the city itself is smaller than its nearby counterparts, don't underestimate the sheer vibrancy of Providence gay bars. Gay bars in Providence are among the most acclaimed queer establishments in New England – here are a few of our faves.
The Dark Lady
19 Snow St.
The Dark Lady is one of the most well-known dance clubs in the area. It's situated in the middle of downtown Providence, just a few steps from the city's top hotels.
Most of its clientele are drag queens and go-go dancers. You can also catch weekly acts by DJs, dance troupes, drag shows, and even karaoke nights.
The Stable
125 Washington St.
If you're looking for a more chill place to pregame before hitting one of the many dance clubs in the area, then The Stable should definitely be on your list. It's a cozy little bar where you can drink some deliciously mixed cocktails at a reasonable price, play billiards, and just generally hang back.
Providence Eagle
124 Snow St.
Providence Eagle mostly caters to an older, mostly male, crowd. For over a decade, it's been known for its fetish-themed parties and leather balls. If you're looking for a more adult experience that borders on kink, you should check this place out.
View this post on Instagram
Gay Bathhouses
If you're looking for a more raunchy experience, Providence is also home to two well-known saunas that specifically cater to gay and bisexual men.
The Mega-Plex
257 Allens Ave.
The Mega-Plex is located a bit outside of the center. It's a decent-sized bathhouse with over 500 lockets and 75 private cabins, making it a pretty good cruising space for locals and visitors alike.
Providence Health Club / Eagle's Nest
257 Weybosset St.
Providence Health Club also called Eagle's Nest, is a gay sauna located in downtown Providence, close to all the queer establishments, so it's quite easy to find. It's not as popular as The Mega-Plex but still draws in quite a crowd of mostly men over 35. They also have themed weekly events like Disco Sunday, Frat Fridays, and Trans Night.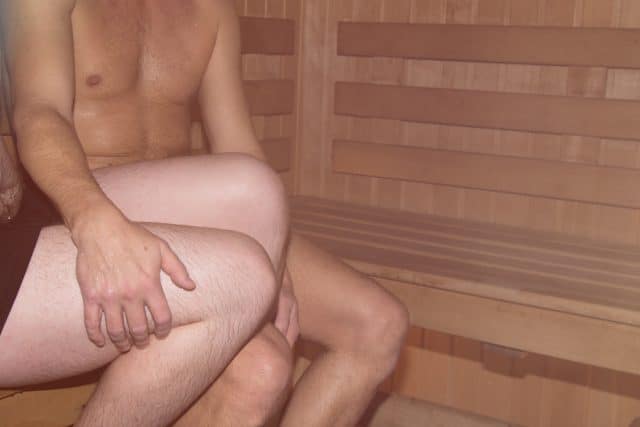 Top Providence Gay Events And Festivals
The Providence gay scene is active all year-round so it's not uncommon to find LGBTQ-themed events in the city's many queer establishments. However, if you're looking for something bigger that involves the whole community, then consider timing your trip to land on one of these major LGBTQ events.
Rhode Island PrideFest And Illuminated Night Parade
PrideFest is Rhode Island's annual LGBTQ pride event hosted in mid-June every year. Its pride parade differs from pride events in other cities in that the march takes place at night. During the parade, you'll see colorfully adorned and brightly lit floats make their way through Providence's main streets.
Aside from the night parade, PrideFest also features other activities such as street marketplaces, block parties, special performances, and the like.
Providence LGBTQ Film Festival
The Providence LGBTQ Film Festival is the queer part of a larger festival called the Flicker's Rhode Island International Film Festival (RIFF). Now in its 24th year, the Providence LGBTQ Film Festival celebrates queer cinema by featuring dozens of international and local films made by members of the LGBTQ community. This event is widely considered one of the most renowned film festivals in New England.
The festival itself typically runs in August, and the screenings take place in a mix of outdoor and drive-in locations, as well as online.
Travel Tips And Information
When visiting another city or state, it's always smart to practice good travel protocols and etiquette. Always keep an eye on your belongings, be mindful of your surroundings, and respect the local customs and environment.
With that being said, there are also some city-specific laws and regulations you should be mindful of when planning your trip to Providence.
Alcohol Laws
Massachusetts law dictates that bars stop serving alcohol past 1 AM. So, if you plan on doing a whole night of drinking, consider starting a bit early. On weekends, however, bigger clubs like Dark Lady and EGO Providence are open until 3 AM.
It's also illegal to consume alcohol in public spaces such as sidewalks and parks. They're quite strict about this – if you get caught by the police you can get arrested on the spot.
As it's a misdemeanor offense, you can be punished with a mandatory fine and community service if convicted. So, make sure to finish your drinks before you move to the next bar or club!
COVID-19 Information
It's no longer a requirement for travelers to Rhode Island to quarantine on arrival, whether or not their vaccinations are up-to-date. Of course, it's still highly encouraged by the Rhode Island Department of Health (RIDOH) to update your vaccinations and/or get tested before traveling to minimize the risk of spreading COVID-19.
The wearing of masks is no longer mandatory in most public places. However, it is still highly recommended that you wear one when in travel hubs like airports, bus stations, and other areas for public transportation.
Some private establishments such as healthcare facilities, schools, and camps may make it a mandatory requirement for entry regardless of vaccination status. So, if an establishment asks you to wear a mask before coming in, best to just be respectful and comply.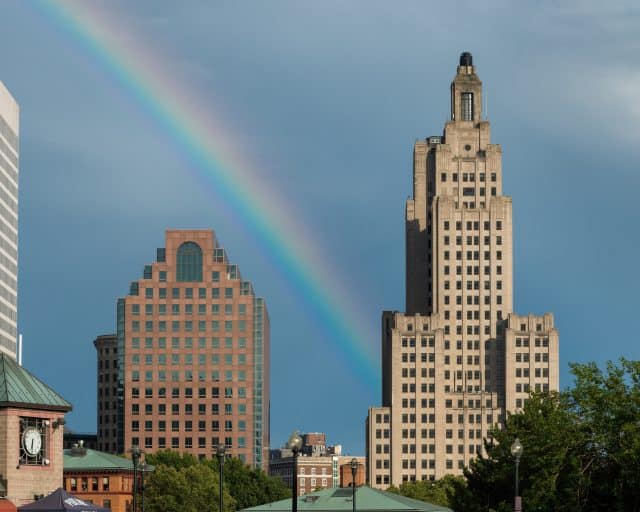 Final Thoughts
Providence may be small, but the sheer force of its gay scene is strong enough to rival other, bigger cities. Whether you're there for a relaxing getaway, or to party your heart out, it won't be hard for you to find something you'll enjoy.
Related | The Ultimate Gay Provincetown Travel Guide