The latest episode of HBO Max's post-apocalyptic drama series The Last of Us tells another beautiful queer story.
Warning: The Last of Us spoilers are ahead!
The cast and producers will not apologize for telling real stories. This week's episode of The Last of Us is arguably the best of the series, next to episode three. It dives into Ellie's (Bella Ramsey) origin story and introduces her best friend and crush, Riley (Storm Reid). Like Bill and Frank's episode, "Left Behind" tells the complete story of Ellie and Riley.
View this post on Instagram
Related | Pedro Pascal Was a Gay Twink in the '90s and Gay Twitter Is Thirsty
It starts with Ellie training to become a FEDRA soldier in the Boston QZ. The audience then discovers that her best friend and roommate has been missing for weeks. But when she finally returns, it's only for one night. Riley plans to leave Boston with the Fireflies and wants to treat Ellie to one last adventure together. The two girls go to the mall and discover its many "wonders," like a carousel and the escalator. However, the greatest discovery of the night is their feelings for each other, leading to a kiss.
The Last of Us Faces Backlash Over Queer Storytelling
The episode might not have the ending we all would like to have seen, but that is not why viewers are upset. Once again, homophobic The Last of Us fans are raging about the queer storyline. Luckily, newcomer Reid is not phased.
"Like Bella said when episode three came out: If you don't like it, don't watch," Reid told Entertainment Weekly. "We are telling important stories. We're telling stories of people's experiences, and that's what I live for. That's what makes good storytelling, because we are telling stories of people who are taking up space in the world."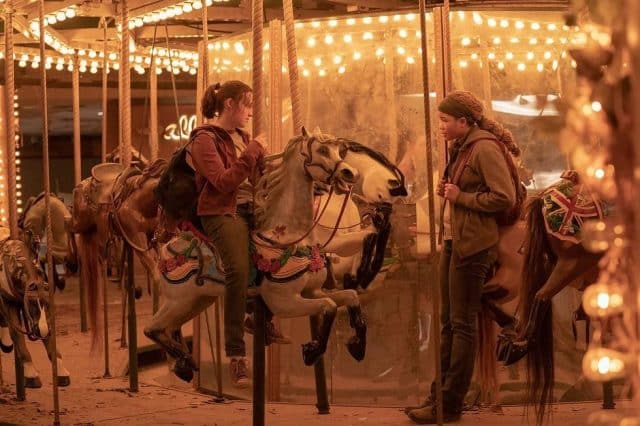 Earlier this month, Ramsey spoke with GQ about the series and responded to hate comments geared toward the third episode.
"I'm not particularly anxious about it," they said. "I know people will think what they want to think. But they're gonna have to get used to it. If you don't want to watch the show because it has gay storylines, because it has a trans character, that's on you, and you're missing out. It isn't gonna make me afraid. I think that comes from a place of defiance."
Coming Back for Season Two
The Last of Us is based on the Naughty Dog horror game of the same name. Since it's premiere, the show has broken records for HBO Max, including surpassing the Game of Thrones spin-off House of the Dragon for minutes watched in the first week. The show is a massive hit for the streaming service and is already renewed for season two. Sorry haters, but the gays are winning this time.
View this post on Instagram
Related | Elliot Page to Star in First-Ever Fragrance Campaign With Gucci
"It's 2023. If you're concerned about who I love, then I need you to get your priorities straight," Reid continued. "There's so many other things to worry about in life. Why are you concerned that these young people — or anybody — love each other? Love is beautiful, and the fact that people have things to say about it, it's just nonsense."
Reid also opened up about what this role means to her and the incredible impact Riley has on modern media.
"I'm not only representing women. I'm representing young Black women and I'm representing young queer women that are experiencing new feelings and new relationships," she said. "We are on the tightrope of a friendship and having a crush, or is it a crush? Is it just flirtatious energy? There's just so much that goes into the complexity of what the episode is. And furthermore, the complexity of what Ellie and Riley's relationship is I find just so beautiful."
If you have not seen The Last of Us: Left Behind, bring some tissues. It is streaming now on HBO Max.