Yes, we do like scary movies.
It's almost time for Matt Bettinelli-Olpin and Tyler Gillett's Scream to hit theaters. Paramount Pictures has released new teaser content to hold us over, at least until the release.
"Twenty-five years after a streak of brutal murders shocked the quiet town of Woodsboro, a new killer has donned the Ghostface mask and begins targeting a group of teenagers to resurrect secrets from the town's deadly past," reads the official movie description.
View this post on Instagram
Who's in the cast?
Returning to the franchise is Neve Campbell as Sidney Prescott, Courtney Cox as Gale Weathers, and David Arquette as Dewey Riley. But, they're not alone. They're joined by a slew of new suspects and victims as the terrifying Ghostface returns to Woodsboro.
You can meet the next generation in the new character posters Paramount Pictures just released.
View this post on Instagram
Included in the posters is Mindy, a queer Black woman played by Jasmin Savoy-Brown.
(You can even see a pride pin on her shirt in the poster!)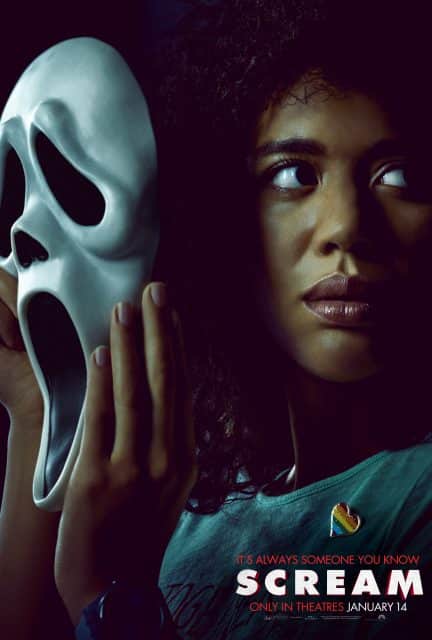 The Scream movies were originally written by out writer Kevin Williamson who joins the new installment of the franchise as an executive producer.
In an interview with Logo, Savoy-Brown said the writers of the film did a great job avoiding tropes and creating authentic characters. She said, "I felt I could just fully exist just as myself which is a person who happens to be queer, and the writing reflects that."
You can see posters for 11 other newcomers including Melissa Barrera as Sam Carpenter, Mason Gooding as Chad Meeks-Martin, and Dylan Minnette as Wes Hicks.
Plus, to ensure fans know that Ghostface is back and as scary as ever, Paramount Pictures released a new featurette where the cast discusses what makes this villain a horror icon.
View this post on Instagram
You can meet Mindy in Scream in theaters on January 14.