Jasmin Savoy Brown has the internet screaming about her new girlfriend.
This actress is booked and busy! This week, Brown is promoting the return of the hit Paramount+ thriller series, Yellowjackets, and the release of the highly anticipated Scream sequel. Though fans are eager to see Brown's Mindy Meeks-Martin, the franchise's first queer character, face off against ghost face once more, her recent Instagram post is what has captured our attention.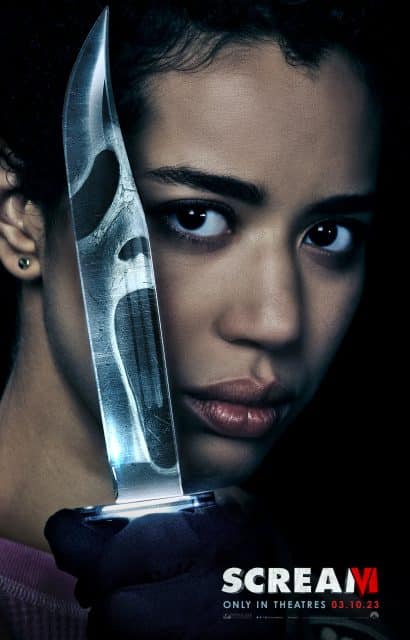 Somehow between all of her current projects, Brown found love! The actress shared photos introducing the world to her beautiful girlfriend and wrote, "J'étudie les bisous français," which translates to "I study French kisses." The women are pictured at the Scream 6 premiere in New York City, sharing a passionate kiss. Following the kiss, the two pull apart and see that her bold red lipstick has smeared all over her partner, leading to adorable giggles. The entire moment is truly too precious.
Related | Renée Rapp Struggled to Come Out as Bisexual While Filming 'TSLOCG'
View this post on Instagram
According to Brown's Instagram tag, her mysterious new lady is Anouk. Anouk also shared photos from the night on her page and jokingly captioned it, "soft launch!!!"
Brown's on-screen twin in Scream, Mason Gooding, commented on the post and wrote, "Jasmin said play 'The Girl is Mine' by Michael Jackson on Spotify." And he was not the only Scream costar to comment. Newcomer Devyn Nekoda, who plays Anika, wrote, "Mummiiiessss" and "I love your love." Other friends and co-workers also shared heartfelt messages like Yellowjacket's Juliette Lewis and Ariana DeBose.
I'm not jealous, I swear. Though this is the first post that Brown has shared with Anouk, it is likely not the last. Keep 'em coming! But in the meantime, fans can see more of Brown in Scream VI in theaters on March 10.