Sarah Michelle Gellar says Zendaya should star in the Buffy The Vampire Slayer reboot.
Can you believe it has been nearly twenty years since Buffy sealed the Hellmouth and defeated The First by awakening every potential slayer, which saved Sunnydale and the world! *Deep Breath* Well, it has!
Since the series finale in 2003, fans have been campaigning for a Buffy Summer's comeback, but Gellar, the former star, says it is time for another actress to take the stake over.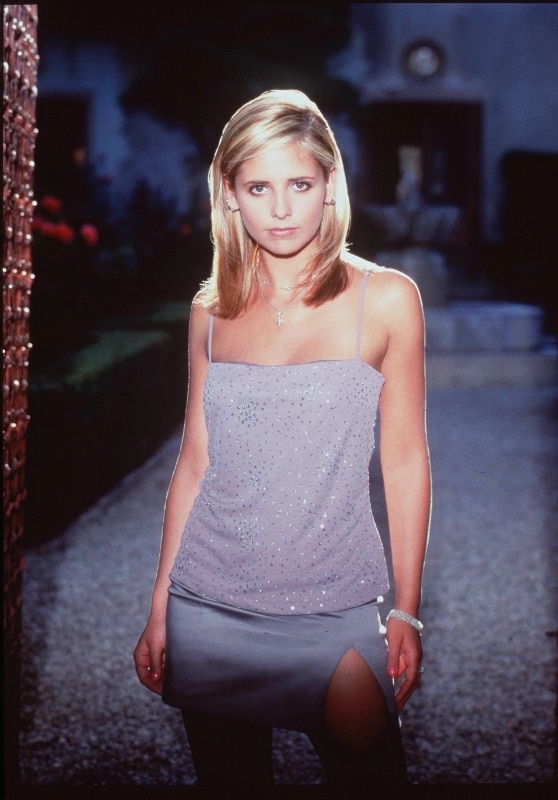 Who Will Play the Slayer in the Buffy the Vampire Slayer Reboot?
Talks of remakes or reboots have been more than fanfare online.
In 2013, Glee star Heather Morris reported that she was under consideration to take on the title role of Buffy in a re-imagining of the series. She said, "They're considering me! I found out, and I almost peed my pants. I was so excited."
Unfortunately for fans, we never got that remake. But now, Gellar has resurrected talks of a Sunnydale series where Zendaya would be the chosen one turning vampires to vapor.
During a recent interview for Evan Ross Katz's new book, Into Every Generation a Slayer Is Born: How Buffy Staked Our Hearts, Gellar said, "I vote Zendaya" when asked who should take over the leading role.
Honestly, this is the first name we have heard that we believe could embody the next slayer. She already plays a high school student on Euphoria, and she does many of her stunts. While she may not have time between Marvel movies, Zendaya gets our vote, too.
What Happened While Filming Buffy?
Earlier this month, Buffy The Vampire Slayer turned 25.
While diehard fans everywhere celebrated the show online, many are conflicted due to recent reports of bad behavior on set by the show's creator Joss Whedon.
In recent years, many former cast members have revealed horror stories centered around Whedon's rude, disparaging, and creepy behavior.
Charisma Carpenter, who played Cordelia on Buffy, was one of the first actors to come out against Whedon. Carpenter shared her own experiences in support of Ray Fisher, who was facing backlash after calling out Whedon's abusive actions on the set of The Justice League.
Since then, more members from Buffy have spoken out, including Michelle Trachtenberg. The actor tweeted that Whedon was not allowed to be left alone with the teen actor.
Apparently, Whedon's toxic behavior wasn't just present on the series set. Nineties star and diehard Trump supporter Kristy Swanson, who played the original Buffy in the 1992 film, shared her thoughts on Twitter when responding to Carpenter's tweet. "Terrible, but not surprised," she said.
Most recently, Wonder Woman star Gal Gadot who starred alongside Fisher in The Justice League, said Whedon threatened her career while filming the DC superhero movie.
With everything coming out about Whedon, we think it's time for a female lead revival of Buffy. If Zendaya isn't available, call Hunter Schafer, we would love to see her kick some vampire ass.