After 2 hours and 9 minutes, the Naval Academy freshmen topped the greased monument.
Thousands of underclassmen have completed the Herndon Climb in the name of teamwork and character-building. However, this year was particularly grueling. It took more than two hours for the U.S. Naval Academy's freshmen class to climb the Herndon Monument. To make the climb more challenging, upperclassmen lubricate the 21-foot shaft with butter, oil and shortening.
The Herndon Climb is an annual event at the end of each school year, but the tradition of mounting the monument started in 1940. In 1949, the upperclassmen decided that the task wasn't hard enough, so they started greasing the shaft with lard.
Related | Man Rows Across the Ocean to Propose to His Boyfriend
For the occasion, freshmen are tasked with removing an underclassman's "Dixie cup" hat from the tip of the Herndon Monument. Then, they must replace it with an upperclassman's hat. Upon finishing this task, they officially move on from their challenging first year at the academy.
Along with their patience, many of the plebes, first-year students, lost their shirts and resorted to scaling each other's bodies, grabbing whatever they could to climb. By the end of the event, their bodies were red from friction and the sun's relentless rays.
Finishing the Herndon Climb on Top
The Class of 2021 had a plan. As they waited for the cannon to signal the start of the climb, the plebes tore their shirts and fastened them together to form bands they would use to wrap around the column. They planned to use the shirts to shimmy their way to the top. The technique worked for a while, but around the two-hour mark, the human ladder wobbled furiously.
It took the class 2 hours and 9 minutes to complete the job, which is slow in comparison to previous years. The freshmen of 2016 finished the Herndon Climb in 1 hour and 12 minutes.
This year, Peter Rossi managed to place the upperclassman's cap on top of the oily statue, completing the task. "It's a cool feeling to be the one, no matter how you do it," he told the Washington Post.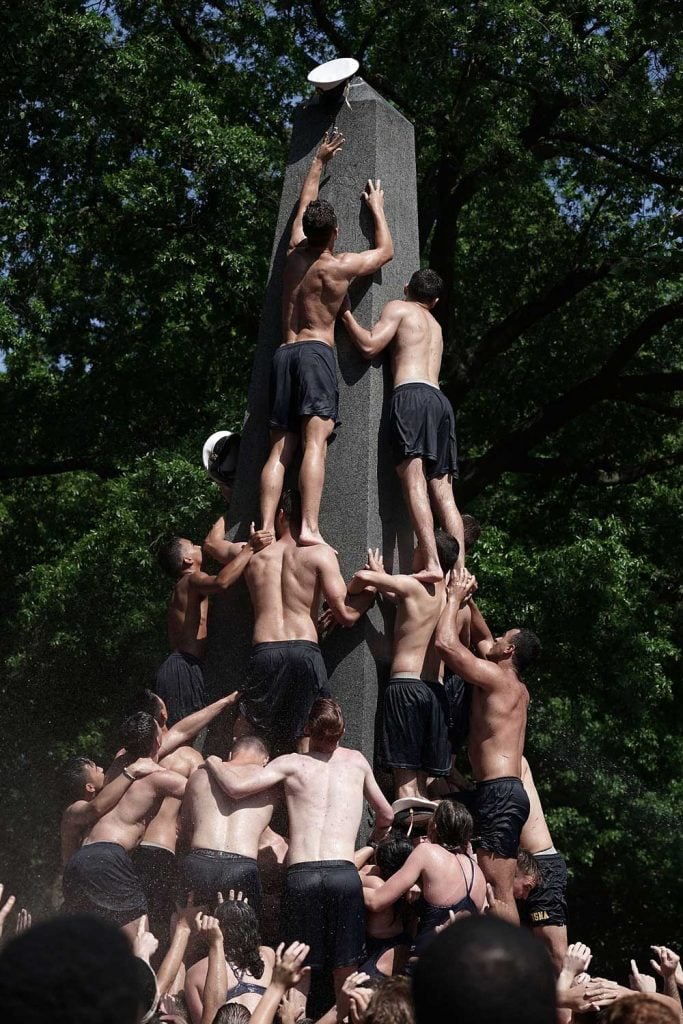 Rossi attributed his success to his classmates below him for supporting him long enough to top the obelisk. "Everyone's working together and just doing what they can to get it done," he continued.
Watch the 2018 Herndon Clim below.