Lil Nas X is feeling himself, and why shouldn't he be? The 23-year-old recently posted a picture of himself on Instagram that has people talking (and thirsting) all over again. Lil Nas X is no stranger to this as we know. The star has proven many times he can set the internet ablaze with a mere wave of his hand. This time Lil Nas X did while taking a bubble bath, using only the bubbles to protect his modesty.
Bubble, Bubble
The "STAR WALKIN'" singer is finishing up leg 2 of the Long Live Montero Tour, in support of his debut studio album, Montero. Throughout the tour, Montero was feeling himself quite a bit. And we're glad he was because he has been treating us to revealing hotel selfies along the way. His most recent goodies are shots of him enveloped in a thin layer of bubbles. Just enough to pique our interest, but not enough to undermine any OF aspirations he may have (one can dream).
Related | Lil Nas X Tweets His Most Scandalous Request Yet
The photos were taken on the Belgium stop of his tour, as evidenced by the Belgian flag he captioned the post with. Montero was in Brussels to be specific, and he included some shot of his concert and one of him exploring the city.
As you can imagine, the response was overwhelmingly thristy. Some fellow celebrities even joined bathtime to weigh in. "This is the production of Phantom of the Opera I want to see," wrote actor Jesse Tyler Ferguson. Legendary actor Dashaun Wesley expressed his admiration through fire emojis. Same, Wesley. Same.
More From Montero
As we said, this isn't the first time Montero has teased us with tantilizing selfies. It's not even the first time he's done this on the Long Live Montero Tour. First we got him covering up with a letterman jacket during his U.S. leg.
Then we got what might best be described as an impromtu sex ed lesson with pillows as demonstration material.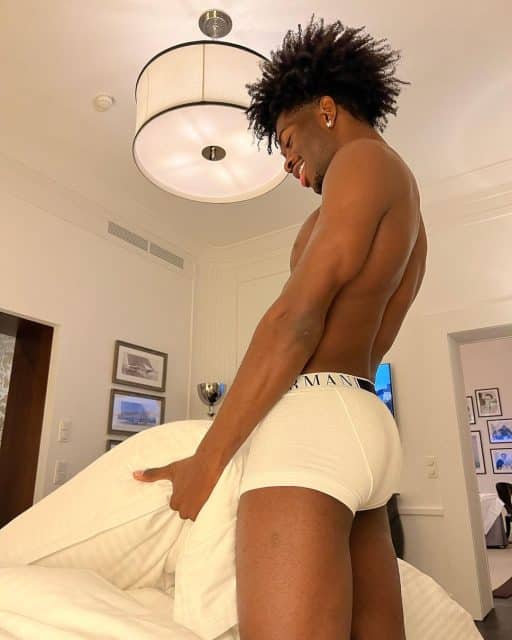 Follow Lil Nas X to keep up with his hotel shenanigans. He still has one stop left. Pllenty of time for Lil Nas X to take another bubble bath. Come on in, the water's fine.