This week's episode of High School Musical: The Musical: The Series has the Wildcats dressing up in their grooviest attire for a 70s-themed prom.
Not only did we get to see the drama kids boogie on the dance floor, but we also finally got to meet JoJo Siwa's character, Madison, and see many of our fav LGBTQ+ characters happily living their truth. It was a real win for the gays.
Related | Barbie Ferreira Has New Gig After Leaving 'Euphoria'
Ashlyn is Living Her Best Life
Sparks flew last week for Ashlyn (Julia Lester) when she realized she has been harboring a crush on Val, the musical choreographer. "My dating pool got a little bigger. And so did my heart. And so did my world," she says during the latest episode.
Now, Ashlyn is glowing after accepting her sexuality and proudly wore a rainbow pin at prom when Carlos welcomed her to the community.
View this post on Instagram
Carlos and Seb Reunite
This season of HSMTMTS has been challenging for Carlos (Frankie A. Rodriguez) since his boyfriend Seb (Joe Serafini) couldn't make it to Camp Shallow Lake. But, we finally got to see our favorite couple back together when Seb surprised his partner at prom dressed like a 70-year-old grandpa. We love seeing these two together – especially when it gives us another love duet.
View this post on Instagram
Maddox and Madison Talk it Out
In an attempt to fix some of the things he has broken in his past, Jet (Adrian Lyles) brings Madison (JoJo Siwa) to Shallow Lake to surprise Maddox (Saylor Bell Curda). It was previously revealed that Madison broke up with Maddox at their last camp prom. Though she's still working through her feelings, Maddox asks Madison to stay. They both open up about their previous relationship, and though there's no clear conclusion, it's obvious both girls feel closure after the interaction.
View this post on Instagram
Siwa sat down with EW and gushed about the opportunity to be a part of the HSMTMTS in a queer role.
"I remember when I first got the ask, I immediately was like, 'Yes. Don't know when, don't know who, don't know how, but yes, make it happen,' to my team. And they did. It was honestly some of the most fun days of my life while filming this show."
It's unclear whether Siwa's character will return for episodes (or seasons), but if the stars align, she would love to come back.
"I told everybody at Disney, I told [creator] Tim [Federle], whatever they want me to do for this show I'm down. Because not only is it the coolest show to be a part of, but it also is just such a great environment to be immersed in that I would do anything."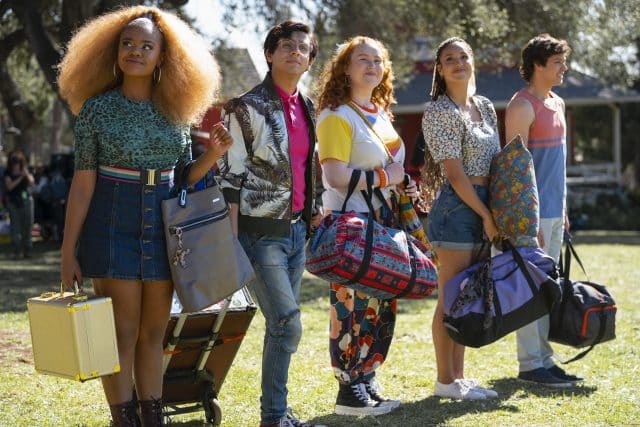 High School Musical: The Musical: The Series air on Wednesday on Disney+.