John Cameron Mitchell opens up about becoming Joe Exotic for Joe vs. Carole.
Joe vs. Carole, the limited eight-part series, premieres today on Peacock, and it's a wild ride! The series is based on the Wondery podcast, "Joe Exotic: Tiger King". It focuses on the feud between big cat enthusiast Carole Baskin (Kate McKinnon) and fellow exotic animal fanatic Joe Exotic" Schreibvogel (John Cameron Mitchell). The show, which has been dramatized a bit, follows the real-life story of Baskin's battle to stop big cat breeders in the United States. Baskin's mission escalates quickly when she sets her sights on Exotic, who eventually hires an assassin to take her out.
Showrunner Etan Frankel accurately described the series as "a deep dive into the story of Joe Exotic and Carole Baskin." The limited series offers a glimpse behind the curtain and a chance to see who Baskin and Exotic are.
John Cameron Mitchell: Becoming Joe Exotic
We caught up with Mitchell, who plays Exotic, for a one-on-one discussion about the series. The role was quite demanding of Mitchell, who stepped up to the plate and gave a very believeable performance as the Tiger King.
Related | The World's Oldest Tortoise Is Queer
In discussing the role with Levi Chambers, Mitchell explained how he made an unlikeable person, like Exotic, likable. "The vulnerability is what makes him likable. You can see [Joe's] pathetic need to be liked, and you also see him rise above adversity, which makes him feel like an aspirational figure at times. He's someone that you take to your heart, strangely, despite the insanity."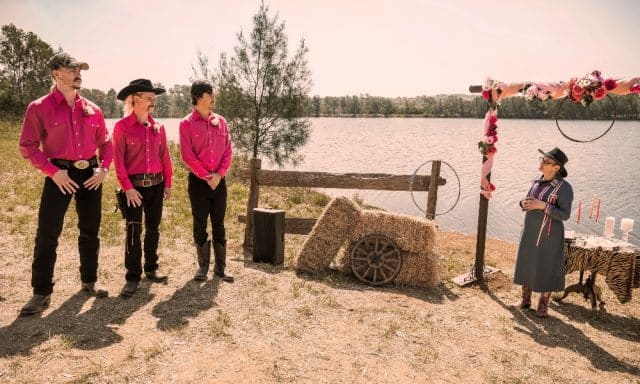 Mitchell also touched on whether or not Exotic cared about his cats and his staff. "He did care about his animals and his people, but he was a bully and lorded over them," he continued.
Mitchell also commented that he found his inspiration for the character in Exotic's self-produced music videos from the '90s and early 2000s. "There's one video of [Exotic] in the '90s, where's he's not quite the 'Tiger King' yet; he's very delicate, has a lisp, and he's much sweeter. That was my key to finding the Joe before he toughened up. There's this little gay boy underneath there, and I was playing that."
Joe vs. Carole is now streaming on Peacock.