Allegedly, Hitler was gay for most of his life, but he took drastic measures to hide it.
According to new evidence, Adolf Hitler, the man responsible for the death of more than 70 million people, was gay for most of his life. His numerous queer affairs became a laughing stock in German newspapers, leading him to burn all evidence. Most of it was wiped away and forgotten until now.
A new book by Siobhan Pat Mulcahy called The Peculiar Sex Life of Adolf Hitler has many picking their jaws up from the floor due to its detailed descriptions of the tyrant's multiple same-sex relationships.
Related | This Vintage Photo Offers a Rare Glimpse at Gay History
As Mulcahy wrote in the Irish Examiner, the book is a culmination of nearly two years of research. It analyzes all the phases of Hitler's sexual experiences: His early mother fixation, his long-term gay phase, and his final years as a "reluctant heterosexual."
According to Mulcahy's research, Hitler was predominantly homosexual for most of his life. In his teens and early twenties, he had a string of "exclusive male companions," including August Kubizek, Reinhold Hanisch, and Rudolf Hausler, sharing accommodation with them in seedy Viennese or Munich backstreets and in "homes for the destitute," he writes.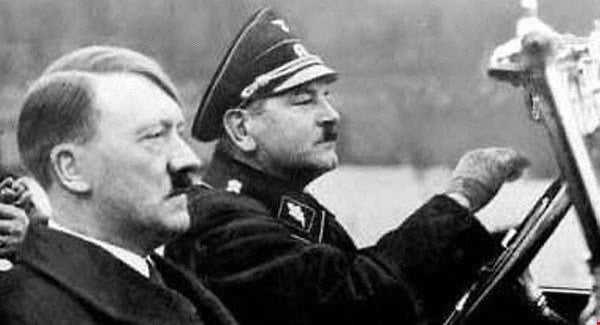 For obvious reasons, most of these early years are never mentioned in Hitler's autobiography Men Kampf (1925).
Research shows that Hitler was in a six-year sexual relationship with fellow dispatch-runner Ernst Schmidt. The relationship wasn't exclusive, which led him to also have relations with a senior officer.
U.S. intelligence later discovered that Hitler was never promoted during World War I because of his "sexual orientation" and that he was arrested in Munich in 1919 for "pederasty and theft." When Hitler became Nazi Party leader in 1921, former Nazi Otto Strasser said that "his bodyguards and chauffeurs were almost exclusively homosexuals. Two of them, Ulrich Graf and Christian Weber, were expected to satisfy his needs at any time necessary."
Related | The Fascinating Queer History of Coming Out
When officials jailed Hitler for treason in 1924, he began a relationship with Rudolf Hess (nicknamed "Fraulein Anna" and "Black Emma" by other Nazis). Their relationship lasted years until Hitler was said to be embarrassed by him. Hess, however, remained devoted until the end, saying they "had a shared beautiful human experience to the very end."
But Hitler was starting to embarrass the party. By the early 1930s, homosexuality was so evident at the top that one anti-Nazi newspaper called the organization "The Brotherhood of Poofs." Media ridicule became widespread.
At this point, Hitler started the process of ridding any and all homosexual evidence of the Nazi party's homosexual existence through drastic measures.
View this post on Instagram
Hitler's Perversions
Hitler ordered all perversion records relating to himself and other Nazis burned in a so-called "book burning ceremony." He also organized the murders and imprisonment of hundreds of Nazi Storm Troopers, including the leader, openly gay Ernst Rohm — throughout all of this, Hitler was having a secret affair with his chauffeur Julius Schreck.
When Schreck died, Hitler supposedly wept for several days because he had filled his fantasies about the great love between a "powerful man and his obedient servant."
Hitler then attempted to go straight because he was sick of "paying off" blackmailers who knew of his past. As he grew in power, Nazi leaders became scared to mention his gay past to him, and for good reason.
Related | Relive Queer History With HBO Max's Equal
Hitler never consummated most of his relationships with women. Eight of the ladies he slept with attempted suicide — six succeeded. Most of them claimed he wanted them to do "disgusting things." Others claimed he ordered the Gestapo to follow them and ruin their careers.
His final wife, Eva Braun, knew that her husband was unfaithful to her, both men and women. She became so frustrated she asked Hitler's physician, Dr. Theodor Morell, to treat him to increase his libido. After 40 hours of marriage in the Berlin bunker, she died by suicide with him in April of 1945.
For more juicy details on Hitler's secret gay life, check out The Peculiar Sex Life of Adolf Hitler.