Andrew Garfield joined the Spider-Man fake butt debate and it's getting juicy.
Andrew Garfield finally addressed Tom Holland's Spider-Man: No Way Home fake butt accusations.
Did one of the Spider-Man stars wear a padded butt?
In case you missed it, Holland recently set the internet ablaze when he said one of the former Spider-Men wore a fake butt to fill out their spidey suit while filming No Way Home.
Garfield and Tobey Maguire reprised their roles as Peter Parker for the latest Spider-Man film and one of them needed a fake booty to make a comeback. Butt, which web-slinger was it?
Related | Spider-Man Star Tom Holland Is Calling For Diversity
While on a recent red carpet, a reporter confronted Garfield and asked him to confirm Holland's accusations, but he wasn't so quick to give up his comic counterparts. Garfield quickly responded, "I have no idea. Not me. I don't want to … I assumed everyone's butts were their butts."
Queue the Spider-Man fingerpointing meme.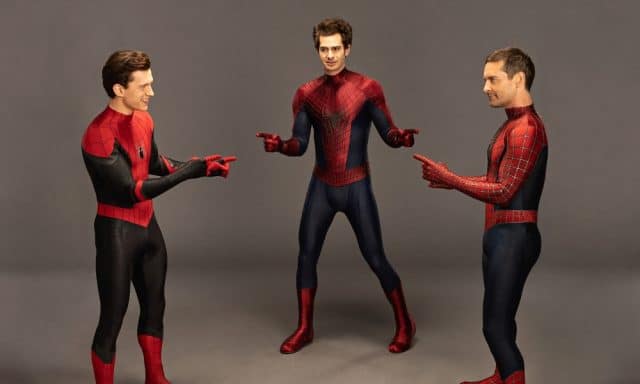 Garfield followed up by saying he also didn't think it was the OG Spider-Man either. "I don't think it's Tobey; I've seen Tobey's butt. Tobey's got back."
If it's not Holland, not Garfield, and not Maguire … that can only mean one thing. We are missing a Spider-Man. Maybe a scrapped scene with Miles Morales?
Which Spider-Man's Booty Made the Most Bank?
We may never solve the mystery behind the fake behind, but we can figure out which of the three Spider-Men had the most successful run as the superhero.
According to BoxOfficeMojo, Holland's Spider-Man films have grossed nearly 4 billion dollars worldwide, putting him in the lead.
Related | Tom Holland's Dad Begged Him to Cancel His "Umbrella" Drag Performance
Holland also leads the trio as the only Spider-Man to have a movie in the top ten highest-grossing films of all time. This doesn't even include his appearances in Avengers: Infinity War and Avengers: Endgame, which is also part of that top ten list.
Maguire's Spider-Man wasn't too far behind, grossing over 2.5 billion dollars between three films. Unfortunately for Garfield, his Spider-Man franchise only lasted two installments, which meant he pulled in the smallest box office — around 1.5 billion dollars.
One thing is for sure, without Maguire and Garfield, there would be no Holland. What do you think? Who's the best Spider-Man?
Which #SpiderMan star is your favorite? 🕷️

— Gayety (@gayety) March 1, 2022