Tom Holland's "Umbrella" performance on Lip Sync Battle almost didn't happen.
Spider-Man star Tom Holland is about to swing into theaters with his next blockbuster adventure, Uncharted, alongside Mark Wahlberg. While Holland is now synonymous with your friendly neighborhood Spider-Man, he is also well-known for the 2017 lip-sync battle. You remember, right? Holland performed Rihanna's "Umbrella" in front of the whole world and his on and off-screen girlfriend, Zendaya.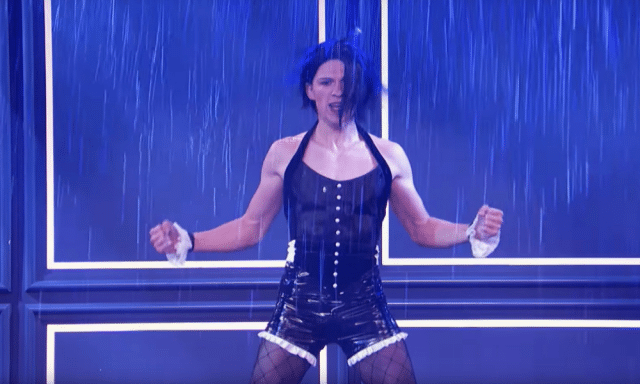 Holland took part in the wildly popular television show Lip Sync Battle, and, as you'll recall, he slayed his routine. In a recent interview for the April issue of GQ, Holland, 24, reflected on that performance and revealed that his father feared it would negatively affect his career. Holland's father tried to talk him out of doing it, stating it was "risqué," and implored him to cancel.
Related | Tom Holland Thought Mark Wahlberg Gave Him an Adult Toy
"Look, I am really glad I did that show, and I had a lot of fun," Holland explained. "It was incredibly stressful. It has been incredibly successful and has been a really great thing for my career. But my dad always taught me when I was younger and coming up in the business that you want to get famous as slowly as possible."
He continued, "You don't want to get super famous tomorrow because you won't be able to handle it. It will ruin your life. I am very selective of who I talk to and what I do." Holland added, "I don't ever want to overexpose myself because my privacy is the last thing I own. I think that's why he was so worried. And he'd tell me the same thing today, I am sure: 'Pace yourself, you've got a long career ahead of you.' I don't want to lose myself to all… this."
Holland's arrival on Lip Sync Battle coincided with his first Spider-Man film, Spider-Man: Homecoming. While his performance as the web-slinger is iconic in its own way, his drag set has also been viewed hundreds of millions of times on social media.
Watch Tom Holland's "Umbrella" performance.