It's a story over half a century old. Written by author Anne Rice, Interview with the Vampire hit bookshelves in 1976 and was based on a short story from 1968. Her body of work has always been unapologetically queer. The Vampire Chronicles featured queer characters at a time when we were still relegated to the margins of society. Even when the movie adaptation came to the big screen in 1994 it was shy about including overt queer imagery. Though overall the film was loyal to the source material—the book being the least queer in the series—it was criticized for excluding the queer subtext. The new show, however, is not so shy.
Now, almost 30 years later, this adaptation will reach a new audience. One that has seen marriage equality pass federally in the U.S. as well as the end of Don't Ask Don't Tell. While queer people are still very much marginalized, times have most certainly changed. It was clear from the trailer that the AMC adaptation promised to lean into the queer storyline. Now, upon the release of the pilot, titled In Throes of Increasing Wonder, we can confidently say that they are delivering.
What Is Interview With The Vampire About?
Before we get to the love scene in question, let's set the scene. Anne Rice's novel tells the story of Louis de Pointe du Lac who recounts his life story to a reporter. It is soon revealed that he has been a vampire since 1791. Turned by the enigmatic vampire, Lestat de Lioncourt, the pair become immortal companions. We won't go too much more into it, only to say that the show does appear to depart from the source material a bit here. Most notably, Louis' story starts in 1910—almost 120 years after it begins in the books. This will no doubt shift the themes explored in the book and alter the story. The show will also be more explicitly queer than the first book, which is a departure we can live with. Particularly since Louis and Lestat's relationship is canon.
Throes of Increasing Wonder
Speaking of their relationship, let's get to the scene everyone is talking about. We are instantly treated to delicious chemistry between Louis and Lestat. Vampires have long been linked to sexuality, and this show is no exception. Anne Rice has described the act of drinking blood as incredibly intimate, even erotic. When the pair first make this bond, they levitate together in the heat of the moment. We're certain that detail will lodge itself in some our your minds for quite some time. Un Petit Coup, or A Little Drink—that's what Lestat calls it. When a Vampire drinks enough to keep themselves fed, but not enough to kill. The experience for Louis was transcendent and unsettling. Mostly because he then had to face something he had long repressed as a Black man from New Orleans in 1910. His sexuality.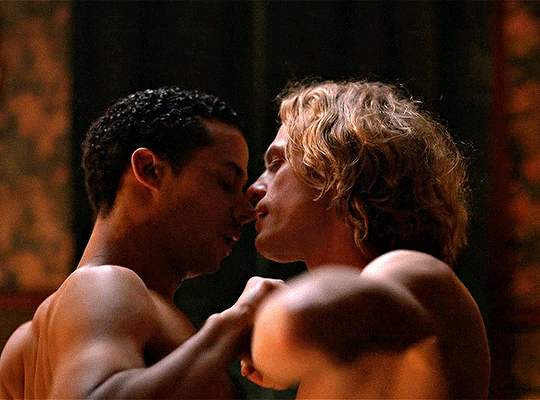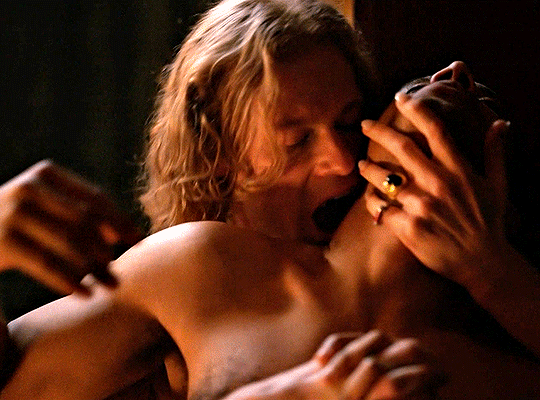 Louis vowed to never return to Lestat, but the show doesn't end there. Nor does it shy away from more queer intimacy. After a particularly gruesome moment where Lestat brutally kills a priest and another member of the clergy, he turns Louis. Surrounded by blood and carnage, Lestat drinks Louis' blood to within an inch of his life. He then offers his blood in return. The description of this scene is as unsettling as it is overwhelming. If you are a fan of Vampire lore this is a scene you will not want to miss. The show is receiving rave reviews and has already been renewed for a second season. Why not pop by AMC for a little drink?
Interview with the Vampire airs Sundays at 10 p.m. ET on AMC and streams online with AMC.