Fans are obsessed with the arousing moment in a new Marvel comic.
The scene appeared in issue two of Cosmic Ghost Rider: Destroys Marvel History, in which the eponymous character tries to rewrite history and vows to "destroy" the memories of favorite Marvel superheroes. For Spider-Man, Cosmic Ghost Rider recounts the story of a battle on the beach between the web-slinger and his nemesis Venom. The conflict includes a titillating dialogue between the iconic characters.
"You want me? Then take me! I'm yours!" Spider-Man says while aggressively taking off his suit.
"What's going on here? We feel like the fight has taken a turn," counters Venom.
View this post on Instagram
Spider-Man advances: "You wanted to be part of me! Well, now I want you! Come and get me!"
Venom, who also removes strips, responds: "Noooo! I'm going to pound you so hard for this, Spider-Man!"
Apparently, the conversation was intentionally suggestive. Following the exchange, a random fisherman joins the conversation: "Really?! Are you hearing yourselves?"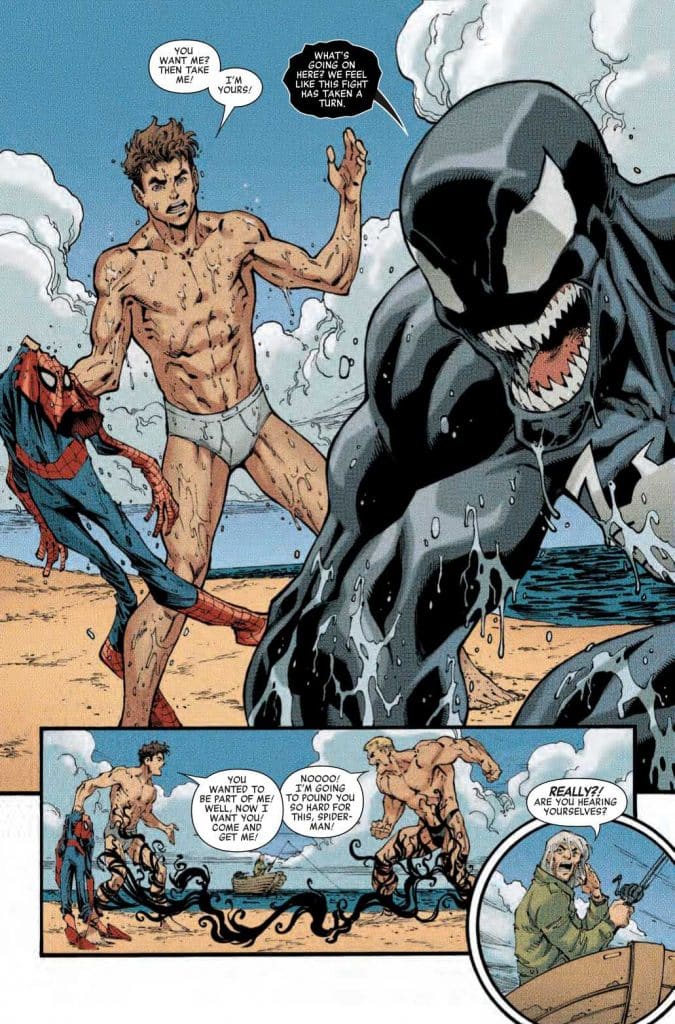 The sequence earned a strong reaction from fans, with one tweeting: "Well????? I'm waiting for Venom to pound Spider-Man."
Well????? I'm waiting for venom to pound Spider-Man

— tim auditioned for robin 44 times (@gothamtwinks) April 4, 2019
Wwritten by Paul Scheer with art by Nick Giovannetti, Cosmic Ghost Rider: Destroys Marvel History #2 was released April 3, and is available to purchase here.