In a new clip from season four of Disney's High School Musical: The Musical: The Series, Ryan East High is revisited by Ryan Evans, and his new partner (hi Scott Hoying!) is accompanying him.
The Wildcats are back in the halls of East High in the new season of the Disney+ original series, High School Musical: The Musical: The Series. This includes Taylor McKessie (Monique Coleman), Chad Danforth (Corbin Bleu), Martha Cox (Kaycee Stroh) and the now out and proud Ryan Evans (Lucas Grabeel). That's right, Ryan is queer (not that this is a surprise to anyone).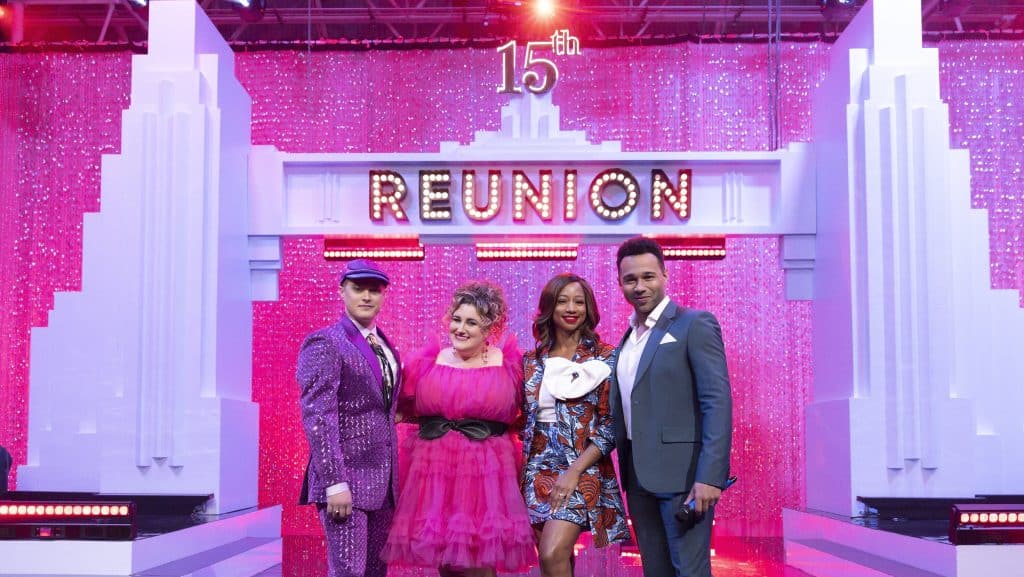 Audiences first encountered Ryan in 2006 when Disney Channel aired Kenny Ortega's musical drama High School Musical. Ryan Evans, formerly recognized as the hat-wearing, theater-loving twin brother of Sharpay Evans (Ashley Tisdale), has an alluded romance with composer Kelsi Nielsen, but the series never directly addresses his sexuality. But that did not stop fans from speculating!
In an interview with Variety, Ortega said he did not feel like Disney was ready for a queer storyline.
"I was concerned because it was family and kids, that Disney might not be ready to cross that line and move into that territory yet," Ortega said. "So, I just took it upon myself to make choices that I felt that those who were watching would grab. They would see it, they would feel it, they would know it and they would identify with it. And that is what happened."
Luckily, Disney is getting queer Ryan now, ready or not!
Ryan Kisses Partner in New Disney Clip
In a clip shared by Disney on Tuesday, the OG cast of HSM appears on stage and kicks off the fourth and final season of the spin-off series with a much-needed reunion.
As the four are performing on stage, Ryan runs off to give his partner, played by Hoying, a quick smooch.
After Hoying's character gushes about how cool it is to be there, Ryan tells him, "it means so much to me that you are here," before going back to join his friends. Don't mind us, we are just squealing into our pillows.
HSMTMTS Tackles Queer Stories
This is not the first queer storyline to come from the new series, but it is one many fans have been waiting for. In a previous interview with Gayety, openly gay showrunner Tim Federle said it was very important to him to bring representation into the show.
"I think one of the fundamental experiences, especially of Gen Z and the modern experience growing up, is that identity is broadening, and that's a beautiful thing. And I think our show really tries to tell that story proudly."
HSMTMTS is a mockumentary drama. It sees a new set of Wildcats who actually go to East High perform High School Musical for their spring musical. The show will wrap after the fourth season premieres on Disney+ on August 9. Read the official synopsis below.
"After an epic summer at Camp Shallow Lake, the Wildcats return to East High where they prepare a stage production of High School Musical 3: Senior Year.  But plans are disrupted when Principal Gutierrez announces that Disney has decided to make the long-awaited High School Musical 4: The Reunion movie on location at their beloved high school."
More Stories: