Matt Bomer and Andrew Rannells got very close on Thursday's Watch What Happens Live with Andy Cohen.
The two actors, who currently star in The Boys in the Band on Broadway, appeared on Andy Cohen's late night show where they ended up sharing a smooch. Their lip-lock occurred while Matt Bomer, 40, and Andrew Rannells, 39, played a game where ask each other questions rapidly while their faces inched closer to touching.
The questions weren't hard, with the duo asking things like "What's your favorite musical?" and "What'd you eat for breakfast?" It became obvious a kiss was coming when the actors swapped compliments and calling each other "pretty."
Related | Matt Bomer's Rookie Mistake Left Him Naked Onstage
"When was the last time you brushed your teeth?" Rannells asked.
"More recently than you," Bomer replied.
By the end of the game, the Broadway stars shared an adorable kiss.
"Wow, that was amazing," Cohen, 50, quipped, turning to their Boys in the Band costar Charlie Carver, who bartended. "Can you guys leave? 'Cause I want to play that game with Charlie!"
In addition to Bomer, Rannells and Carver, the Broadway production of The Boys in the Band stars a cast of all openly gay actors, including Jim Parsons, Zachary Quinto, Robin DeJesus, Tuc Watkins, Michael B. Washington and Brian Hutchison.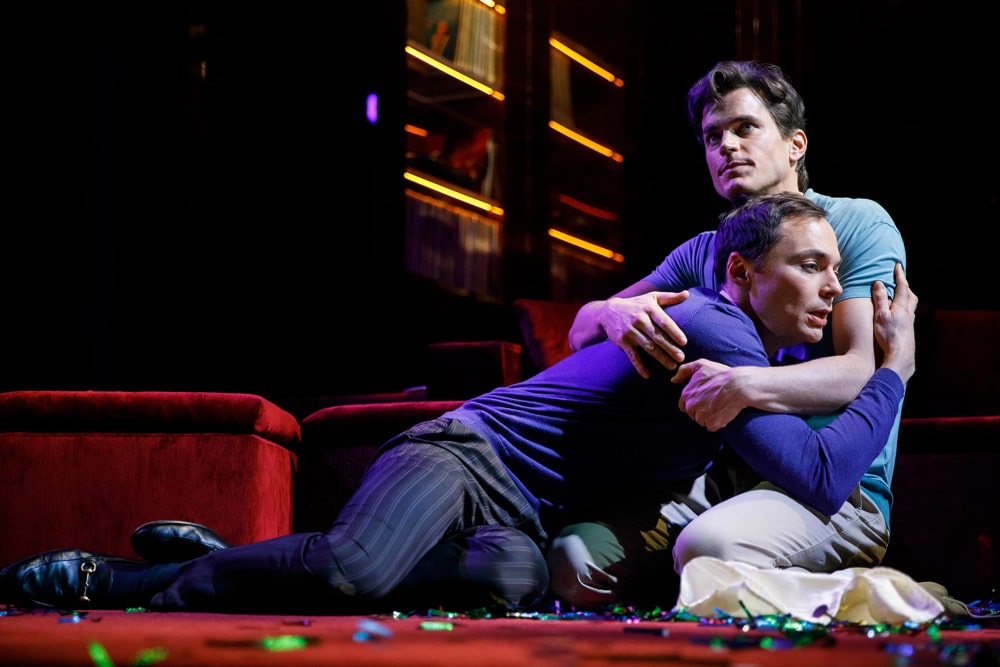 Produced by Ryan Murphy and directed by two-time Tony winner Joe Mantello, The Boys in the Band is in its 50th-anniversary production. When Mart Crowley's groundbreaking play premiered in 1968, it started a revolution thanks to its unashamed depiction of the complex lives of gay men.
The Boys in the Band is playing a 15-week limited engagement at New York City's Booth Theatre. Tickets are on-sale now.