Lukas Gage talks about his mom's reaction to his NSFW The White Lotus scene and responds to Diplo's "not not gay" comments.
There's nothing quite like the support from a proud mother.
By now, most people have probably seen or heard of the infamous rimming scene from season one of The White Lotus. The episode follows Bartlett's character Armond, the resort manager, who finally gets his employee Dillon (Gage) naked. The two are then caught in the act as Dillon has his boss' face between his cheeks.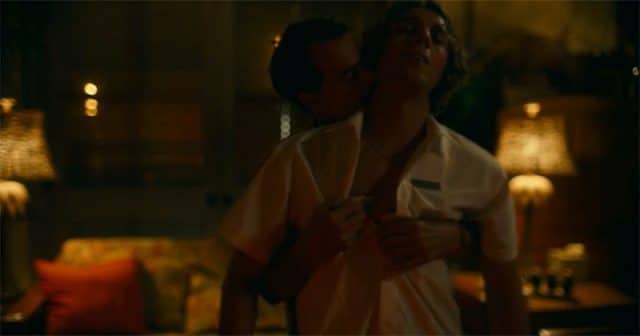 Related | Jason Momoa Shows Off His Bubbly Bum in New IG Video
Much to the actor's delight, Gage's naked backside was plastered all over the internet for days. But how did his mother react to the scene?
"She says, 'That's a great ass. Get that money. Get that bag and be committed,'" Gage told Variety about his mother's reaction. "My mom's cool. She's like a cool little hippie lady. With nudity, I think we both share sort of a European vibe."
Gage later delivered another memorable moment in season four of Netflix's You where he is given a golden shower. Though audiences are torn over these raunchy scenes, we are glad the actor has his mother's support. Gage told Variety how he hoped these scenes help others "feel heard and feel seen."
"We have a couple from the golden shower community that are very grateful that it's being shown on screen," he said, "and they have some haters who are yucking some people's yum…
"I never wanted to make anyone feel scrutinized or like the butt of the joke," he continued. "I just believe that everyone should embrace all their kinks and everything that they love about themselves and not feel ashamed."
View this post on Instagram
Gage Says Sexuality is Not Black and White
Earlier this month, Chris Appleton confirmed he is in a relationship with Gage. Though Appleton said they are very happy and in love, Gage did not appreciate the media starting rumors.
"If they want to think that, they can," Gage said after his red carpet appearance with Appleton. "I'm a pretty open book about most things in my life, but I have a problem with the culture of everyone needing to know everybody's business, and nothing can be sacred. It's a weird line that I'm still trying to figure out."
Grammy-winning DJ Diplo also made a public statement about sexuality this month and called himself "not not gay."
"I'm sure there are a lot of people who have that same exact experience but maybe don't have the confidence or the honesty to talk about it like that," Gage said. "And, you know, there's going to be people on either side saying that he's not labeling himself enough.
"I commend [Diplo] on his honesty and I don't think we need to label everything and have it all figured out," he continued. "Things can be in a gray area and don't have to be so black and white."
View this post on Instagram