Latest episode of iCarly is full of fabulous queens!
The beloved RuPaul's Drag Race stars Kandy Muse, Mo Heart, Rosé, and Scarlet Envy team up to help Harper (Laci Mosley) in a special Friday the 13th episode of iCarly. And to make things even better- the drag queens all pulled outfit inspo from Reese Witherspoon's iconic career.
View this post on Instagram
Related | Reese Witherspoon's Daughter Ava Phillippe Comes Out As Pansexual 
Even though the drag queens are icons in real life, they play fake queens in the episode. Muse pulls from Witherspoon's look in 2014's Wild as she plays Curella Intentions. Heart portrays a character named Auntie Histamine who dresses up like the actress in 2008's Four Christmases. Envy plays Lana Del Slay while dressing like Witherspoon in 1999's Election. And last but certainly not least, Rosé's Kimmy Kimmy More dressed to impress, pulling inspo from 2001's Legally Blonde.
Iconic Moments From iCarly
The episode is filled with iconic moments, but our favorite one comes from a drag queen and Trader Joes crossover.
After finding out that "drag night" has been canceled, Harper asks the queens why they made such a grand entrance- only to bring bad news. Envy replies, "Why do Trader Joe's employees look at one item in your cart and say, 'Oh, I haven't tried that yet!' It's in our nature."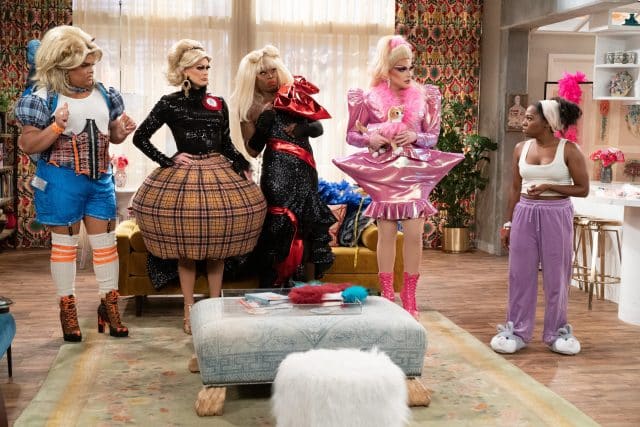 "You know who wouldn't stand for this? Reese Witherspoon," Harper says. "You're going to have that 'drag night,' even if I have to bend and snap somebody's neck."
That might prove pretty difficult because the bar where the event was supposed to be held was shut down and is now turning into a Baby Gap. To see what happens next, tune in to iCarly season two on Paramount +.