Author Alice Oseman discusses the next season of Heartstopper and what the series means to her.
Bonjour! Filming for the adorably queer Netflix drama Heartstopper has already started in Paris and we are eager to see what our favorite Truham and Higgs students are up to now.
Fans of the books will likely already have some idea as to what Nick, Charlie, and the rest of the gang are doing in the city of love. The series has stayed true to the original text, and author Alice Oseman said that would continue in season two.
"The story of the comics quite closely, [while] also expanding on and exploring other characters," she told Pink News.
View this post on Instagram
While teasing production of the upcoming season, Netflix also introduced a few new faces to the mix! Season two of Heartstopper will welcome Leila Khan as Sahar Zahid, Jack Barton as Nick's older brother David, Bradley Riches as James McEwan, and Nima Taleghani as school teacher Mr. Farouk. The role of Sahar was cast after the streaming service issued an open casting call. They said they were looking for a "plus-size actor of British South Asian heritage who identifies as female or non-binary. Professional experience is not essential. Must be UK based. Sahar is in Year 11 at Higgs. No nonsense, independent, a little cynical at times."
View this post on Instagram
But, Oseman says even graphic novel readers are in for a few fun surprises. Better buckle up!
Speaking about the series, Oseman says she is honored to bring LGBTQ+ representation to a large audience.
"I've always believed that in young adult fiction, we should care about all young people, and as a creative, I'm always trying to be careful about treating my readers with respect and giving representation where I can."
She identifies as asexual and is excited to be bringing ace representation to the next chapter, as well as mental health and other important storylines.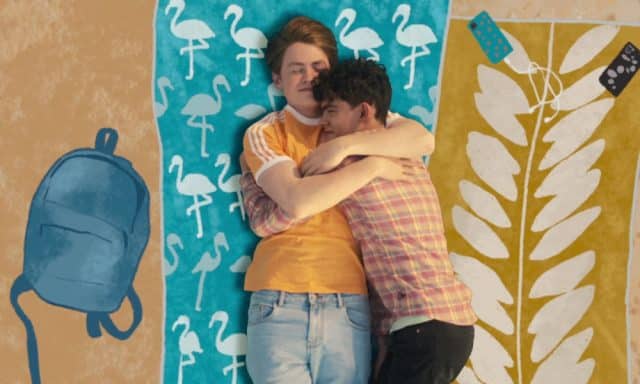 Related | Hayley Kiyoko's New YA Novel is About Girls Who Like Girls
"When it comes to less understood queer identities, such as asexuality, it can be difficult for writers who aren't those identities to tackle those stories, because they just might not really understand that experience," she continued. "Hiring writers who share those identities is a good idea. But also not being afraid to give the limelight to those stories that don't normally get the limelight."
Heartstopper stars Kit Connor, Joe Locke, Yasmin Finney, William Gao, Rhea Norwood, and Kizzy Edgell and follows a sweet schoolboy named Charlie (Locke) who falls for a jock classmate named Nick (Connor). Netflix renewed the hit series for a second and third season.
View this post on Instagram