Google shows its true colors with rainbow flag doodle.
To celebrate Pride Month, Google released a rainbow flag doodle inspired by Gilbert Baker, the creator of the rainbow flag, which is a symbol of Pride and liberty for the LGBTQA+ community.
Born June 2, 1951, Baker grew up in Kansas and was raised by his grandmother who owned a women's clothing store. From 1970 to 1972, the budding flagmaker was stationed in San Francisco during his service in the Army. Following an honorable discharge, Baker befriended Harvey Milk and joined the Gay Rights Movement.
After learning how to sew, Baker started making banners for marches and protests in San Francisco. In 1978, Baker elected to oust the Pink Triangle, a symbol of cruelty and desolation from the Nazi's classification of LGBTQ people in World War II, and create a celebratory icon for queer people.
Related | Rainbow Flag Creator Gilbert Baker Has Died at 65
"We needed something beautiful, something from us," Baker explained. "The rainbow is so perfect because it really fits our diversity in terms of race, gender, ages, all of those things. Plus, it's a natural flag — it's from the sky!"
Making the first rainbow flag was challenging. With the help of 30 people, Baker hand-dye and sew together more than 1000 yards of cotton in the attic of the Gay Community Center in San Francisco. While today's rainbow flag features six colors, the original used eight, each symbolizing a distinct aspect of the queer community.
The rainbow flag caught on, and Baker was quickly overwhelmed with requests for more flags. Since its inception, the flag has become an international beacon of equality and Pride.
"Today's doodle is by far the most personal I've ever made. Growing up as a member of the LGBT community, the rainbow flag has long been a hugely important symbol to me." Swinehart said. "I was immediately drawn to the image of Gilbert and other activists hand-dying and sewing together fabric in an attic to create the first flag."
The Doodle team wanted to honor him by making something with the same spirit of community as that first rainbow lag. LGBT Doodler Nate Swinehart and the entire Doodle team elected to recreate the moment that defined a movement.
Swinehart continued, "Most of our doodles are digitally created, but I knew this one had to be hand-made. I collaborated with the other LGBT members of the team and after a number of ideas, we were all really excited about the idea of recreating the original flag."
The team chose to create a stop-motion animation of real strips of fabric uniting to form the rainbow flag. They traveled to San Franciscan to purchase the material and filmed the doodle in a small kitchen a few blocks from the spot where Baker stitched that first flag in 1978.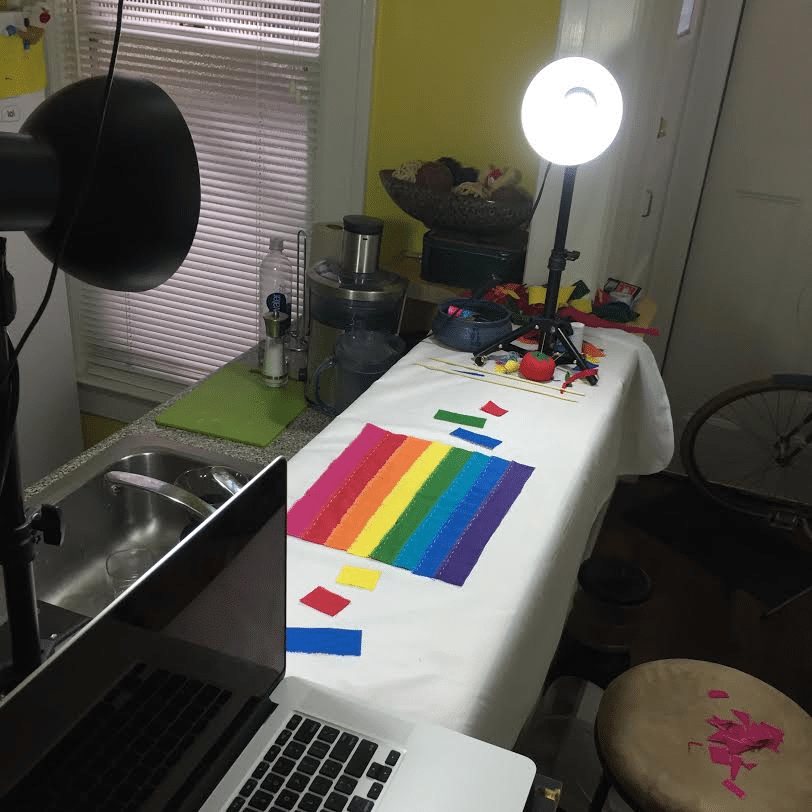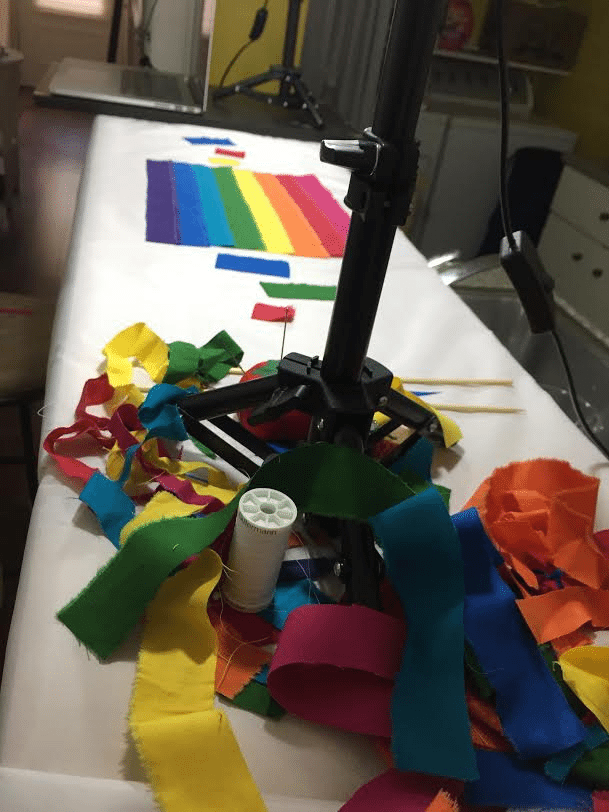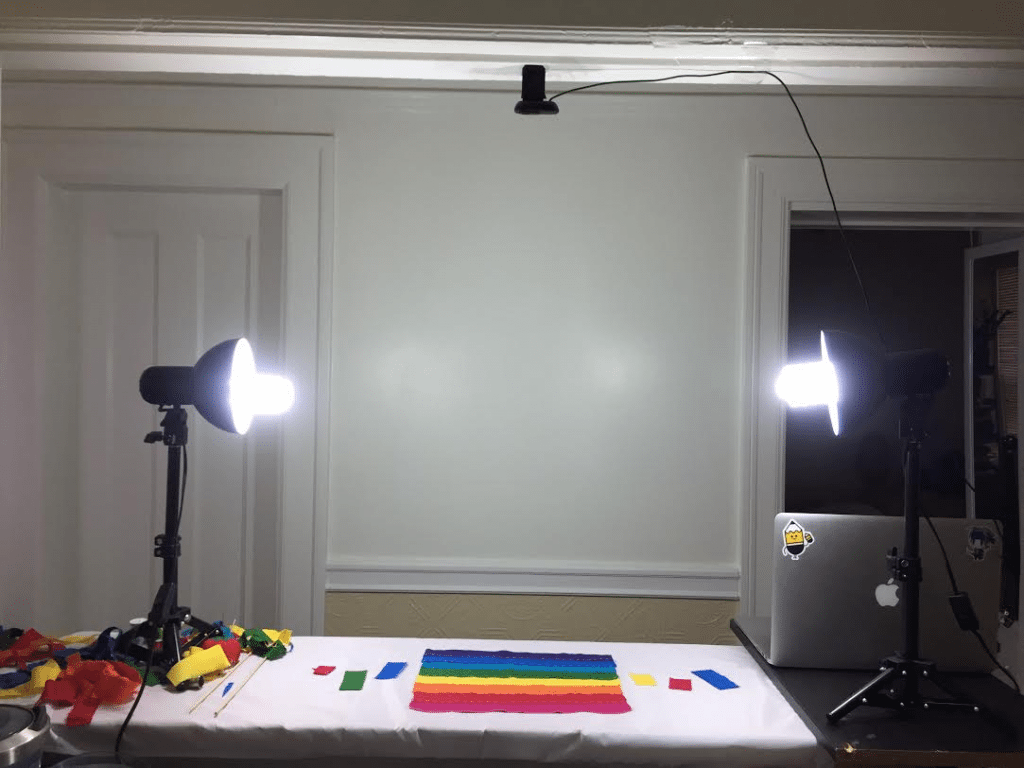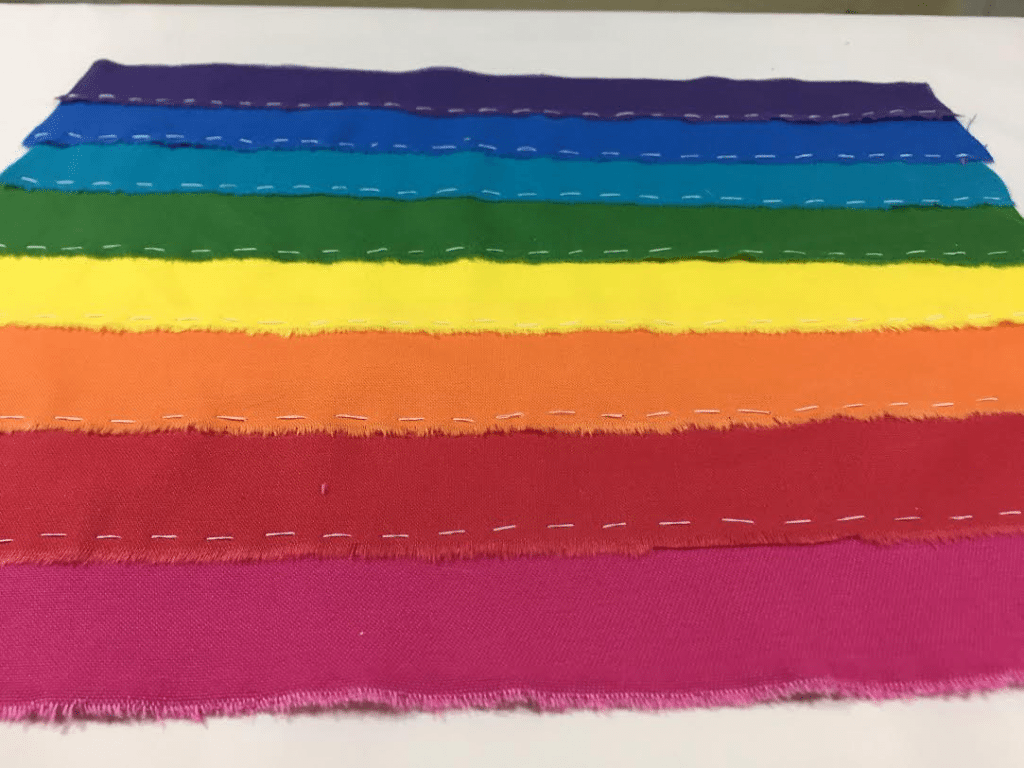 "The whole thing felt really exciting and energetic since I was in unfamiliar waters, but I was thrilled with the tactile feeling of the final doodle! It was especially inspiring knowing I was filming just a few blocks from where the first flag was created. In the end, I'm enormously proud and honored to have created something personal, pushed myself artistically, and celebrated a man who had such a lasting impact on me and my community. Hopefully seeing this image on the homepage will strengthen anyone out there dealing with any sort of uncertainty or hardship the way it strengthened me. Thanks to Gilbert for making our world so much more colorful!"
Today we celebrate Baker's creativity and the enduring effects of his flag, which empowers and unites people all over the world.