There are plenty of receipts.
There are all types of people in this world, but a Trump-supporting, sex-working, member of the LGBTQ+ community is a new one to us. Especially one that took part in the violent January 6 insurrection at the US Capitol. Adult film star Sergeant Miles, whose legal name is Steven Miles, is one of them. He can also add "arrestee" to his list of credentials. Earlier this week Miles was arrested for his role in the US Capitol riots.
Who is Sergeant Miles?
Miles, who performs in both gay and straight scenes, vocally supported Trump throughout his presidency. The adult film star is known for his "alpha-male persona," in the scenes he performs. The retired army veteran spent two years in Iraq and retired after being shot in 2006.
Related | This Ex Gay-For-Pay Adult Video Star Became a Baptist Preacher
View this post on Instagram
What Was He Arrested For?
Miles was charged with a long list of offenses. They include assaulting, resisting, or impeding officers, civil disorder, engaging in physical violence in a restricted building or grounds with a dangerous weapon, and other related offenses. His actions are well documented on CCTV, where Miles can be seen with co-defendant Matthew Lebrun shoving and attempting to punch police officers. The footage also captures Miles, wearing a red MAGA hat, smashing a window, and entering the building.
Related | Michael Cohen Expresses Admiration To Gay Adult Star on Cameo
According to the court documents, "Miles smashed a plank of wood into the window and then entered the building through that broken window. He briefly walked through the building and then exited through another door."
From Gay Adult Film Star to Insurrectionist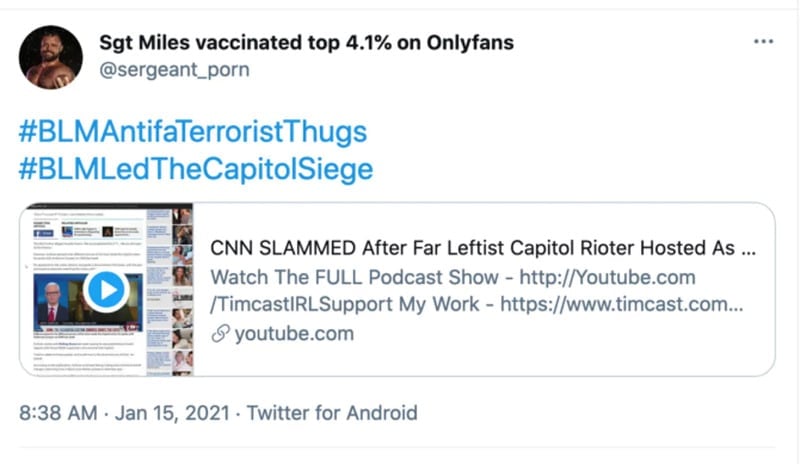 It doesn't end there. There have been reports that one week after the insurrection, Miles had the audacity to blame Black Lives Matter and Antifa for leading the siege.