Over the years we have seen an increase in representation in media of authentic LGBTQ+ characters. However, SAG-AFTRA President Fran Drescher warns that this progress is at risk due to studios not agreeing to a fair deal to end the ongoing strikes by actors and writers.
The latest annual report from GLAAD (the Gay & Lesbian Alliance Against Defamation) revealed that 2022 marked a historic high for inclusive cinema, with a record-breaking 28.5 percent of the 350 films assessed. It's worth noting that this report now covers streaming service movies as well. While this progress is undoubtedly significant and a marked improvement over the past decade, there's a looming threat that could jeopardize these gains.
"Right now, there's a very tiny but loud segment of our population that's hard at work spreading hate and fear while attempting to squash all storytelling that showcases the full, beautiful reality of the human experience," Fran Drescher said in a statement.
"Seeing diverse representation on screen is vital for empowering everyone to embrace their authentic selves. Sadly, the longer the AMPTP companies keep the entertainment industry shut down by refusing to come back to the bargaining table, the more risk there is for disrupting the progress that's been made in terms of inclusive representation."
Why Hollywood is on Strike
Since May 2, the Writers Guild of America (WGA) has been on strike, seeking fair wages, protection from AI affecting writing, transparent streaming data, better residuals, among other improvements. However, the majority of the WGA's proposals have faced quick rejection from the AMPTP, the organization representing major Hollywood studios and streaming platforms. The Screen Actors Guild-American Federation of Television and Radio Artists (Sag-AFTRA) joined the strike on July 13.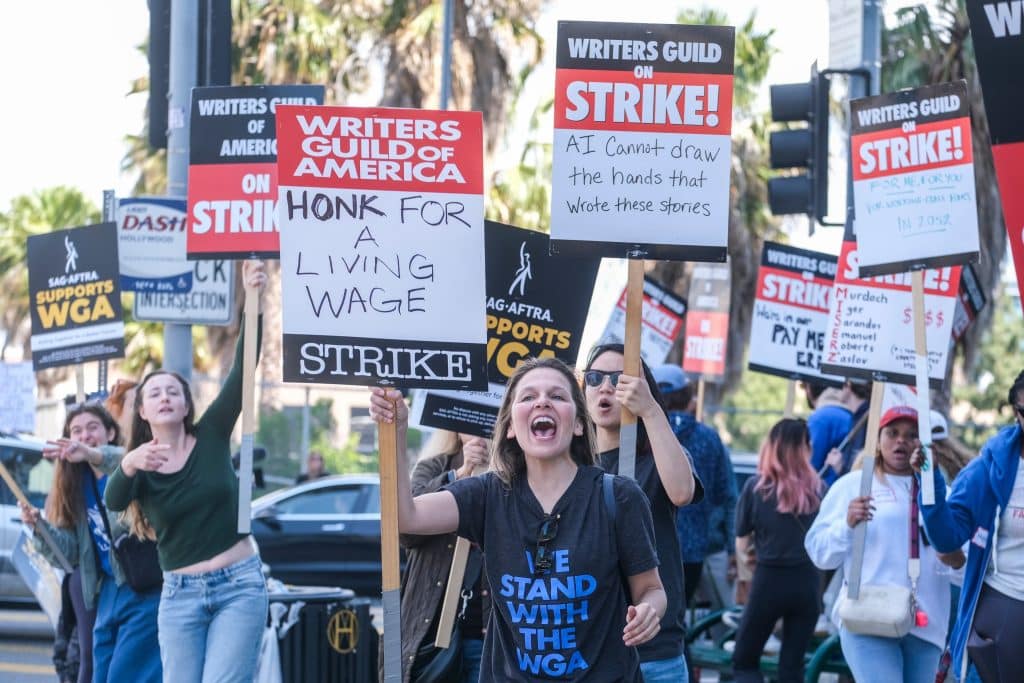 What This Means for the Future of Cinema
"At a time when the LGBTQ community is under unprecedented cultural and political attacks, it is more important than ever to hold film studios accountable for how our community is represented on screen," said GLAAD's president and CEO Kate Ellis." It is crucial that the AMPTP reach a fair deal with striking writers and performers — that these talented creatives can return to work as soon as possible so that the progress made in LGBTQ representation remains on track."
She continued, "LGBTQ stories told through film have a powerful and inextricable link to culture change. With more people than ever now empowered to live authentically and openly, the cost of lost progress in LGBTQ representation on screen means erasure."
Find GLAAD's annual report here.
More Stories: