A gay rom-com that almost didn't happen.
The Pines on Fire Island has long been an escape for the gay folks of Manhattan. For decades we have braved planes, trains, and ferries to spend a blissful few days in a bubble of queerness. Free from the heteronormative shadow that usually looms overhead. This is the setting and namesake for a new queer rom-com, Fire Island featuring Bowen Yang and Joel Kim Booster. The film was also written by Joel Kim Booster, and directed by Spa Night director Andrew Ahn.
Related | 15 Polaroids of Fire Island Back in the Day by Tom Bianchi
Inspired by Jane Austen's Pride and Prejudice, this modern-day take draws from major themes in Austen's famous novel. In particular Austen's observations about "the way people are awful to each other without being awful to each other," said Booster in an interview with Vanity Fair. "I was like, Oh, my God. This is shade. This is what gay men do all the time." Being a huge fan of Austen since childhood, this combination felt like a no-brainer to Booster. "I can't even tell you how many times I've watched Clueless, from a time before I even understood most of the jokes."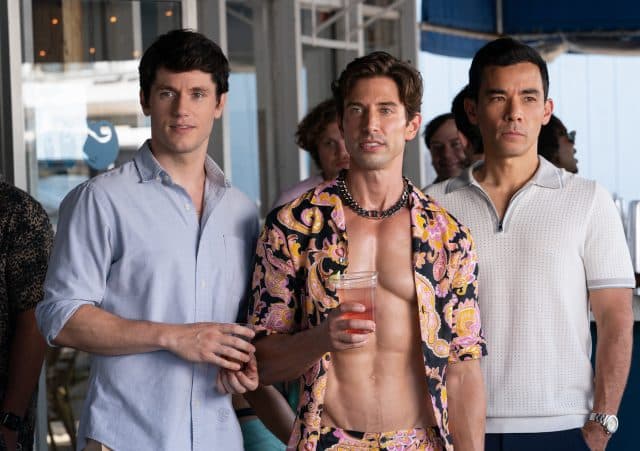 Against All Odds
It was on his first trip to the Pines with co-star Bowen Yang that the idea came to him. "I brought Pride and Prejudice with me," said Booster. "I turned to Bowen and was like 'I should write Pride and Prejudice set on Fire Island. Wouldn't that be so funny?'" The idea continued to take up space in his mind for many years, inspiring a blog post that itself turned into a half-hour pilot. The series was then for a short time picked up by now-defunct streaming service Quibi. When Quibi folded it seemed like the end of the story. "Oh that's it, there goes that," said Booster.
Luckily for us, Searchlight Pictures saved the project and from there it morphed into a major motion picture. The story centers around two best friends, Yang and Booster, who set out on a legendary week-long summer vacation. The all queer principal cast includes Margaret Cho, Conrad Ricamora, James Scully, and Matt Rogers. Booster describes the movie as a "Jane Austen narrative meeting an Asian American narrative meeting a queer narrative."
Related | Joel Kim Booster Says Instagram is the New Grindr
Fire Island's Gay Legacy
It's safe to say that Booster and the rest of the teaming are carving a new path, but the focus here is on queer joy. "There are so many movies about the gay experience that are fraught with people who are unsure if they're happy being gay or struggling with coming out," said Booster. "I want people to come away from this movie feeling the joy of our experiences and that it's not all tragic. There are many of us out here living our lives joyfully."
As we catch our first glimpse of this joy, flashbacks of Tom Bianchi's iconic series of Fire Island polaroids come to mind. The resemblance is uncanny, and certainly no coincidence.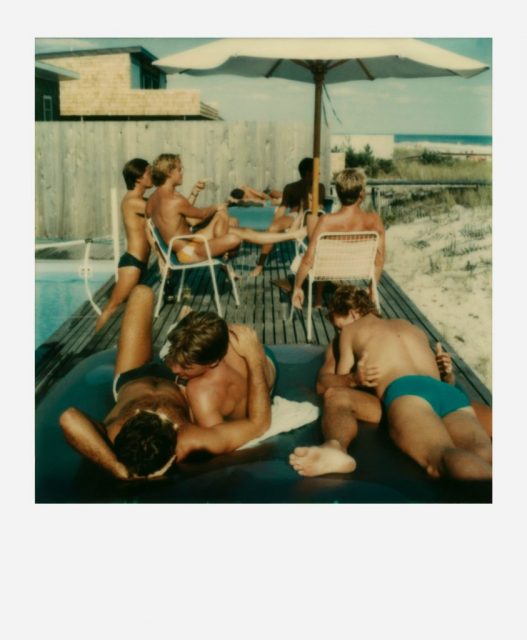 Once again this project draws from strong roots — Austen and Fire Island — but invites us to reframe the conversation. We are invited to imagine Austin in a queer context, and Fire Island outside of an exclusively "white muscle gays" context. According to Booster, Fire Island and The Pines are for all queers, and he refuses to cede that ground.  "Just because there are shitty people who want to take ownership of it doesn't mean that they actually own it," said Booster. "Don't let them win."
Fire Island is set to release exclusively on Hulu in the U.S. and globally on Disney Plus, June 3, 2022.
All photos by Jeong Park. Courtesy of Searchlight Pictures. © 2022 20th Century Studios All Rights Reserved