Chris Pine's manhood made an appearance at the Toronto International Film Festival, and everyone's obsessed.
The Toronto International Film Festival started with a bang. Most years, attendees can't stop talking about the celebrities and the glam. However, this year, the focus shifted to something especially great: Chris Pine's shaft. You read that right: the actor's butt, bush and Johnson made an appearance during a screening of Pine's latest film, Outlaw King.
In the film, Pine portrays Robert the Bruce, a Scottish lord in the 14th century who fought for Scotland's independence. The movie, which secured distribution on Netflix, is co-written, co-produced and directed by David Mackenzie and also stars Tony Curran, Stephen Dillane, Billy Howle, Florence Pugh and Aaron Taylor-Johnson.
Related | 'Wonder Woman' Sequel Reveals Chris Pine's Return
Many are referring to Outlaw King as a "David and Goliath" story, and apparently, Pine's tool is a Goliath on its own. Audience members who saw the screening remarked that the Star Trek star is "above average."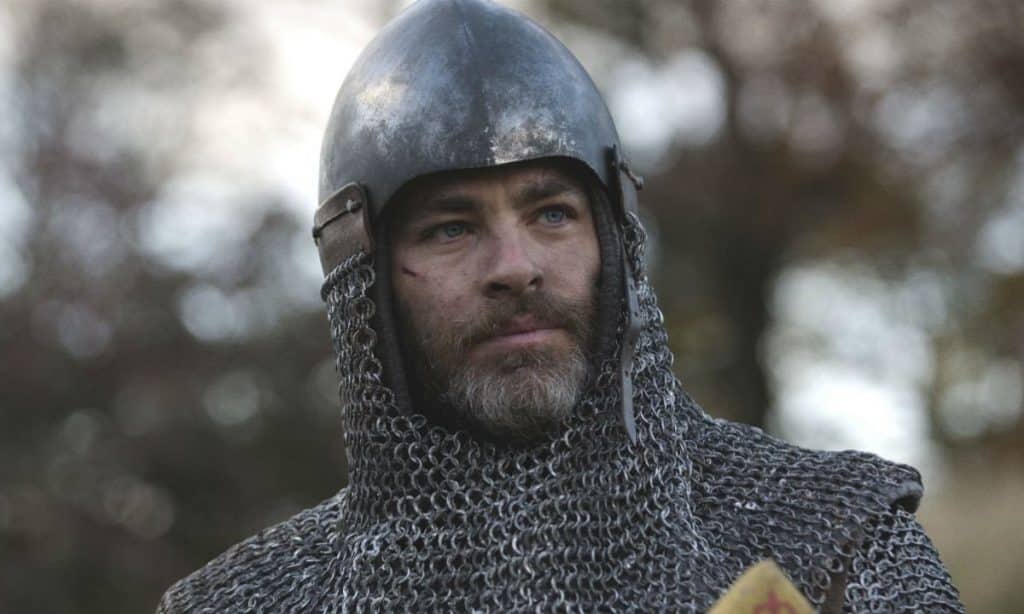 The film allegedly has two reasonably gratuitous stripped scenes, which are apparently gratifying. First, Pine treats the audience to a lengthy shot of his derriere and untamed bush. Then, Pine shows off "his royal todger" in a scene in which his character goes skinny dipping.
Pine addressed the excitement in an interview with The Hollywood Reporter Friday, joking, "Well, it was very cold, if I remember; I was on the side of a major highway. So, not exactly the elements I would shoot myself."
Chris Pine addresses that full frontal scene in #OutlawKing… #THRatTIFF #TIFF18 pic.twitter.com/xKnkUwm3xX

— Hollywood Reporter (@THR) September 7, 2018
He went on to say that the attention was strange. "What I find very funny is there's so much beheading in this, and yet people want to talk about my penis. I think it says something about our society where people get disemboweled — but it's the man's junk that is of interest. And I know that sounds funny, but really, we are just base animals. And I thought it was very important to see this man who was going to have power be an animal."
Related | John Krasinski Shares His Derriere on Amazon's Jack Ryan
Last year, Pine told Cosmopolitan, "I think the way our society deals with nudity is so stupid. Whenever people are getting out of bed in a movie, a woman is covering her breasts and a man is covering his junk. That's not real life! If you're getting out of bed, just be naked. That's what people do!"
Outlaw King premieres on Netflix Nov. 9.