New photos from Dan Levy show him lounging around Italy with his former costar, Noah Reid!
Schitt's Creek lives on forever in our hearts! Creator and series actor Dan Levy recently took to Instagram to share a sneak peek into his glamorous 40th birthday party in beautiful Italy. He invited his close friends and family to help celebrate, including his former costar Noah Reid and sister Sarah Levy.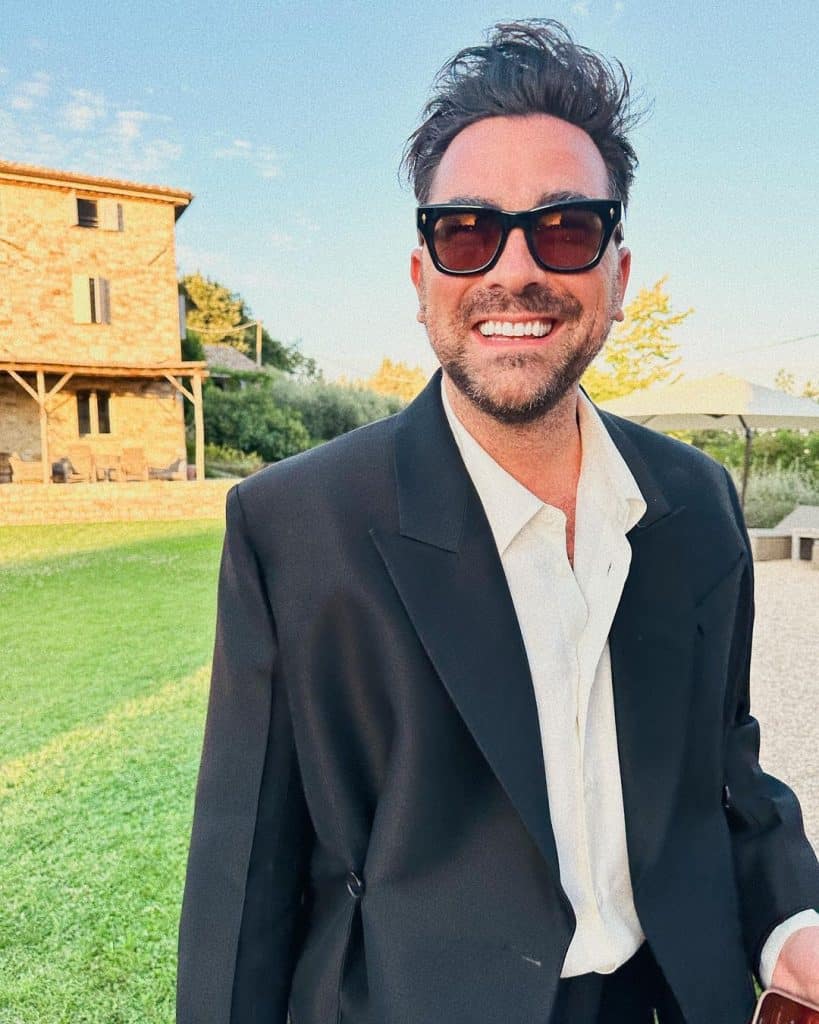 "The Summer I Turned Forty," Levy captioned the post, a clear nod to the popular Prime Video series that shares a similar title. The actor posted a carousel of photos, each showcasing his radiant smile and brimming wine glasses (we hope it's not Herb Ertlinger inside). But our favorite photo has to be slide five. In it, Reid is relaxing outside with a glass of wine. While he sits in a chair, Levy is behind him affectionately holding his shoulders and scrunching down for the photo. Swoon! We love when these two are together.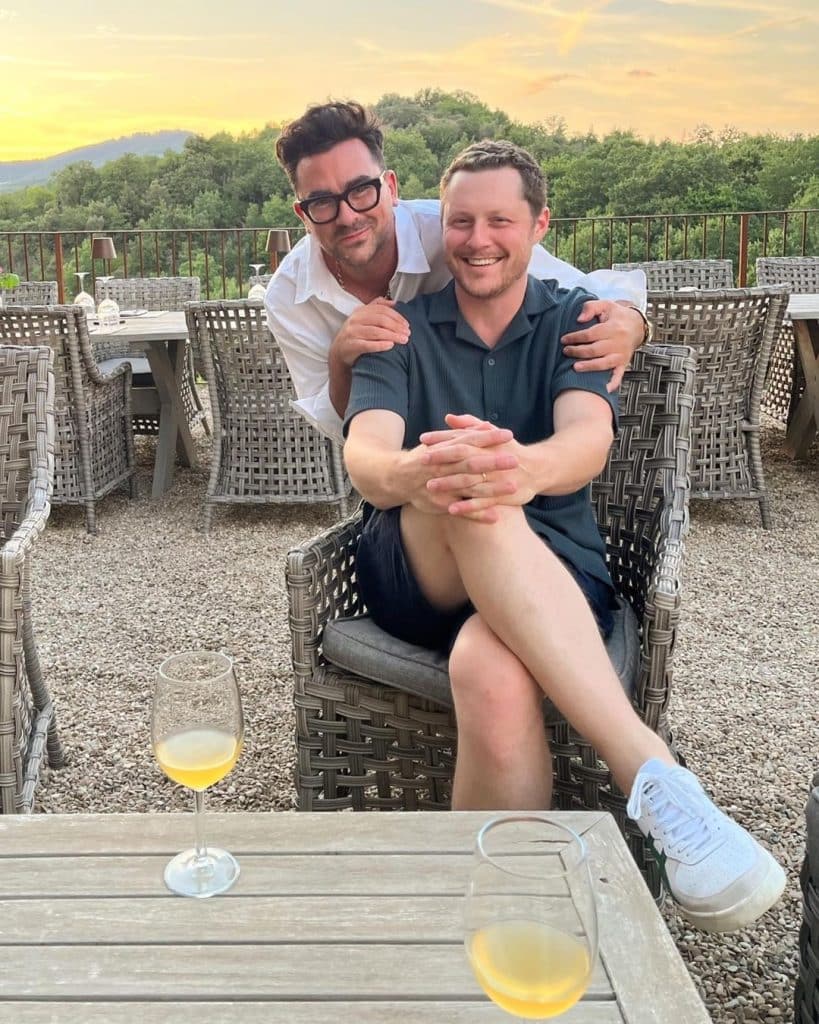 Their Schitt's Creek Characters
Reid also shared a photo with Levy on his page; let's just say we are equally obsessed. From the clothes the two are wearing to the cute smiles on their faces, this is precisely what we picture a photo of Patrick and David would look like on holiday in Italy. Hey, I never said I was not delulu.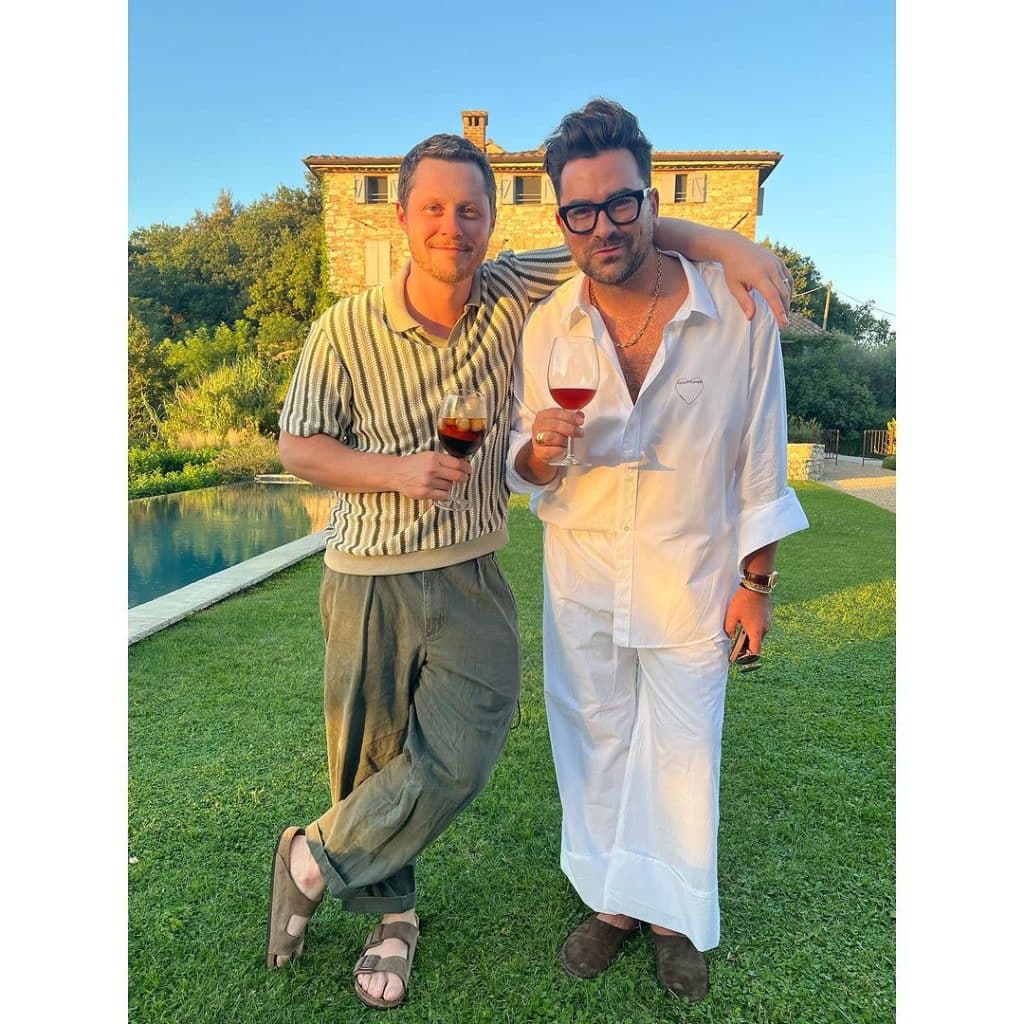 Schitt's Creek, created by father-and-son duo Eugene Levy and Dan Levy, is a critically acclaimed Canadian television sitcom that tells the story of the wealthy Rose family, who lose their fortune and are forced to rebuild their lives in the quirky, small town of Schitt's Creek. The show's heartwarming narrative revolves around the Roses' comedic struggles to adapt to their new, modest lifestyle. Patrick and David, portrayed by Reid and Levy respectively, are central characters in the series. They depict a heartwarming love story, as David, a member of the Rose family, falls in love with Patrick, his business partner. The show concluded after six successful seasons in April 2020, leaving behind a legacy of humor, heart, and acceptance.
And the nods to their former roles in Schitt's Creek do not end there. On Levy's IG story, he made a joke about the love triangle between Patrick, David and Rachel (played by Stacey Farber). Seeing as Farber also came to the party, Levy could not resist making a joke about their fictional break-up. He joked that "it was all going so well" between him and Reid, but then Farber had to show up.
In reality, Reid is married to Clare Stone, and they have a one-year-old son who joined them for the birthday getaway. The entire family made an appearance in a group photo featured in Levy's post.
We love you Patrick and David! I mean, Dan and Noah!
More Stories: