"If we were to use labels, he is a bear, and I am more of a twink, so I feel we break the mold regarding typical gay couple relationships."
Chris Stanley is a skit and comedy content creator most known for posting on his TikTok account @stanchrissss. The 22-year-old began his career in 2018 when he started sharing life stories on YouTube. Today, Stanley reaches over one million people across his platforms and shares meaningful LGBTQ+-friendly content, like man-on-the-street interviews and Q&A's with his partner, Bret.
View this post on Instagram
Related | Pedro Pascal Was a Gay Twink in the '90s and Gay Twitter Is Thirsty
Stanley has been happily dating Bret LaBelle for two years. LaBelle is a Boston police officer and a reality competition star. LaBelle came out as part of the LGBTQIA+ community while speaking with another out Survivor contestant, Zeke Smith, on season 33 of the show. "I had an internal struggle with myself with coming out and being gay for years," LaBelle told Entertainment Weekly. "When I mentioned it on the show, it was like a huge weight off my shoulders, and I found that it really helped me in my personal life going forward. The support I received from family, friends, and co-workers was amazing. I wish I had come out sooner."
Chris Slid Into Bret's DMs
Not only did LaBelle's coming out help him to embrace his sexuality, it also led him to Stanley.
"My boyfriend and I met after I watched his season on the reality TV show Survivor," Stanley told Gayety. He had been watching old seasons of the reality competition series during the COVID-19 lockdown when he came across LaBelle's season. "It was crazy because I didn't think he was gay, yet I was rooting for him from the second I first saw him."
Stanley decided to reach out to LaBelle and sent him a message on Instagram. "He answered, and then I asked him out on a date, and the rest is history."
View this post on Instagram
Related | Why Everyone's Talking About a 'Harry Potter & the Cursed Child' Movie
Despite the Age Gap
Because Stanley frequently keeps his followers updated on his life, he has never shied away from sharing his relationship with LaBelle online. Part of sharing their story is also talking about their 27-year age gap – Stanley is 22 while LaBelle is 47. Though they belong to different generations, their relationship is smooth like butter.
"It feels easy, like we have known each other for a long time. We are constantly making the other laugh, smile, and occasionally a good old happy cry. We love to travel, hang out with friends, binge TV while we cuddle, and cook together."
Despite his bold personality online, Stanley said he is shy in most social settings. Meanwhile, LaBelle is always open to speaking his mind. "I think we compliment each other better than peanut butter and jelly," the TikToker said of his relationship. Opposites do attract, right?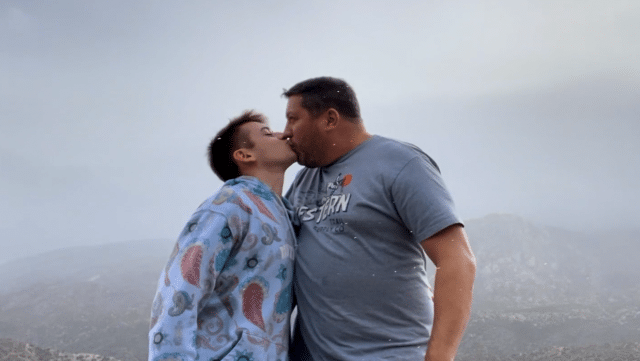 However, the internet is a place of opinions – whether you ask for them or not – which means Stanley and LaBelle constantly face criticism over their dynamic. Luckily, they are not bothered by the raging internet trolls and instead hope viewers will learn something from seeing their positive videos.
"By showing our relationship I hope to show that love comes in all shapes and forms in the LGBTQ+ community," Stanley siad. "Love is love, and all that really matters between two adults is if you make each other happy."
As for the rest of his content, Stanley said he only wants to provide hope for queer people who may feel alone. "At times, it can feel hopeless being part of the LGBTQ community, especially growing up," Stanley said. "I can remember when I felt that exact way in high school after I came out… I want to show that no matter how hard it gets, It always gets better.
"Pride, to me, is having an unshakeable confidence in yourself. A confidence that has been on a long, grueling journey to get to where it is now. Confidence that you wouldn't trade for anything in the world. Confidence to be yourself."
To see more content from Chris and to follow his journey, you can find him on YouTube, Instagram, and TikTok.