Everybody STAY CALM.
If you're not fed up with our obsession with Shelter by now, congratulations, you've probably already seen it! We maintain that anyone who has actually seen this feel-good surfing movie understands our position. Hot guys, wet suits, actual on-screen chemistry? We have no choice but to stan.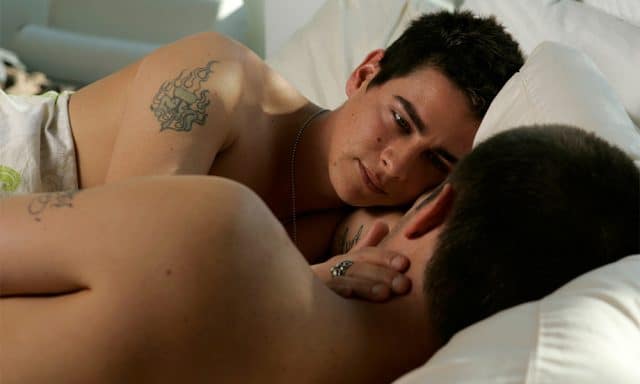 If you haven't seen Shelter yet, (number one how dare you?) and what I've already said doesn't sway you, (are you okay?) then maybe the reviews will do the trick. Put simply, Shelter is one of the best-reviewed gay movies…like, ever. 85% audience score on Rotten Tomatoes, and 7.8 out of 10 on IMDB beats out other classics like A Single Man and Brokeback Mountain.
Related | 5 Reasons to Watch 'Shelter' While Sheltering in Place
Now that you're so obviously convinced — and you've already watched it at least once on HereTV — you're ready for some amazing news. It's been over 13 years since the film's release and HereTV have released a new reunion special, Shelter at Home: Where Are They Now?
Hosted by Emmy-nominated producer, actor, and director, David Millbern (Now What?!), Shelter at Home: Where Are They Now? celebrates this gay classic with an in-depth discussion with stars Trevor Wright and Brad Rowe, along with director Jonah Markowitz.
Related | Max Emerson Goes Surfing and Lets It All Hang Loose
So…while you're still sheltering in place, why not get caught up with the folks behind our lifetime movie obsession?
Stream Shelter at Home: Where Are They Now? here.