Is love finally in the air for our favorite ally, Imogen?
Season two of Heartstopper is here and there is A LOT to unpack from the new season. Warning, spoilers ahead!
Nick is ready to share his relationship with Charlie with his friends and family but finds it harder than expected to come out. Meanwhile, Tao and Elle have decided to give their relationship a shot (finally!) and Isaac is discovering his asexuality. Our other favorite couple Tara and Darcy, who usually seem so solid in their relationship, are struggling as Tara tries to figure out why Darcy is not ready to say "I love you." Oh, and Ben is still being a jerk and Harry is trying not to be a jerk.
Related | Joe Locke Comes Out as Gay
Is that a new Heartstopper ship we see?
The new season also brings way of new characters, like Nima Taleghani as Truham teacher Mr. Farouk, Bel Priestley as Naomi, and Leila Khan as Higgs student Sahar Zahid. Though each character is given their own spin-off plot, we are thrilled about the introduction to Sahar (and the history she shares with a beloved Heartstopper alum).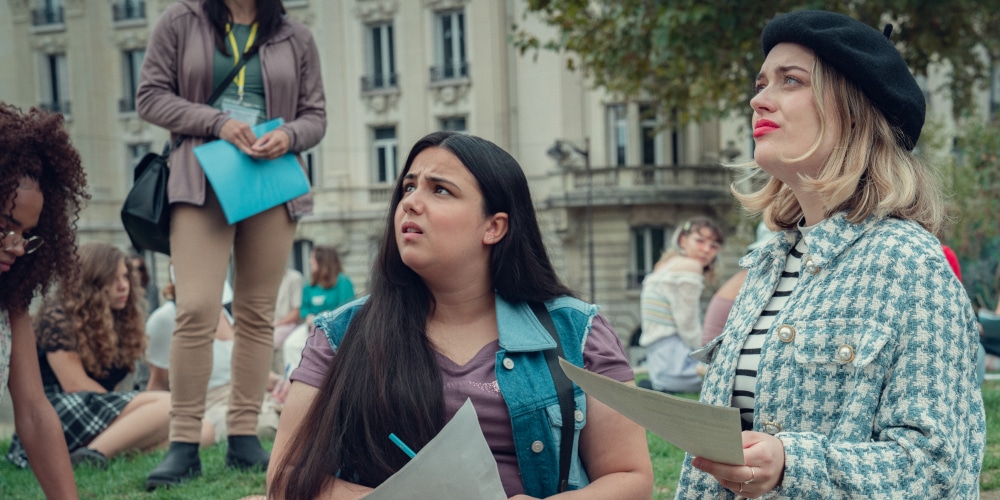 It is revealed that Sahar and Imogen were childhood best friends, but they drifted apart after Imogen (Rhea Norwood) got a boyfriend. But fate has brought them back together as they share a new friend group. At one point, Imogen jokes that no one can call her the "token ally" because Sahar is there, but the girl quickly corrects her.
"I don't know what you're talking about. I'm bisexual."
When Imogen chases after her, Tara picks up a vibe (and so do we!). So many relationships are well under way in the new season, but for characters like Isaac and Imogen, the story has just begun.
Heartstopper fans also obsess over this Imogen/Sahar scene at the prom. Just look at those gaga eyes.
Though Netflix has already confirmed Heartstopper for another season, it is unlikely we will see those episodes on our screen anytime soon. Regardless, there is so much queer drama to look forward to!
More Stories: