Get ready because the Freeform series Everything's Gonna Be Okay is returning for a second season, and the Moss family we know and love is cooking up even more drama. 
Australian comedian Josh Thomas, creator of the drama Please Like Me, perfectly captured the highs and lows in his latest coming-of-age series, Everything's Gonna Be Okay. The first season's approach to taboo topics like drugs, sex, and popularity is unapologetic and hilarious, making the show a breath of fresh air on television. 
Thomas is the creator, writer, and star of the show as Nicholas, a young and fun entomologist. When his father suddenly dies from cancer, the 25-year-old decides to uproot his life in Australia to come and care for his two half-sisters, Matilda (Kayla Cromer) and Genevieve (Maeve Press). 
Thomas made it his mission to have scenes grounded in reality and had the cast blend their own personalities with those of their characters to be successful. 
"Josh is very much like embrace those quirks because those are unique to you, and they're more authentic, I think, than you playing a character," Adam Faison, who plays Alex, said about Thomas. "He doesn't like us feeling like we're playing characters; he likes us feeling like we're playing like hyper-real extensions of ourselves."
Thomas also wanted to bring faces to the screen characters representing all different kinds of people. He really wanted one of the lead characters to have autism. Enter Matilda.
Related | 5 Uplifting LGBTQ Books You Should Read
Matilda (Kayla Cromer) is on the autism spectrum. She's quirky, artistic, extremely blunt, and very curious about anything that has to do with being an average high school student. Cromer announced she is on the autism spectrum herself at a Freeform Summit press event in 2019. The 23-year-old is the first actress with autism to play an autistic character in a leading role on a television series and hopes young viewers with disabilities of their own can pull inspiration from the show. 
"Matilda is just one character with autism, and autism and disabilities, in general, affect everyone differently," Cromer said. "For them to accept their differences, whether it's invisible or not. That they're not alone. Advocate and love themselves. Issues that happen in every household don't hold feelings in have discussions with the people you trust, either in your friend circle or your family circle. Even though it's easier said than done, look at the brighter side, sometimes laugh things off. Remember, tomorrow will look different sometimes."
Another topic the show has never shied away from is the exploration of one's sexuality. Nicholas is in a relationship with Alex (Adam Faison). Though the two are far from perfect, they are a prime example of two people loving each other despite their differences. Matilda explores her own sexuality as she enters into a relationship with her best friend, Drea. But in season two, we see her questioning her relationship and leaning on her family to help her as she uses Google to figure out if she's queer or heterosexual.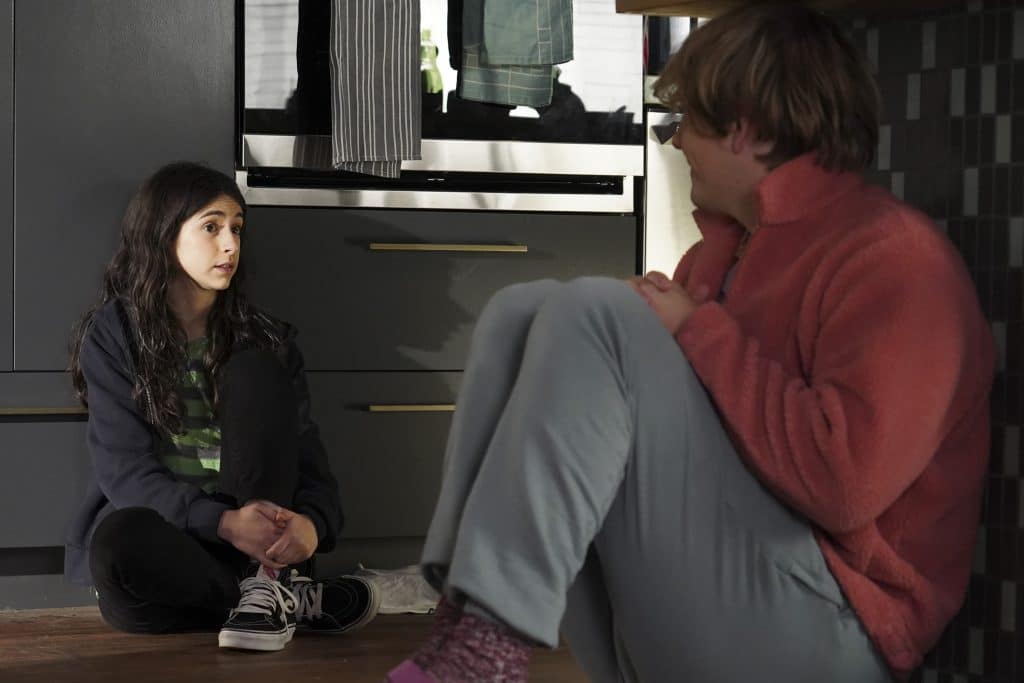 Thomas jokes about how he is much more comfortable writing queer romances than anything else, "I'm much more uncomfortable when we have to do something heterosexual. I mean, heterosexuals rarely kiss on the show; it's like by accident because it just never occurs to me that they would want to." 
Season two will explore even more relationships as the trailer for the season teases Matilda telling Nicholas she plans to have a boy over for a hookup and the show description hinting that the youngest Moss sister, Genevieve, will be exploring relationships of her own. 
Genevieve breaks out of her shell during the season one finale, where she performed a stand-up comedy bit, a talent Press shares with her character. But now it sounds like Genevieve is putting comedy on the back burner in favor of something equally artsy.
"What I can say is she still finds her voice through a creative outlet it's just not on a stage," Press revealed.
Season one ended with a cliffhanger in New York. Matilda decides she may not be ready to fulfill her dream of attending Julliard. 
Season two will pick up right where it left off, but with the family a bit closer than last time. The season was renewed in May of 2020, and like everything going on in the world, it was affected by the pandemic. But Thomas managed to find a silver lining while reworking the show.
Related | Colin Firth and Stanley Tucci Break Hearts in Supernova
"Any plan we had in the back of our heads while making season one was like out of the window. Fine. Great. In all the notes meetings I have, I'm just trying to keep our cast at home. Stuck together. And then everyone's always like, but what do they do for a living? Or how is she doing at school? Or whatever, and I'm like, I don't care about that stuff; I just want to see them hang out. So it was really exciting to me to have a really solid reason to lock them in that house."
Alex is also locked in with the Moss family. Though he is usually helping Nicholas deal with Moss's family drama, he will be trading that in for family drama of his own as his parents reveal they are separating. We also discover Alex's father is deaf. Faison had already familiarized himself with American Sign Language while living with his deaf roommate and said Josh was eager to find a place for this in the show. 
The series will also welcome two new recurring characters played by Big Mouth actress Maria Bamford and Argo actor Richard Kind. Kind and Bamford will be appearing as Drea's parents, who end up spending a lot of time in the Moss' driveway, maybe with a frozen mojito or two. 
The second season is on track to be just as infectious as the first as the characters normalize awkward experiences and ultimately ground the idea that it's okay not to be okay. 
"To understand that it's okay to make mistakes and that there are people around you who are going to tell you, 'well that sucked' and 'you shouldn't have done that, but I'm going to help you through it, and I'm going to make sure you don't make that mistake again,'" Press said. "And also the idea of found family is a very big thing in our show and a very important thing in my life, and I just think in everybody's life we all find our people, whether it's the family we're born into or the family that we're lucky enough to find."
Everything's Gonna Be Okay will return with two back-to-back episodes on April 8 at 10 p.m. on Freeform. 
For more, check out Gayety's exclusive interviews with the cast below!