Daniel Radcliffe is ready to pass the torch to a new generation.
Since Warner Bros. Discovery announced their plans to create a detailed seven-season-long Harry Potter television series, the question has been: Will the original cast be returning?
Radcliffe – who is currently promoting the new season of his comedy series, Miracle Workers – played the young wizard for over a decade. The successful movie series also starred Emma Watson and Rupert Grint as the infamous trio, Harry, Ron, and Hermione. However, the new series will stay true to the original story and dedicate one season to each classic book. For this reason, it will feature an entirely new cast. So how would the original cast fit into the new narrative? the truth is, they won't.
When asked if he had been approached about the project, Radcliffe said, "I certainly haven't."
"I think it's very much like they're going for a new series," Radcliffe told Access Hollywood. "There would be somebody else playing Harry. So I think it would be very weird for me to show up." True, he could return as a different character like Harry's father James, but the actor does not seem interesting in going back to Hogwarts anytime soon.
"I'm very excited to see what other people do with it. The comparison I've made is to a story like Sherlock Holmes. I think the Potter series of books was always gonna be bigger than one interpretation or one franchise, so it'll be cool to see the torch get passed on."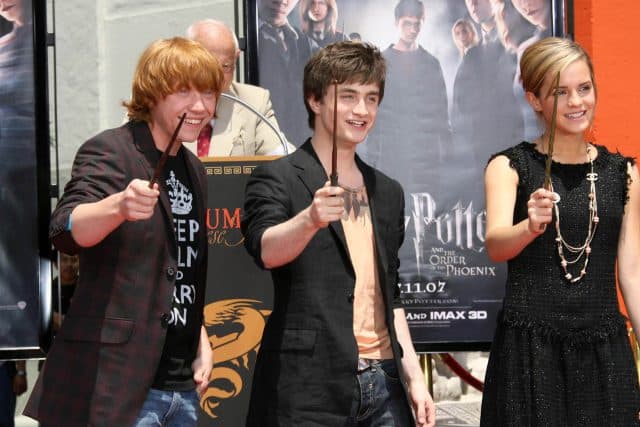 J.K. Rowling Will Return
Though the series will be welcoming an entirely new set of witches and wizards to the Harry Potter Universe, transphobic author J.K. Rowling will be involved in the new series as an executive producer. Many of the cast of the iconic films have spoken out against Rowling's anti-LGBTQ+ rhetoric, including Watson, Radcliffe, and Grint.
Radcliffe recently moderated a discussion with LGBTQIA+ youth in collaboration with The Trevor Project. The video series, called Sharing Space, gives the microphone directly to LGBTQIA+ youth to speak on their own experiences. Radcliffe's episode premiered on March 31.
Radcliffe has been working alongside The Trevor Project, a nonprofit organization dedicated to saving LGBTQIA+ youth, for over a decade. His newest collaboration will see the actor sitting down with trans and nonbinary youth for a moderated discussion.
The upcoming video series, Sharing Space, gives the microphone directly to LGBTQIA+ youth to speak on their own experiences. Radcliffe's episode premieres on March 31.
"We listen to so many people talk about trans youth and hear them talked about so often in the news, but very rarely do we actually hear from these youth directly," Radcliffe said in a statement. "It was an absolute privilege to get to meet and listen to this incredible group of young people. At the end of the day, if you're going to talk about trans kids, it might be useful to actually listen to trans kids."
Will Daniel Radcliffe Ever Put the Glasses Back On?
Just kidding!
In an interview with The New York Times, the 33-year-old actor said he might return to the franchise one day, but "the circumstances would have to be pretty extraordinary."
"This isn't the answer that anybody's going to want, but I think I was so able to go back and enjoy [Harry Potter and The Cursed Child] because it's not a part of my day-to-day life anymore.
"I'm getting to a point where I feel like I made it out of Potter OK, and I'm really happy with where I am now, and to go back would be such a massive change to my life."
Since defeating Voldemort and saving the wizarding world (sorry for the spoilers), Radcliffe has starred in projects such as the Weird Al biopic, The Lost City alongside Sandra Bullock, and Swiss Army Man. He recently welcomed a baby boy with his longterm partner Erin Drake.
More Stories: 
Watch the First Trailer for 'Red, White & Royal Blue'
Why Fans Are Convinced Margot Robbie's 'Barbie' is a Lesbian
Luke Macfarlane is a Daddy, Literally