Brandon Stansell opens up about life as an out-and-proud country music star. 
Despite the title of 2017's hit single, "Slow Down," 0ut-and-proud country music star Brandon Stansell has been doing anything but. From captivating covers to a whirlwind Pride tour, Stansell has made it clear he's a musical force for good that's here to stay. And we're so here for it.
As Pride Month winds down, GLAAD's Pride Live event will act as the capstone to a fun, inspiring and, at times, tumultuous Pride season. As one of the many live performers, Stansell took some time to chat with Gayety about what he's been up to, how he celebrates Pride and what the future holds.
Gayety: Happy Pride Month! How have you been celebrating so far this year?
Stansell: By touring! Pride Month has been busy; I started out the month in Nashville playing CMA Fest, then played Kentuckiana and St. Louis Pride in back-to-back weekends. I am also gearing up for a performance on Pride Live tomorrow at the YouTube Studios here in LA. The first-of-its-kind, three-hour variety-style broadcast, which will stream live from noon to 3 p.m. PDT on GLAAD's YouTube Channel, will be hosted by Hannah Hart and feature other musicians and performers! Together, we'll be raising money for GLAAD's youth initiatives, including their Amp Your Voice campaign which empowers LGBTQ young people to speak up, speak out, register to vote, and then take the issues that matter most to them to the polls on November 6th, 2018.
Pride has, traditionally, been an in-person event — festivals, parades, parties, etc. What benefits do you see with a digital streaming event like Pride Live?
I don't think anything could ever replace traditional Pride events — there is something so special about being surrounded by the community you love and fight for, that is exciting and inspiring. But, with Pride Live, I think we have the opportunity to extend our reach past local communities and come together in a bigger way; not just to raise money for LBGTQ youth who so desperately need our help, but to let them know there is a bigger, loving community out there waiting for them.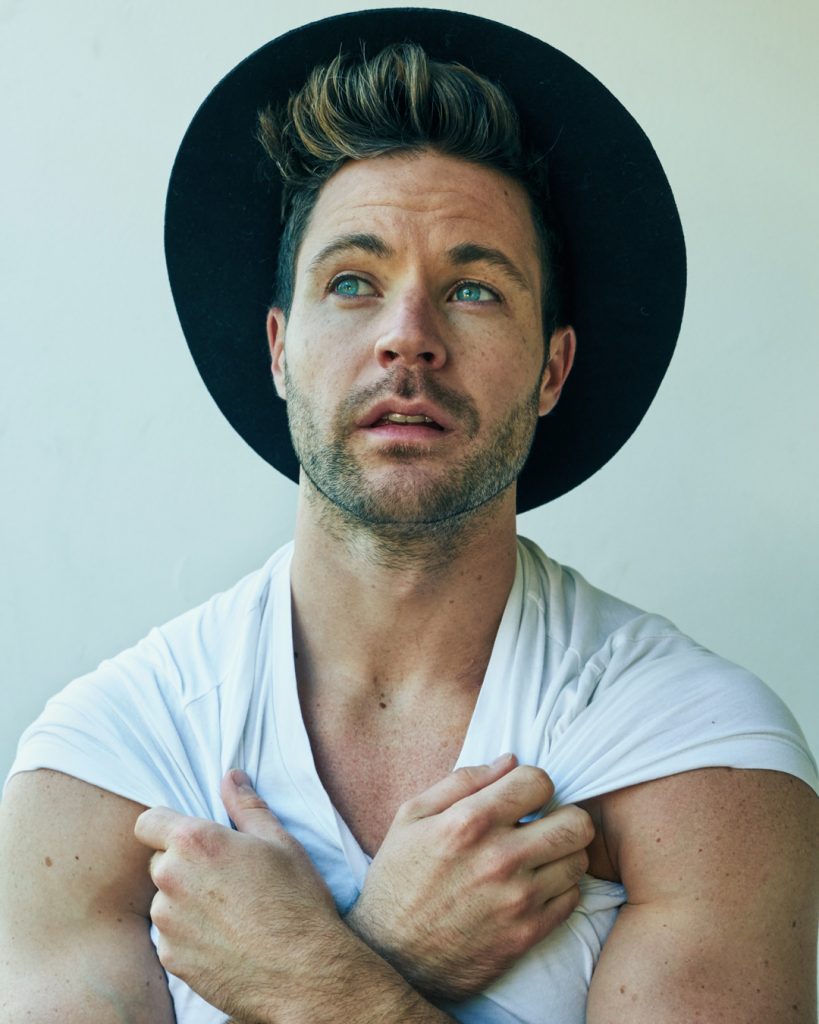 One hundred percent of the proceeds from Friday's Pride Live stream goes to GLAAD in support of LGBTQ youth. When there are hundreds of causes to support, especially in our current cultural and political climate, why do you think it's important to focus on LGBTQ youth?
I think when people's lives and mental health are in danger, our focus shifts, and these kids are in danger. HRC put out a statistic that said 92% of LGBTQ youth say they hear negative messages about being LGBTQ. Compared to straight students, negative attitudes toward LGBTQ students may put these youth at increased risk for experiences with bullying, teasing, harassment, and physical assault — all of which feeds into the suicide rate that remains heartbreakingly high in our youth. It's time we help fight the tide and make sure these kids know how wonderful they really are. We want them to live long, happy lives and be part of this change we're pushing for!
Related | River Viiperi: 'For the First Time in Ten Years, I Feel Free'
Performing live is something you're very familiar with, but with live streaming technology, the audience can be much larger than a single venue — does that add extra pressure? How are you preparing for Friday's performance?
Not at all — I am so proud of the music and I am so excited to be performing it at the FIRST EVER Pride Live! I am also excited just to be a part of the conversation and in the company of so many talented and passionate people.
What message do you hope LGBTQ youth hear after Pride Live? How do you see yourself contributing to the conversation?
I always think of two things when I play Pride events — I think of the people who are possibly going through things I experienced a decade ago when I came out and my hope is that sharing my story will help them feel a little less alone and a little more confident. I experienced rejection from the people who were supposed to love me the most and I thought I would never get over it — but fast forward a decade or so and as painful as those experiences were, I can't help but to be thankful for them; they made me who I am and that is a person I am deeply proud of. As far as I see it, anyone who adds hope and love to the conversation is doing great work. One of the songs I'll be performing on Friday is song I wrote called "Hometown" — it echoes those sentiments that despite all the bad that happened, something good came of it. I made a decision I wasn't going to live in the hurt anymore, but I was going to be better because of it.
You recently covered Kacey Musgraves "Space Cowboy" to much acclaim — you've said you have some more covers coming in the next few months. Want to give us a tease for what to expect?
Let's just say in addition to the Kacey Musgraves and Ashley McBryde covers I have already released, I am a big fan of Cam, Miranda Lambert, Raelynn, and Caitlin Smith! Stay tuned 🙂
Your video for "Spare Change" came out about 10 months ago — when can fans expect another music video? Any new music on the horizon?
Boy do I ever. I'm super excited to finally share that I have a new single coming out July 12, called FOR YOU! And (shameless plug) you can pre-save it on Spotify. Not just that, but we're releasing a video for the song the following week, starring my fellow Tennessean and favorite Queen from this season of RuPaul's Drag Race — EUREKA! So, if you are a fan of my music and videos, there is a lot to look forward to in July!
Make sure to catch Brandon's performance during Pride Live tomorrow!