After announcing his engagement last November, Pitch Perfect actor Ben Platt shared how his fiancé Noah Galvin proposed back to him.
Ben Platt and Noah Galvin are engaged! Again!
After Platt proposed to his long-term boyfriend last year surrounded by twinkling lights and beautiful flowers, Galvin decided it was his turn to return the favor. Complete with a gorgeous blue sapphire ring, the Dear Evan Hansen actor popped the question to the fellow DEH actor in what appears to be their shared space.
"He proposed back," Platt shared on his Instagram story along with a photo of his new jewelry. Check out those adorable matching rings!
Galvin jumped in to clarify that their dog, George, did the asking. They also shared a photo of the pup surrounded by blue rose petals.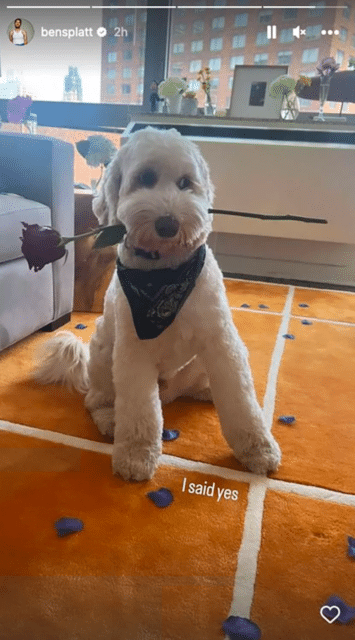 The final image from the second proposal showed the two lovers embracing while wearing party hats. Platt had a sash that read "groom" draped over his shoulder. Could they get any sweeter? I'm on a sugar high just looking at them.
Their Love Story
The two announced their romantic relationship in 2020 after being friends for years.
"We were friends for five years and right before the pandemic, we finally decided to really give it a shot. We kind of skated around it for a long time," Platt told Kelly Clarkson.
Though Platt and Galvin starred in the Broadway production of Dear Evan Hanson, they never shared the stage at the same time. But a new project from Searchlight has the couple standing side-by-side as they attempt to save the drama department at a summer camp in New York. Theater Camp will premiere in theaters on July 14.
More Stories: 
See Photos of Jonathan Bailey and Matt Bomer as Lovers in New Raunchy Gay Romance
Lupita Nyong'o is "Not Surprised" By Janelle Monáe Romance Rumors
Soccer Player Jake Daniels, 18 Gushes About New Partner, 46