"People seem to have a hard time separating art from life…"
Since Call Me By Your Name hit theaters, enthusiasts have fantasized about a real-life affair between its stars, Armie Hammer and Timothée Chalamet. The duo's on-camera chemistry was undoubtedly convincing and utterly enthralling.
While most of the film's followers keep their daydreams PG, a few titillated CMBYN fans, just can't accept reality; Hammer and Chalamet are not Oliver and Elio.
One extremely excited fan took to Instagram to persuade Hammer to leave his wife, Elizabeth Chambers, for Chalamet. Hammer shared a screenshot of the message to his Instagram Story, which read:
"You know. Dick is better. Elio is better. Thimothee is better. We don't like pussy. We don't want to have a wife. Let's fuck with boys," said the fan. They are better you know? I'm sure that you prefer Elio, Timothee whatever. I mean I've seen how you look at him. I love you two."
Armie replied:
"People seem to have a hard time separating art from life."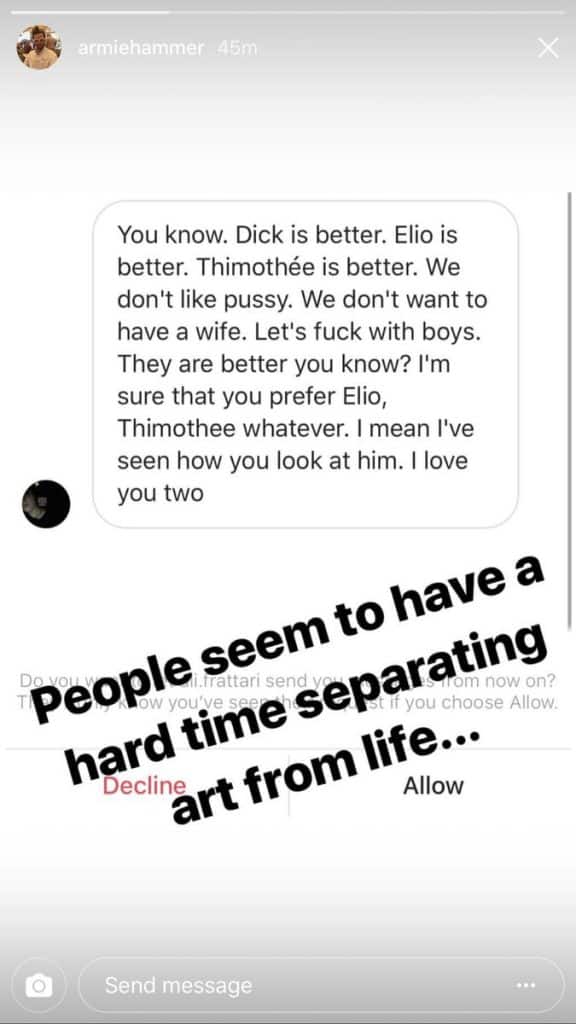 Although the Hammer and Chalamet's romantic relationship is conserved for film, we may see Oliver and Elio reunite on the big screen.
"Dude, he broke down the whole script for us. I mean, it's not a finished script, but he's got all the ideas for it," Armie told Indiewire.
Related | How Call Me By Your Name Perfectly Illustrates Love Between Men
"Luca's all gung-ho about it, and by the way, if Luca's doing it, I think we're all gung-ho about it."
He continued, "You know, the experience of making the first one was so pure and beautiful that it wouldn't matter how big my role was. If the same people are involved, I'd do it all over again."
Director Luca Guadagnino confirmed that a sequel to Call Me By Your Name is definitely in the works.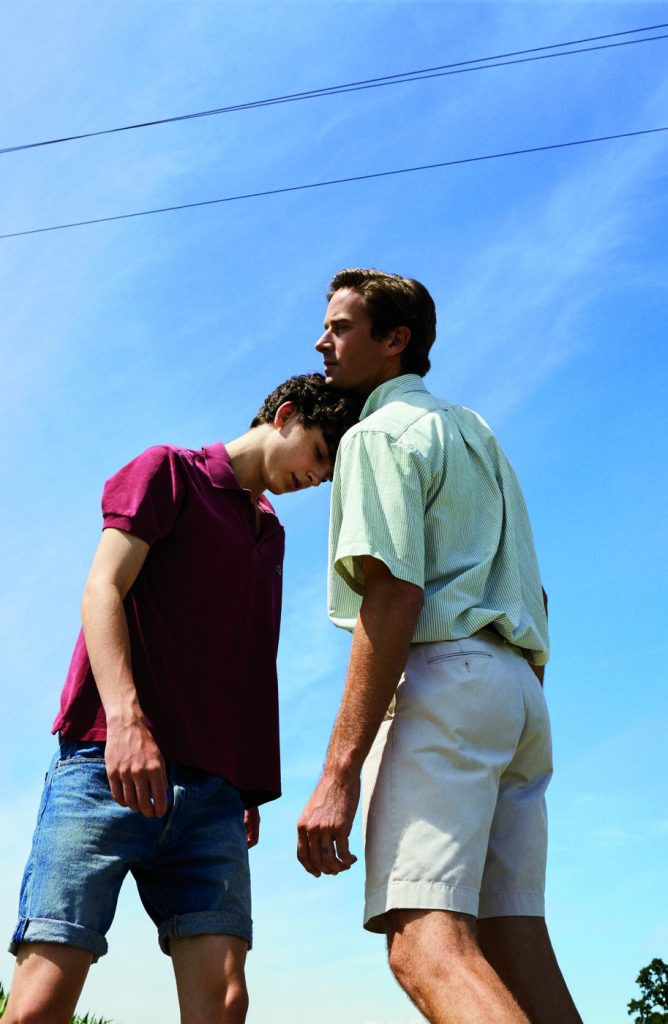 "I'm already conceiving the story with [author] André Aciman, and it's gonna happen five or six years afterwards, almost in 1990," he told USA Today. "It's gonna be a new movie, a different tone."
Luca also verified that Chalamet and Hammer will reunite for the film — but it won't be set "Somewhere in Northern Italy" like its predecessor.
"They're gonna go around the world," Guadagnino added.
Related | Troye Sivan Wishes He Played Elio in Call Me By Your Name
In January, Guadagnino explained that a sequel would probably address the effects of the AIDS crisis. However, despite his enthusiasm, the film's screenwriter, James Ivory cast doubt on a continuation of Elio and Oliver's romance. Ivory claims it's "not possible" to make Chalamet look older, which makes a sequel unlikely.
"No one has contacted me," Ivory added. "You have to think, 'Why does André Aciman think about that?' It's his creation. No one seems to know how he feels about it."